Zazzle Unveiled: Strategies to Build a Profitable Print-on-Demand Shop – What is Zazzle, Common Questions, and What You Need to Know
If you have just discovered Zazzle, you're probably wondering what the heck this website is and if it's a legit way to make money. Well, have the answers for you!
But first let's get something out of the way…
Is Zazzle Legit
Yes, Zazzle is a legitimate way to make money online and I have income reports for you to look at to give you a realistic idea of what kind of money you can make. You can find my Zazzle income reports here.
Note: In order to get paid, you will need to complete a legal tax document and be able to receive a USD checks or get paid through PayPal.
Now let's dive into what exactly Zazzle is and how you can make money with it…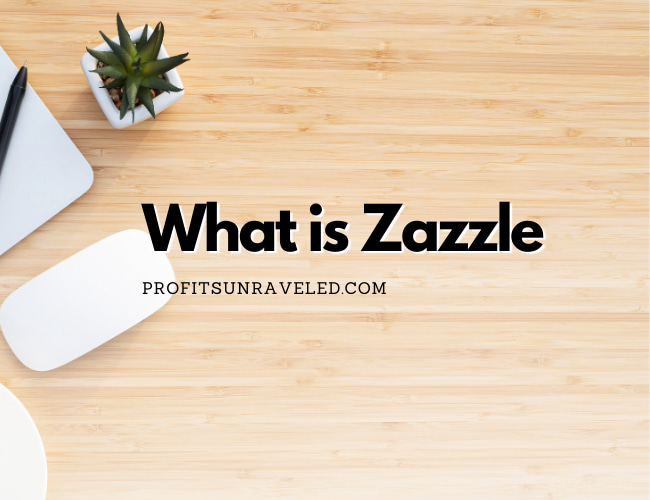 What is Zazzle
Zazzle is an online marketplace that uses a print on demand model to create and sell products to their customers. Print on demand means that products are only being printed once they are ordered.
For example, if you order a cell phone case, Zazzle's printers have a stock of blank phone cases ready to have a design printed on it and sent out to a customer within a couple of days of it being ordered.
The great thing about Zazzle is that they give you access to all of their printers and let you open a shop (or multiple shops if you want) totally free.
Once you open your shop you can add almost as many products as you want – I believe there is a limit of 20,000 products, but it would easily take well over a decade to reach that number of products.
If you're intrigued and want to know more I'll walk you through what having a shop entails so you can make an informed decision if this business model is right for you.
Disclaimer: This article may contain affiliate links where I may earn a small commission from anything purchased through link in this article at no extra cost to you.
What Makes Zazzle Unique
There are plenty of print on demand marketplaces out there to choose from so why pick Zazzle?
Zazzle offers a unique feature that not many POD platforms offer. The customers ability to customize the design.
Getting Started on Zazzle
Opening up a shop is pretty straightforward and I have a step by step walkthrough here to make the process as painless as possible.
Once you have created an account you can quickly open a new shop and start uploading designs and creating products to sell.
You don't need to fill out the tax information right away, you can get started building up your shop first and you can even start making sales without entering your tax details. However, you will need to submit that form in order to get your money out of Zazzle.
Things to consider before opening your store:
Store name – you can change your shop name later, but you can't change the URL for the original name you picked, so you're best to choose a shop name that you are happy with from the get go.
Your niche – What style of designs will you offer in your shop? With the quantity of products that Zazzle offers there are a lot of options in terms of niche selection. Picking a niche ahead of time will also help you name your shop.
Your product catalog – What types of products will you offer? It's great to have access to over 1,000 products, but by deciding on a select group of products to offer in your shop (and stick to) you give customers a better shopping experience.
Zazzle's Time Commitment
In theory, you can spend as much or as little time on your Zazzle shop as you'd like.
However, if you are keen to build a steady income stream, it will take a somewhat significant investment of your time in the short term.
It's completely up to you how much time you want to put into this venture, but my recommendation is to front load that work.
How Long Does It Take to See Success on Zazzle
How long it takes to see success is going to be different for everyone for multiple reasons:
Everyone's idea of success is different
Everyone's shop grows at a different rate
The number of products you publish
The quality of designs you create
Use of good, well thought out, keywords
The learning curve
Marketing efforts
Ultimately, how long it takes you to see success depends on you and how much effort you put into your shop. But let me be clear, this is a long term business. You can have this business making you money potentially for the rest of your life.
Let's look at the above variable a little closer…
Everyone's Idea of Success is Different
It's impossible for me to tell you how long it will take for you to see success as I have no idea what success means for you.
However, I can tell you my experience and you can use that to make a more informed decision.
For the full details on my experience, you're best to look at my income reports linked above.
However here are a few key points: I saw my first sale after 3 weeks, and, 4 years into my journey, I consistently make enough to cover about one third to half of my monthly living expenses (depending on the month.)
Everyone's Shop Grows at a Different Rate
It may take you 6 months to decide on a niche that you want to stick with or it may take you a week. It's going to be different for everyone.
My experience: I started a mega store and added as many products as I possibly could and didn't care about niches.
I continued to consistently add designs and products to that store for about 18 months before deciding to get more focused and open a few stores that would be more niche specific.
My mega store was, and remains, a complete mess and a bit of a disaster for customers to navigate. I felt the chaos was hurting my ability to grow the shop and decided to take the niches I was seeing success in within that shop and create dedicated stores for each.
I know that set me back as I had to restart new shops a year and a half into my journey, but I believe it was the right decision for the long term.
The Number of Products You Publish
I am all about quality over quantity, but you still need a lot of quantity in the Zazzle marketplace for a few reasons.
The marketplace has thousands upon thousands of products and the more products you create the better chance you have at being seen and getting sales.
By creating more products you are able to test out the market with different design concepts, different marketing strategies, and different tagging strategies.
The more products you have the sooner you are likely to see success. In the beginning, especially, it's a numbers game until you can gather enough data about how your products and designs perform.
The Quality of Designs You Publish
The quality of the designs you publish matters! You can't just publish half baked ideas and expect to see consistent sales.
This will be a learning process and you will get better over time. Accept and embrace that.
I have a guide here explaining the Zazzle Design Tool to help you get started.
Use of Good Keywords
You can have the best design in the world, but if you don't use good keywords no one will ever see it.
It seems that when people are getting started keywords are this big mystery and no one understands them. I promise they are not that complicated.
Zazzle gives you 3 opportunities to add keywords to your products.
The Title
The Description
The Tags
The title and tags are important for discoverability within Zazzle's internal marketplace. The description is important for being discovered by search engines. And believe me, you want to be discovered by search engines.
I have a video here explaining how to find keywords for your Zazzle products.
And give this article a read on the importance of using relevant keywords on Zazzle here.
The Learning Curve
As with anything new, it takes time to gain proficiency. And Zazzle is no different. It takes time to learn how to use the platform, it takes time to create good designs, it takes time to come up with good keywords and grasp the concept of keywords and the Zazzle algorithm, and it takes time to figure out what kind of designs customers are looking for.
But the sooner you get up as many products as you can, the sooner you learn each of these things.
The more you immerse yourself in the Zazzle platform, the quicker you will learn.
Marketing Efforts
This is something that I personally have let fall by the wayside and I am just starting to put effort into myself after 4 years of this business. (Whoopsies for me!)
I feel that I've left a lot of money on the table over the last few years. But it wasn't a priority for me at the time and I didn't understand the importance and power of a consistent marketing strategy before.
Marketing your Zazzle products has the potential to be the thing that takes your store from making a few hundred dollars a month to thousands of dollars each and every month.
What's the Catch with Zazzle?
I've done my best to be really honest and straightforward with all of the information above, but I'll admit I am slightly biased and, for the most part, I only have good things to say about creating a business on Zazzle. It's been a game changer for me in my life and I want everyone to have this opportunity if they want it.
So what are some of the negatives about selling on Zazzle?
It can feel saturated
It's a lonely business
Commissions can be small
Saturation
There are literally millions of products on Zazzle. That can feel a bit daunting when you think about how your products are going to compete.
But there are still a ton of untapped niches and new niche opportunities popping up all of the time.
If you decide to create a super generic shop that looks like a carbon copy of Zazzle's best sellers, you will probably have a hard time gaining traction and it will be a bit of a grind. But even then, not impossible.
On the other hand, if you pick a niche that you have knowledge about and have a genuine interest in you'll have more stamina.
A Lonely Business
Even though Zazzle is a really big website, it's not all that well known. If you were to go out on the street and ask 10 people if they know what Zazzle is, most would probably not have a clue. I've only met 2 people in the last 4 years that have known what Zazzle is.
So it can feel a bit lonely not to have anyone to talk to about your business venture. (Hence this whole website for me LOL)
Your family and friends will get sick of hearing you talk about Zazzle and they won't be able to relate. They'll probably think you're weird. But once you start making money everyone changes their tune and is much more supportive.
Small Commissions
Commissions on Zazzle start at 5% and you have control over how high you want to set them.
Most sellers set their commissions anywhere between 5-14.9% as Zazzle will take an additional fee for anything that is set at 15% or more.
For items like greeting cards, postcards, stickers, pins, etc this can mean quite low commissions. Often under a dollar or even under 50 cents.
You would need a whole lot of products and sales to make any kind of decent income from earning 50 cents per sale!
On the other hand, if you sell things like Cornhole sets, you can make $10-30 per sale.
Also It's not uncommon to receive bulk orders on lower priced items that earn in the hundreds of dollars.
So how much commission you earn depends on your product selection.
Does it Cost Money to Sell on Zazzle
No, it's completely free to sell on Zazzle! There are opportunities to invest in yourself and your business outside of the Zazzle marketplace to help you build your shop, but none of them are necessary.
Some of these things include:
Does Zazzle Own The Rights to Your Designs
No, you retain the rights to any artwork that you create! And you are entitled to put that same artwork on products in other marketplaces such as Redbubble, Society6, or Spoonflower if you want to.
How Do Artists Get Paid on Zazzle
Getting paid out by Zazzle is fairly straightforward, you need to fill out your payment and tax information as well as select how often you'd like to get paid. I explain it all in this quick video here.
Zazzle pays artists out monthly between the 15th and 20th of each month for the sales made 2 months prior as sales go through a 30 day pending period.
For example, you will get paid for your January sales in mid March.
Conclusion: What is Zazzle
I hope after reading through this you have a better understanding of what Zazzle is and if it is the right business model for you.
In my opinion, Zazzle offers an exciting opportunity to create and sell custom products online. And it's a legitimate platform with potential for income, although success varies.
While it can be competitive and require effort, Zazzle's free, creative, and versatile environment makes it worth exploring for those seeking to embark on an entrepreneurial journey.
So if you are ready to get started and create your account you can see my walkthrough here.
Want more information before getting started?
Check out my article that lists the best selling products on the Zazzle marketplace here.
Or read through this article that lists the top selling niches on Zazzle here.
And don't forget to sign up for my email list below!
---
– My Recommended Tools –
Below are my personal favorite tools that I use regularly in my POD business.
The below links are affiliate links meaning I may receive a small commission for anything purchased through these links at no extra cost to you.
Creative Fabrica – My favorite place to get graphics with a straightforward commercial license for print on demand use.
Adobe Illustrator – I use Adobe Illustrator for at least half of my design creations. It's pricey but so worth it when you choose to take the business seriously. Get a free trial to Adobe Illustrator here.
Graphics Tablet – My partner got me this exact tablet as a Christmas gift when I was just starting out with creating my own designs. It has served me well now for several years and it was a very low cost investment that made a big impact in my POD business.
Ergonomic Mouse – If you spend long hours at the computer like me I highly recommend investing in a good ergonomic mouse. Over the years, I have caused an injury in my hand/wrist from being at the computer so much, but my pain has gotten significantly better since getting this ergonomic mouse on Amazon.
---