26 Digital Download Ideas for Your Zazzle Shop (or any online shop)
Zazzle announced in early 2023 that they were officially offering digital downloads.
Naturally, not every product is available as a digital download. Currently, Zazzle offers the following products as digital downloads:
Holiday Cards (excluding foil)
Flat Announcements
Invitations and Save the Dates (excluding foil and All-in-One)
Greeting cards
Posters & Print
There are so many directions you can go with digital downloads, so I thought it would be helpful to create a list of ideas of how you can take advantage of the option in your store. And some of these ideas might be a little different than what Zazzle had in mind…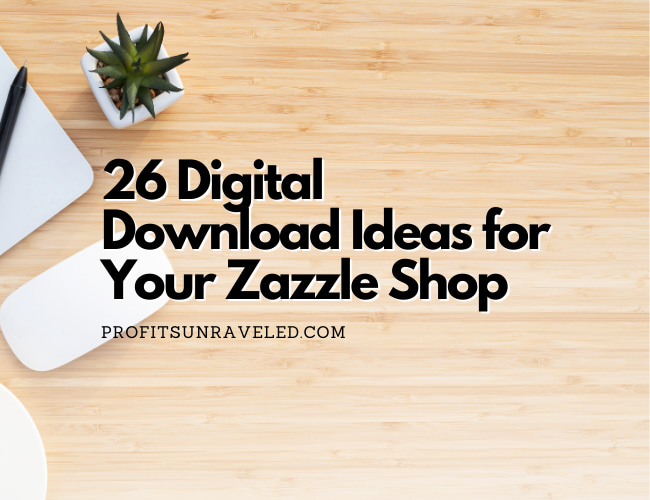 Of course, not every one of these ideas will suit your niche, and this list is not exhaustive, instead think of it as a jumping off point to help you come up with ideas of your own!
Side note: these ideas aren't necessarily Zazzle specific and could work for an Etsy shop or your own online shop.
1. Greeting Cards
Greeting cards are an obvious idea for digital downloads on Zazzle whether they are holiday greeting cards, get well cards, or miss you cards there's an endless amount of ideas as far as greeting cards go the great thing about having digital download greeting cards is that you're able to earn a way higher commission that if the customer bought a physical card and it's not really any more expensive for the customer.
2. Invitations
Invitations are another obvious idea for digital downloads and they are definitely in the realm of what Zazzle had planned for people to use digital downloads for. Invitations can include birthday invites, wedding invites, holiday party invites, etc.
3. Weekly Planner Page
I like the idea of creating and selling planner sheets through Zazzle as a more original idea for how to use digital downloads. I think it has potential. A weekly planner page has the days of the week, room for the date, maybe a space for the top priorities that week or any appointments that week. And you could include a name template to make it more personalized.
4. To Do List Template
A stylized to do list template sheet could do well as a digital download. You could niche down as well, you could create to do lists for small businesses or a wedding to do list template that matches your other designs in those niches.
5. Wall Art
Wall art is a fairly obvious idea for how to use digital downloads on Zazzle. There isn't too much to say about this one, possible niches include office wall art, bathroom wall art, nursery art, and so much more.
6. Digital Wallpapers
This is kind of a unique idea and I'm not even entirely sure that it would sell but I thought it would be cool to add on here to see if it sparks any creativity in you! Digital wallpapers for your mobile device, desktop computer, or tablet could be a fun idea to sell as a digital download.
7. Monthly Calendar Pages
Calendar Pages could be another great option to sell as a digital download on Zazzle you would probably want to make every page 31 days and make the month a text template.
8. Recipe Cards
I like the idea of selling recipe cards to customers as a template and they can print them out at home and fill in their favourite recipes with pen and paper or they can upload them to an app like Goodnotes and fill them in digitally before printing.
9. Quote Prints
If typography is your specialty, this is a great opportunity to let that skill shine through with beautiful quote print art.
10. Sewing Patterns
If you have any small sewing patterns that would fit on a single page, you could sell them as digital downloads. Maybe some baby toys or pet toys. You could probably make it work with bigger projects too…
11. Photo Booth Props
This is a totally random idea, but I was recently at a wedding with a Photo Booth and they had tons of fun props you could use in the photos.
We already know people flock to Zazzle for all their wedding needs, so you could capture their attention with this unique idea too!
If you already sell in the wedding niche, you can make props that tie in with the themes you already have going on in your collections.
12. Scrapbook Paper
Fill pages with beautiful seamless patterns to create scrapbook paper. Scrapbooking is still going strong and people that love to scrapbook are always looking for new and fun ways to make their scrapbook bright and colorful!
13. Coloring Pages
I wasn't initially going to add coloring pages (or puzzle pages below) to this list, because I didn't think people would buy a single page. However, a quick look on some other marketplaces says otherwise.
14. Puzzle Pages
As I said above, singular puzzle pages sell on other marketplaces, so they should, in theory, sell on Zazzle as well.
Puzzle pages can include word searches, mazes, sudoku, kakuro, crosswords, logic puzzles, and more!
15. Grocery List
A cute grocery list template that customers can print off and fill out each week. You could add sections like snacks, veggies, proteins, etc. You could also add a column for cost for customers who are focusing on budgeting.
16. Weekly Meal Planner
A weekly meal planner might include a spot for breakfasts, lunches, dinners, and snacks for each day of the week. You may also include a place to track water or any treats had throughout the week.
17. Weekly Meal Tracker
Similar to the meal planner, but kind of the opposite. While the planner is more future focused, the tracker focuses on what the customer actually ate.
It feels like I'm cheating a bit by making these 2 separate items, but they would use different keywords on Zazzle and they each serve a different purpose. So they are ultimately different products.
18. Gift Voucher Templates
Think for small business owners, they can print it on card stock and you could add multiple to a page and they can cut them up at home.
19. Certificate Templates
I love this idea for small business teachers. For example, someone who runs a weekend workshop program and gives their students a certificate at the end.
For example, I took a weekend course to learn reflexology about a decade ago and received a certificate for it.
20. Meeting Minute Template
In business, assistants often have to take minutes, which are essentially meeting notes, so a template for the minutes with the business name and possibly the assistants name could be a fun idea.
21. Family Chore Chart Template
Growing up, my sisters and I were pretty terrible with doing our chores, so I don't have much personal experience with this. But I would imagine you would want a template for the family name and family members names with templates to add the chores as well. You might even offer multiple chore charts for different numbers of kids.
22. Weekly Student Planner
A weekly planner page specifically for students. You could add a name template, possibly a school name template, maybe even a class template.
23. Daily Work Planner Template
It's important to stay organized at work! Include things like the date, the priority of the day, a space for meetings. Any calls or emails that need to be sent or followed up on.
You could target specific businesses and create different planner pages for different careers.
24. Fitness Planner/Tracker
I have used both fitness planners and trackers in my personal life. Personally, I prefer a tracker, as in I'm logging the workout I did after I did them. However, some peopl prefer planners, meaning that they are looking at their week head and planning out which workout they're going to do on which days. Both are great options.
25. Journaling and Self Care Pages
The self care niche is huge and there are so many design idea for this type of product. Some that come to mind off the top of my head are one line a day pages, gratitude journal pages,
26. Bullet Journal Pages
Have you heard of bullet journalling? There was an absolute craze about 5-6 years ago, maybe it's still going, I'm not entirely sure. But what I'm getting at is that any of those pages that would go in a bullet journal could be sold as a digital download. Do a search on Pinterest for bullet journal pages and you'll have tons of ideas!
Final Thoughts
This list got a little longer than I anticipated, but once I started writing I came up with more and more ideas.
Hopefully this sparked something for you and you were able to write down your own ideas too!
If you have any ideas for digital downloads that you'd like to share please leave them in the comments below!
Happy Designing,
Tessa
---
– My Recommended Tools –
Below are my personal favorite tools that I use regularly in my POD business.
The below links are affiliate links meaning I may receive a small commission for anything purchased through these links at no extra cost to you.
Creative Fabrica – My favorite place to get graphics with a straightforward commercial license for print on demand use.
Adobe Illustrator – I use Adobe Illustrator for at least half of my design creations. It's pricey but so worth it when you choose to take the business seriously. Get a free trial to Adobe Illustrator here.
Graphics Tablet – My partner got me this exact tablet as a Christmas gift when I was just starting out with creating my own designs. It has served me well now for several years and it was a very low cost investment that made a big impact in my POD business.
Ergonomic Mouse – If you spend long hours at the computer like me I highly recommend investing in a good ergonomic mouse. Over the years, I have caused an injury in my hand/wrist from being at the computer so much, but my pain has gotten significantly better since getting this ergonomic mouse on Amazon.
---