How to Open Your First Zazzle Store to Make Passive Income – Step by Step
In this article, I'm going to break down step by step how to open a Zazzle account and then how to create your first Zazzle store.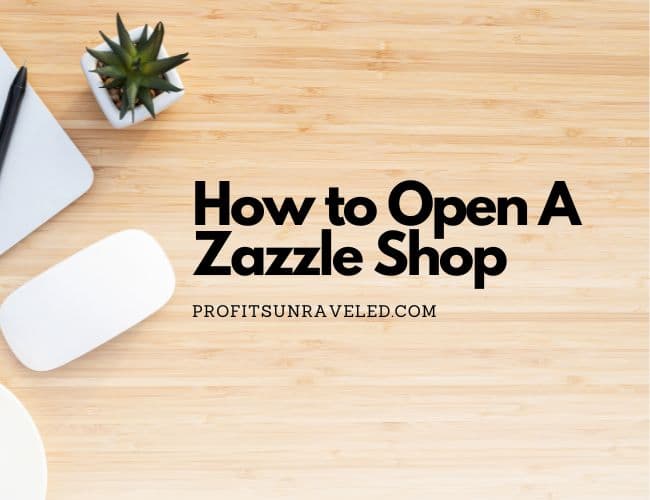 I've gone through all the steps of opening a new Zazzle account in order to screenshot everything for you so you can see exactly what I'm doing.
Read on for the details! – Video at the end of the article.

Step 1 – Register Your Account
Go to Zazzle.com and select Sell on Zazzle and then select Sign In on the top right.

Register your account by clicking the Register button on the top right

You can register by connecting with your Facebook, Gmail, or Apple account or by using your email and creating a password.

Next, Verify your email address
Go into your email and wait for the email from Zazzle to verify your account
Great! Now your account is created and you can start filling in your account information.
(If the below screen is not what you see, My Profile option on the left side of the screen, under My Account.)

Step 2 – Complete Your Profile
On the menu bar under the banner, you will see a few different options
Select Settings on the far right
Here is where you will fill in your profile information. Note this is for your overall Zazzle profile, not one single shop. We will get to that shortly.

Add your name, a picture of yourself, a tagline, a description, and a banner for your profile. This information should be more about you or your overall business rather than about a specific shop. Scroll down and enter your location data, as much as you are comfortable sharing.
FYI: Zazzle prefers to promote shops and designers that have completed their profiles. So by not filling out all of this data, you are potentially missing out on a chance to be featured by Zazzle at a later date. That being said, if you aren't sure what to write, you can always come back and fill it out or change it later.
Once you've completed filling out the information, scroll to the bottom and hit submit!
Enjoying this series?
Get more Zazzle tips here.

Step 3 – Add Social Networks
Scroll back to the top and on the left-hand sidebar select Social Networks. In this tab, you will fill in any links to your social pages.
Don't forget to click submit.

Step 4 – Customize Homepage
On the left-hand sidebar click on Advanced Settings.
Here you can customize how you want your homepage to look when customers come to your profile.
Will they see your stores laid out? Your collections? Your most recent products? It's up to you!
You can also choose whether or not to show your pro status, once earned.
What is pro status you ask? Once you have earned $1,000 in USD earnings you earn your pro bronze, the next level is silver at $25,000, and then gold at $100,000, platinum at $250,000, and diamond at $500,000 in lifetime earnings.

Step 5 – Become an Associate
Now select the My Account link on the left-hand sidebar. This takes you to your Account settings page where you can look at your earnings and your associates information.
Click the middle tab, Associates, on the top bar. You're going to want to sign up for the associates program right away. Now when you share a link to Zazzle, be sure to share it with your associates ID# so that any sales generated from clicking that link can generate a commission. This is a great way to double your earnings on sales from your shop.
The Earnings tab is where you will be able to see all of your sales and earnings.
Now it's time to create your first store!

Step 6 – Create a Store
Head back to the My Account tab on the top left and select My Profile on the left-hand sidebar towards the top. Now select the Stores tab toward the right on the top bar.

Click on the Open New Store button on the right!

Now it's time to pick out a store name. Hopefully, you already have one in mind. Otherwise, it's time to do some brainstorming!
Honestly, I wouldn't get too caught up in the store name, just pick something simple and catchy. Most of my shop names are pretty silly and something I thought of on the spot.
Note that though you can change the name of your store later on, the URL will always stay the same. Meaning your original shop name will always be in the URL.

Step 7 – Shop Profile
Now we're going through the same steps as we did for our account profile earlier, and complete our shop profile information. Adding the tagline, description, shop banner, etc.
Note that the shop profile photo is in the top left, I've circled it in red in the image above.
If your shop has a specific niche, be sure to add the keywords in the tags section provided.
Once you've filled out everything on this page, scroll to the bottom and hit submit!
Yay! You should get a message saying that you can start designing products. Congrats!

But before we jump to creating products, there are a few more steps to complete your shop setup.
If you clicked on the Start designing products button and it took you to another page, just hit the back button in your browser.
I'll get you back to that page in just a moment. I promise!

Step 8 – Shop Socials
Next hit the media button on the left sidebar and upload any brand photos or videos that you have. It's okay if you don't have anything to upload right now. You can come back to this later.
Next, add your social networks for your individual store if you have any.

Step 9 – Shop Homepage
Now go to the Advanced Setting tab on the left sidebar and choose how you want your shop to be laid out.
Personally, I like to display categories and then collections, and then products. Or some variation of that, but it's really a personal choice and will depend on the products you are creating and what works for you.
Scroll down on this page…

Here you can choose if you want to turn on design migration and design transfer. This is a personal choice, but it makes the most sense to me to enable both of these as that will lead to the most possible sales.

Next, you'll want to set up your Google Analytics. This can seriously aid you in looking at your shop's data over time which can help you to decide what to create and will give you better insight into your shop's trends.
Note that the code UA-XXXX… that they ask for is for Google's Universal Analytics, however you are going to want to create a Google Analytics 4 account as Google is terminating their Universal Analytics program as of July 2023.
It can be a little complicated, but not to worry, I have a free guide on how to set up your Google Analytics 4 account that you can download right here.
And last, but certainly not least, is the Marketing and Promotions section. Be sure to deselect this tab if you want Zazzle to sell your products on other sites for you.
Step 10 – Celebrate & Next Steps!
And Voila! Your account and shop are set up and you are ready to start uploading your designs to products!
Give yourself a high five and get ready to start creating your first products!
I walk you through the next steps in this article here.

To create new products, go to the right-hand sidebar, and click the Sell tab. Scroll down to Create a Product. From there Zazzle will give you the option to choose which product you want to start creating.
---
– My Recommended Tools –
Below are my personal favorite tools that I use regularly in my POD business.
The below links are affiliate links meaning I may receive a small commission for anything purchased through these links at no extra cost to you.
Creative Fabrica – My favorite place to get graphics with a straightforward commercial license for print on demand use.
Adobe Illustrator – I use Adobe Illustrator for at least half of my design creations. It's pricey but so worth it when you choose to take the business seriously. Get a free trial to Adobe Illustrator here.
Graphics Tablet – My partner got me this exact tablet as a Christmas gift when I was just starting out with creating my own designs. It has served me well now for several years and it was a very low cost investment that made a big impact in my POD business.
Ergonomic Mouse – If you spend long hours at the computer like me I highly recommend investing in a good ergonomic mouse. Over the years, I have caused an injury in my hand/wrist from being at the computer so much, but my pain has gotten significantly better since getting this ergonomic mouse on Amazon.
---
Final Thoughts
I hope this has helped you to set up your Zazzle account and shop to completion. Now it's time to start the fun and create!
Happy designing!