15 Best Selling Products on Zazzle
When uploading designs to Zazzle it's important to strategize and think about which products are best sellers on Zazzle in order to optimize your shop for the most sales possible.
I've made a list of some of the best selling products on Zazzle. Starting with 8 of their top sellers plus 7 more products that sell very well.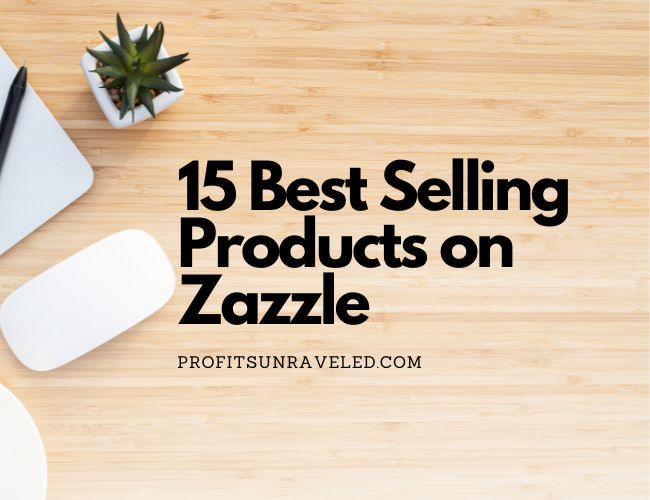 Top Products:
Invitations
Tshirts
Mugs
Business Cards
Stickers
Tote Bags
Throw Pillows
Napkins
Other Popular Products:
Wrapping Paper
Pedestal Signs
Posters
Ornaments
Golf Balls
Badges
Keychains
Now let's dive into each of these products and take a look at what kind of designs might be the best for each.

Invitations
One of the things that makes Zazzle so unique is the opportunity for customers to customize their products. This makes invitations the number one bestseller on the platform as customers can create custom birthday party invitations, wedding invitations, baby shower invites, and every other party invitation you can think of.
As you can see in the photo above, the top categories within the invitation niche are weddings, baby showers, birthdays, religious, and anniversaries. Also foil invitations, can be combined with any of the categories for a double whammy.
How can you take advantage of the invitation market? Decide on one type of party and design a few dozen customizable invitations for that style of party.
Go deep with keywords, don't think of just weddings or just birthdays. What kind of wedding is it? Is it a backyard wedding, an elegant ballroom wedding, or a beach getaway wedding? Pick one style and make multiple designs so that your products have a better chance of showing up.

T-Shirts
Just like every other print on demand site, t-shirts are a massive seller on Zazzle as well. Surprisingly, looking at some of the top selling shirts on the platform they aren't all customizable.
Some of the top categories, at the time of writing this, are Valentine's Day, birthday, photo, boho, funny, and bachelorette shirts.
Valentine's Day shirts are obviously part of that list right now because of the time of year. We've just finished Christmas and Valentine's Day is the next big holiday coming up. While birthday shirts are likely evergreen as people have birthdays every day of the year.
Photo shirts can be combined with any of the other categories, it just means that customers can add their own photos. The same can be said for boho and funny. Those are characteristics that can be added to holiday and/or occasion-themed shirts.
And last but certainly not least, bachelorette shirts are, of course, another top seller which comes as no surprise as weddings are a massive niche on Zazzle.
Disclaimer: This post may contain affiliate links. I may earn a small commission for purchases made through links in this post, at no extra cost to you.

Mugs
Much like t-shirts, mugs are a massive seller on many print on demand sites and it's not only customizable mugs that sell on Zazzle.
The top categories for mugs are photos, names/monograms, funny, travel mugs, and wedding/couples.
The great thing about these categories is that a lot of them can be combined. You could even create a funny travel mug with a monogram name and a customizable photo for couples. But that probably wouldn't be the best design… You'd be trying to force multiple categories together and it probably won't land. And I highly doubt anyone is searching all those keywords at once.
But it probably would be worth it to create a monogram, a funny travel mug, or a funny, photo travel mug. And then pick some less competitive categories to go with it.

Business Cards
Business cards, much like invitations are another massive seller on Zazzle because they need to be customized. Zazzle has many different sizes and styles of business cards to choose from. So let's take a look at the top selling categories.
Connect with us
Social Media
QR Code
Instagram Facebook
Scan to Connect
Feminine
Girly
I find this pretty intriguing as it really shows us how the business card style has progressed. Now there is an emphasis on connecting digitally. Having room for social media handles and being able to easily scan a QR code seem to be top priorities for business owners now.
And it's no secret that Zazzle's target audience is mostly women, so the categories for feminine and girly come as no surprise.

Stickers
Stickers are a massive seller on tons of POD platforms, but not in the same way as on Zazzle.
On Zazzle, the stickers that do well are stickers that usually go on a package, envelope, gift, or something of the sort. Let's take a look at the top sellers and I'll explain further…
Valentine's Day
Wedding
Baking
Thank You
Business
Birthday
For all of these categories, you would be putting the stickers on something specific. For Valentine's Day, you would likely be sealing an envelope. Same with weddings, sealing the wedding invitation.
---
– My Recommended Tools –
Below are my personal favorite tools that I use regularly in my POD business.
The below links are affiliate links meaning I may receive a small commission for anything purchased through these links at no extra cost to you.
Creative Fabrica – My favorite place to get graphics with a straightforward commercial license for print on demand use.
Adobe Illustrator – I use Adobe Illustrator for at least half of my design creations. It's pricey but so worth it when you choose to take the business seriously. Get a free trial to Adobe Illustrator here.
Graphics Tablet – My partner got me this exact tablet as a Christmas gift when I was just starting out with creating my own designs. It has served me well now for several years and it was a very low cost investment that made a big impact in my POD business.
Ergonomic Mouse – If you spend long hours at the computer like me I highly recommend investing in a good ergonomic mouse. Over the years, I have caused an injury in my hand/wrist from being at the computer so much, but my pain has gotten significantly better since getting this ergonomic mouse on Amazon.
---
For baking, the customer is likely sealing a box of baked goods, or labeling a can.
Thank you stickers are probably going on the back of a thank you card envelope.
Business stickers are likely sealing some packaging used by a small business to send products to a customer. This category could be combined with the thank you or baking category.
It looks like a lot of the birthday stickers are also thank you stickers. So that is a good combination to make as well.

Tote Bags
Tote bags are great because they are cheap and make a great gift. The more popular tote bag on Zazzle is the budget tote.
Weddings are a massive category in the tote bag product niche, so much so that when you go to search for tote bags on Zazzle, they first prompt you to choose between regular totes and wedding totes. Within the wedding niche, you can design for flower girls, bridesmaids, bridal party, elegant, calligraphy, cute, heart, etc.
As for the non-wedding totes, there are a handful of popular categories.
Teacher
Cute
Funny
Monogram
These categories are pretty great because you can easily fit a single design into multiple categories. A cute monogrammed tote bag for your kid's teacher. But don't stop at these categories, dive deeper into each category and come up with more keywords to base a new design off of.

Throw Pillows
The three main categories in throw pillows are decorative, baby and kids, and weddings.
Taking a quick peak at the decorative throw pillow category I see a lot of photo pillows and monograms. Specifically family-themed.
In the baby and kids category, it's mostly monograms with a kid-suitable image. Whether that be a cute little animal, a rainbow, or a rocket ship.
Within the wedding niche for throw pillows, I see a lot of Mr and Mrs type designs. A lot of cute designs for newlyweds and new families.

Napkins
You may be starting to notice the common category themes throughout all of these products, and napkins are no different. The three main categories of napkins are:
Crafts & Party
Weddings
Home & Living
For crafty and parties, think birthdays, new years eve, Christmas party, or really any kind of celebratory event. How about a charity event or graduation?
Weddings, once again, are in the top categories for another product. (I don't know if you've noticed, but weddings are kind of a big deal for Zazzle.) This can be for any part of the wedding, the bridal party, bachelor(ette) party, the main event, etc.
Home and living is where you would put your monogram and photo designs. Pets and funny designs seem to be popular here.

Wrapping Paper
Wrapping paper has some evergreen categories, but which designs do well is largely going to be decided on the time of year. So when designing for season-specific wrapping paper, be sure to remember lesson # 7 in my article 10 Things I Learned in 4 Years of POD.
If you need help keeping track of what you should be designing and when, be sure to download my free calendar telling you when you should start designing for each upcoming holiday.
With that being said, there are some evergreen categories for wrapping paper. Those include:
Weddings (surprise, surprise)
Baby Shower
Birthday
For weddings, you can niche down further. Some options are bridal showers, elegant, rustic, boho, etc.
For the baby shower niche, you could think about designs for boys, girls, and gender-neutral babies.
For birthdays you may want to consider what age group you're going after. Is it kids' birthdays, teens, young adults, adults, or seniors? What gender?
Enjoying this series?
Get more Zazzle tips here.
Pedestal Signs
The two main categories for pedestal signs are weddings and small businesses. Very in line with the most popular niches for all of Zazzle.
For small businesses, think about a restaurant and sitting down and having a little pedestal stand with the QR code for the menu, or offering the specials.
For weddings, they're stands with table numbers or with a hashtag to tag all the photos taken at the wedding with, or with a QR code to donate money to the newlyweds.
Hi! Profits Unraveled is still quite a new site and I'm trying to figure out how to best serve my audience. If you could take a moment to fill out this questionnaire linked here (it's 100% anonymous) it will help me create the content that is most important to you faster. Thank you!
Posters
The 4 big categories under posters are:
General Posters & Prints
Crafts & Parties
Weddings
Baby & Kids
Are you enjoying this content?
Get more on YouTube!
Subscribe on YouTube here!
Ornaments
Christmas ornaments, pet memorial ornaments, baby, and newlywed ornaments are top sellers on Zazzle. Much like the other products listed here, it's all about customization!
Golf Balls
Golf balls are another top seller on Zazzle. This one took me by surprise! Monograms would be a great option for this product and there are a bunch of other golf-related products on Zazzle to complement golf balls and create a nice themed collection with.
Badges
Badges are another, for me, surprising product that sells very, very well. Think about employee and small business badges.

Keychains
Popular keychains on Zazzle include monogram and photo keychains as well as funny keychain designs. Mix and match those niches for the best results.
Conclusion
I hope this list of best selling products on Zazzle has given you a ton of ideas for what to start creating. If you are looking for more ideas, head over to my article "10 Best Selling Niches on Zazzle" to dive deeper into what to create in your Zazzle shop.
Happy designing!