What is Print on Demand, My Experience, and My Recommendations
Print on demand is a business model that has gained a ton of popularity in recent years. With YouTube Gurus screaming from the hilltops that it's as easy as grabbing AI images or public domain images and slapping them on some tshirts and you'll make a quick and easy $5k per month.
Spoiler alert: that is incredibly unrealistic. 
So what is print on demand?
Print on demand is a business model where the seller doesn't have to own or store any physical product. Instead, sellers can list products for sale online and when a sale is made, that is when the product is printed.
This cuts down on waste as no product is being mass produced and then thrown out when it doesn't sell.
It is also a great way to get into e-commerce at a lower cost as you don't have make a bulk order and pay to store your product. So there is a lot less risk involved.
And depending on what type of print on demand business model you want to pursue the risk varies.
Let's look at the 3 types of print on demand businesses…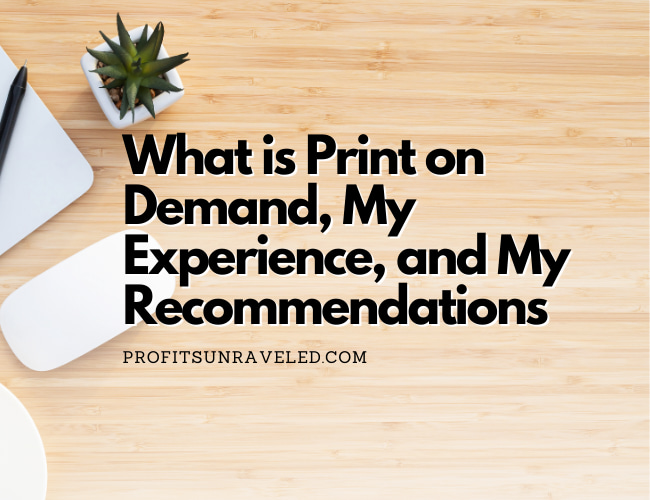 The Three Types
Print on Demand Marketplaces
The first type of POD business is the least risky, and the easiest to get started with.  
Print on demand marketplaces like Zazzle, Redbubble, Society6, or TeePublic allow you to open a shop on their platform and upload designs to a catalog of products that they offer. Think tshirts, mugs, stickers, greeting cards, puzzles, yoga mats, and so more.
And you get access to their customer base.
The downside: commissions are a bit lower, usually around 10-15% and the markets are often quite busy in that everyone starts here and the marketplace gets spammed. (Not to say you can't make sales, it just takes time.)
Third Party Seller Marketplaces
Third party seller marketplaces are website like Amazon, Etsy, and Storenvy.
These marketplaces allow you to open up a shop to sell your products.
Lots of these marketplaces have the option to integrate seamlessly with print on demand suppliers such as Printful, Printify, or Gooten.
You get access to a pre-established marketplace, however most of these sites have sellers fees and you often need to run ads to gain traction.
The benefits: there is a lot less direct competition as not every seller on the marketplace offers the same catalog of products as you. And you can set your commissions higher, usually between the 15-30% range.
Your Own Website
The third print on demand business model is to have your own website, either through Shopify, WordPress, or another platform.
This is the option that gives you the most flexibility in that you can design your store however you like.
But you also need to generate all of your own traffic. This most likely means running ads, which is expensive and higher risk. 
You could also start a blog that is relevant to your niche and bring people in through SEO, which takes time to learn and build.
You'll also probably want to get a social media channel going to promote your business.
It's a lot of work! But the payoff is also much higher if you succeed.
Now that you're familiar with the three types of print on demand business models, I'm going to share my experience with all three!
And below my experience, I give my recommendations to new sellers and sellers who have experience but want to start again.
My Experience with Print on Demand
I've talked more in-depth in other articles on this website about my experience with print on demand, but I'll give you a brief update here as well.
I started my journey with print on demand in 2019.
First I tried building a Shopify store. I tried that for about 4-6 weeks and put a small amount of money into it. I ended up stopping shortly after losing some money and deciding I would be better off trying a less risky method going forward. 
Basically, I knew I had a lot to learn about selling products online and I realized I was going to go through a lot of money that I wasn't willing to part with before I figured it out if I continued with Shopify.
Next, I gave Etsy a shot. I only offered tote bags in my shop and I listed about 30 products. I made something like 20 sales over the course of a couple of months, but it wasn't fully clicking for me yet.
I found Zazzle shortly after I started my Etsy shop, so I let my Etsy shop fizzle out and went all in on Zazzle.
I began making sales after about 3 weeks of opening my shop and I've been making regular sales ever since. You can read about my Zazzle experiences here. 
I have a Redbubble shop as well and have been making consistent sales for the last couple years, but they are a lot fewer than my Zazzle shop as I haven't put nearly as much time into that shop.
I started my journey on Spoonflower in 2022 and have been slowly building up my shop ever since and I am seeing steady growth. Though I still have a long way to go.
That's pretty much the just of my experience so far with print on demand. It is still something I am pursuing while I work on other project.
My Recommendations for POD Newbies
If I were starting over and I was brand new to Print on Demand I would…
Pick one marketplace to open a shop. Either Zazzle, Society6, or Redbubble. But pick just one and stick to it.
Pick a niche and decide on the products you want to offer in your shop. And stick to those products and that niche.
Get designing! Upload as much as you can as often as you can. Making sure it's quality, not just quantity. Continue to upload as consistently as possible.
Open an Etsy shop with 40 free listings, you can use this link to get your first 40 listings on Etsy free and I will get 40 free listings too. 
Connect Etsy shop to Printful or other POD supplier of choice. (I am a fan of Printful, check it out here.)
When consistent sales start coming in to your shop on Zazzle/Redbubble/Society6/etc add those products/designs to the Etsy store and build your Etsy store that way as those products now have proof of concept.
Keep at it and continue to learn as you go!
This is step by step what I would do if I had to start over now. I think that there's still tons of potential on POD marketplaces but the sooner you start uploading and learning the platform the sooner you will see results.
My Recommendations for PODers with Experience
If I were to start again this is what I would do…
Start an Etsy shop and hook it up to Printful or another POD supplier. Pick a product to sell and a niche to sell in and start uploading. With consistent uploading, good SEO, and good customer service, this business could be quite successful in 1-2 years if you upload consistently and have a solid portfolio of products and designs to offer. 
You can open an Etsy shop and get 40 free listings (linked above) to get the ball rolling and from there you should be able to pay for more product listings from your profits. 
Etsy rewards sellers that upload and engage with their platform regularly, so if you continue to upload new quality products with good metadata and photos on each listing it shouldn't take long to start to gain traction.
Add Etsy ads to the picture and it can happen even faster, but I don't think its a necessity.
Final Thoughts
Now you are well informed on what print on demand is, the different types of print on demand business models, and you have read up on my experience and recommendations, and you have a decision to make.
Is print on demand the right business venture for you? And if so, what kind of POD business do you want to dive into?
Whatever you choose, just remember, whatever you put your energy into, that's what will grow.
So just pick one and keep at it. 
If you are keen to try and print on demand marketplace be sure to read through all my articles with helpful tips and tricks and general sound advice for getting started and succeeding with print on demand marketplaces.