Why Zazzle Hides Your Products for Optimization – And Why It's a GOOD Thing
If you've been on Zazzle for 15 months or more you may have noticed that Zazzle will sometimes hide some of your products from the marketplace.
These products will be marked as "Needs Optimization" and are no longer visible in the marketplace when customers search for related keywords.
There have been a lot of complaints in various facebook groups and in the Zazzle community forum about how this adds a lot of work for us sellers to unhide our products and how it's "unfair" for Zazzle to do. None of the other POD marketplaces do this and Zazzle shouldn't either.
Well, I disagree. And I'm hoping after reading through this article, that you can get behind Zazzle wanting us to optimize our products too.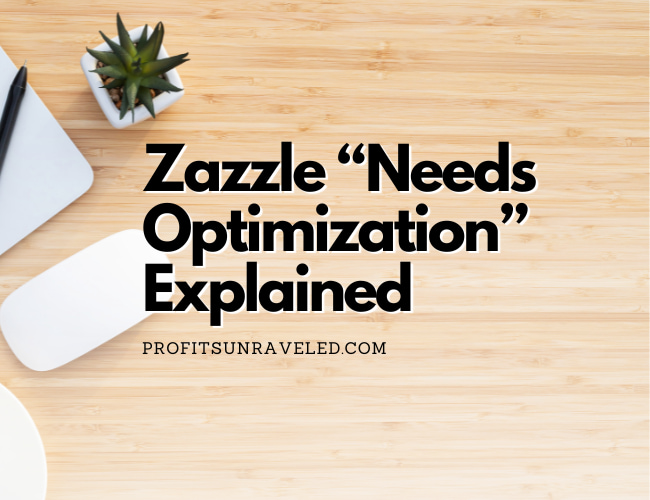 What Triggers a Products to Need Optimization
There are three criteria for a product to be considered "successful" and your products needs to meet at least one of these criteria in order not to get tagged as "Needs Optimization"
Has at least one sale.
Has been published/edited/viewed within the last 15 months.
The product type was added to Zazzle within the last 2 years.
As long as your products meet at least one of these criteria they won't get hidden in the marketplace.

Products Need Optimization Notification
When a product is about to be hidden from the marketplace, Zazzle will send you a notification letting you know that you have products that need optimization. You can find these notifications under the little bell icon at the top right of your browser, beside your profile picture icon.
If you don't optimize the product in time, your product will get hidden from the marketplace until you optimize or delete it.

In order to find your products that need optimization, go to the backend of your shop, click on Products, select the "Statistics, Product Visibility, and Instant Download Settings" drop down menu and select Optimization Needed under the Product Visibility section.
This will filter all of your products that need optimization.
Why Zazzle Hides Products in the Marketplace
Zazzle hides older products in the marketplace if they haven't received any sales and haven't been edited or received any views in 15 months.
They do this for a number of reasons…
It reduces spam in the marketplace
If your products don't get any engagement in 15 months, it signals to the Zazzle algorithm that the product is not worth keeping in the marketplace. This could mean the design is bad, it doesn't have good keywords, or it doesn't have any metadata at all and can't get found.
This seriously reduces the amount of products listed on the Zazzle marketplace over time and is a good thing.
Customer experience
By removing products from the marketplace that aren't getting any engagement, customers are having a better shopping experience as they don't have to sift through as many products to find what they are looking for.
Money
It costs Zazzle money to list products on their website in the form of server space. So tons and tons of products that aren't getting any engagement and aren't converting will end up costing Zazzle a lot of extra money in the long run.
SEO
Zazzle spends a lot of money running ads and working on the website's SEO so that our products show up in search results on search engines such a Google. When you have a ton of product pages with poor SEO (no metadata/not converting/etc) it lowers the authority of the website as a whole. And vice verse, when you have product pages that people are loving and getting tons of sales and engagement, it raises the authority of the website and contributes to our products showing up higher in search results.
What to Do if Your Products Have Been Hidden in the Marketplace
If your products are marked as "Needs Optimization" or have been hidden from the marketplace it's pretty simple to get them unhidden again.
If you have a lot of products that need optimization, it's going to be a bit of a process, but if you check back regularly and optimize products as they come up you should be able to keep up with the workload without too much issue.
You will need to go one by one and check each product for any issues before marking it as public again and you may want to view it for good measure. Here is a quick list of things to look at when "optimizing" your products:
Check Titles and Tags
Check Description
Check Design
Check Templates
Once you have made any adjustments you can mark the product as public again and you will reset the 15 month clock. If you made any adjustments to the designs, you will need to repost that product for sale and delete the old one.
How This Benefits You
I often see complaints in the various online forums about this feature as it adds a lot of extra work for us when it comes time to optimize products. But the truth is, this is a good thing and here's why…
It lets us know when products haven't been viewed, so we can look back and make improvements and decide if we even want to keep that product in our shop at all.
It makes the marketplace so much less saturated, giving our products the best chance possible at getting discovered. (Imagine if every product ever published on Zazzle since 2005 was still on the marketplace, yikes!!)
It's better for our shop's SEO. When you have a bunch of products in your shop that aren't performing, it lowers your (and Zazzle's) overall authority in the shopping space online. So by getting rid of any "bad" product pages, it raises the overall quality of Zazzle and your Zazzle products are then more likely to show up in search engines like Google.
Zazzle is NOT a Passive Business
I am with you, it is time consuming to go back and edit our old products! But to me, for the trade off of the above benefits it makes it worth it and pushes me to improve my shop.
It's pretty clear that Zazzle wants us actively working on and improving our shops day in and day out. 
If you don't want to edit your products and optimize you may want to consider deleting them. 
Zazzle has talked favorably about deleting products that don't perform well before, as it's good for SEO and can raise our shops up. And many people in the Zazzle community have talked about their Z score jumping up after deleting old, underperforming products. So that's something to consider.
Final Thoughts
I hope that these points have painted a bit of a different light for you and you can more easily get behind Zazzle hiding our products in the marketplace. It really does stand to benefit you and your shop in the long run.
---
– My Recommended Tools –
Below are my personal favorite tools that I use regularly in my POD business.
The below links are affiliate links meaning I may receive a small commission for anything purchased through these links at no extra cost to you.
Creative Fabrica – My favorite place to get graphics with a straightforward commercial license for print on demand use.
Adobe Illustrator – I use Adobe Illustrator for at least half of my design creations. It's pricey but so worth it when you choose to take the business seriously. Get a free trial to Adobe Illustrator here.
Graphics Tablet – My partner got me this exact tablet as a Christmas gift when I was just starting out with creating my own designs. It has served me well now for several years and it was a very low cost investment that made a big impact in my POD business.
Ergonomic Mouse – If you spend long hours at the computer like me I highly recommend investing in a good ergonomic mouse. Over the years, I have caused an injury in my hand/wrist from being at the computer so much, but my pain has gotten significantly better since getting this ergonomic mouse on Amazon.
---