Do You Need an iPad for Surface Pattern Design?
If you're just venturing into the world of surface pattern design or exploring print on demand, you've likely encountered the pervasive assumption that an iPad is an indispensable tool for success in this industry.
I remember pondering the same question: "Do I need an iPad to make it in this field?" The truth is, while the iPad undoubtedly wields immense power and offers numerous advantages, it is not an absolute necessity.
In fact, I firmly believe that you can embark on this creative journey without investing in an iPad. So, let's dispel the notion that an iPad is an obligatory gateway to success in surface pattern design. Instead, let's explore the alternatives and discover the transformative benefits of having a drawing tablet that can save you valuable time and money in the long run.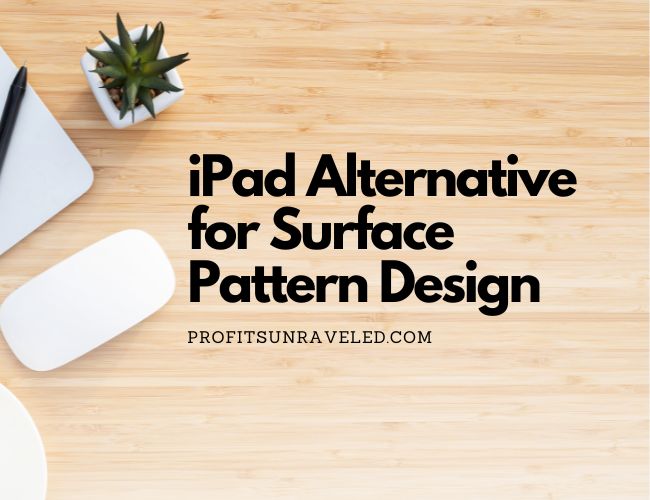 ---
Disclaimer: This post may contain affiliate links. We may earn a small commission for purchases made through links in this post, at no extra cost to you.
The Benefits of Drawing Tablets in Surface Pattern Design
A drawing tablet is not just a luxury; it's an invaluable asset for your surface pattern design endeavors. Let's face it, meticulously tracking every point in your illustration with a mouse can be an agonizingly slow and laborious task. When faced with larger projects, the sheer magnitude of the undertaking can feel overwhelming. This is where a small drawing tablet swoops in to save the day, acting as your trusty time-saving companion and unleashing your creativity at your desktop or laptop workstation.
While it may not perfectly replicate the tactile experience of drawing on paper, a drawing tablet offers a level of precision and fluidity that is simply unmatched by the conventional mouse or, dare I say, your laptop's trackpad (no judgment here, that's where I started too). The ability to execute smoother, more natural motions allows you to bring your artistic visions to life with greater ease and finesse. And the limitations and frustrations imposed by a mouse or trackpad can be easily overcome.
---
– My Recommended Tools –
Below are my personal favorite tools that I use regularly in my POD business.
The below links are affiliate links meaning I may receive a small commission for anything purchased through these links at no extra cost to you.
Creative Fabrica – My favorite place to get graphics with a straightforward commercial license for print on demand use.
Adobe Illustrator – I use Adobe Illustrator for at least half of my design creations. It's pricey but so worth it when you choose to take the business seriously. Get a free trial to Adobe Illustrator here.
Graphics Tablet – My partner got me this exact tablet as a Christmas gift when I was just starting out with creating my own designs. It has served me well now for several years and it was a very low cost investment that made a big impact in my POD business.
Ergonomic Mouse – If you spend long hours at the computer like me I highly recommend investing in a good ergonomic mouse. Over the years, I have caused an injury in my hand/wrist from being at the computer so much, but my pain has gotten significantly better since getting this ergonomic mouse on Amazon.
---
Exploring Affordable Alternatives
You'll be delighted to discover that there are numerous affordable tablet options available to kickstart your creative journey.
One such option that I personally have had the pleasure of using is the VEIKK tablet. In fact, it was gifted to me by my ever-supportive partner as a Christmas gift as I couldn't seem to find the courage to invest in myself on this.

I relied on this tablet relentlessly for two years before eventually upgrading to an iPad. To this day, I still find myself regularly returning to this trusty tablet, which has proven it's worth time and time again.
While the VEIKK tablet may be considered basic in terms of features, it has everything you need for your surface pattern design adventures. Seamless compatibility with industry-standard software, including Adobe Illustrator and Photoshop, as well as Gimp and Inkscape, allows for a smooth and integrated workflow.
Personally, I utilize the 6-inch by 4-inch tablet, which, despite its modest size, has served me remarkably well. Its compact dimensions have proven to be an advantage, particularly in my case where desk space is limited.
here is a mockup of one of my latest creations using the VEIKK tablet.

Final Thoughts
While having a tablet can certainly enhance your workflow, it's important to recognize that it won't magically transform you into a master artist if your skill level isn't there yet.
Speaking from personal experience, my own artistic abilities are fairly average, and that remains true whether I'm drawing with pen and paper, an iPad, or my trusty VEIKK tablet. Improving one's artistic skills is a journey that requires consistent effort and practice. I, too, find myself working diligently day in and day out, albeit at a slow pace.
If you're under the impression that acquiring a tablet will instantly elevate your art to new heights, I'm sorry to say that it won't.
However, if your goal is to streamline your workflow and enhance your creative process without breaking the bank, then investing in a drawing tablet is undoubtedly a wise choice.
So, if you find yourself questioning whether you need an iPad for surface pattern design, the answer is a resounding "no." While it can be a valuable asset, it is by no means a requirement. With the right drawing tablet, dedication to skill development, and a passion for creativity, you can embark on your surface pattern design journey with confidence and efficiency.
Remember, the tools you choose should align with your individual needs, preferences, and budget. Ultimately, what matters most is your dedication, perseverance, and willingness to explore and expand your artistic abilities.
If you're looking for ways to level up your surface pattern design work, check out my post 7 Ways to Improve Your Surface Pattern Design Work.
Happy Designing!
Tessa