The Importance of Relevant Tags & Keywords on Zazzle
When it comes to selling products on Zazzle, using relevant tags or keywords can significantly impact your shop's success. By employing appropriate keywords that accurately describe your designs, you help potential customers find your products more easily.
However, using tags that don't align with your design can have adverse effects on your shop in the long run. This article delves into the importance of using relevant tags and why using unrelated keywords can ultimately harm your Zazzle shop.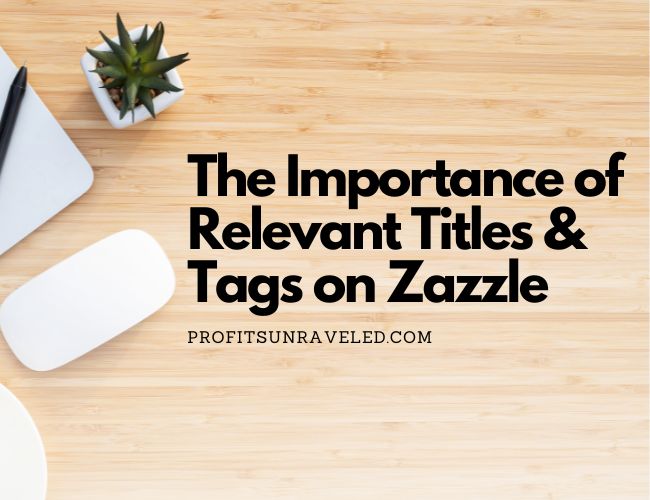 The Power of Relevant Keywords
Utilizing relevant keywords is essential because it enables customers to discover your products when searching for specific items.
By using descriptive tags that accurately represent your design, you increase the likelihood of attracting potential buyers who are genuinely interested in your offerings. This targeted approach not only enhances customer satisfaction but also improves the chances of converting views into actual sales.
The Pitfalls of Irrelevant Keywords
While it might be tempting to include popular keywords, such as "minimalist" or "trending," in your product listings, doing so without any connection to your design is counterproductive.
Zazzle's algorithm evaluates the relevance of keywords by monitoring customer behavior.
If customers search for "minimalist" and encounter a design that clearly doesn't align with that style, they are likely to dismiss it, resulting in missed conversion opportunities.
Also, customers who click on your listing expecting a particular aesthetic and find something entirely different may quickly navigate away from your page.
These negative experiences not only fail to convert potential customers but also signal to the algorithm that your product is not aligned with the keywords used, thus impacting your future ranking on Zazzle.

The Long-Term Impact
By focusing on relevant keywords, even if they have lower search volume, you send a clear message to Zazzle's algorithm that your product listing is tailored to the specific needs and desires of potential customers.
When you consistently convert visitors who found your product through relevant keywords into buyers, Zazzle recognizes the effectiveness of your chosen tags. As a result, the algorithm rewards you by placing your listings higher in future search results.
This feedback loop reinforces your shop's visibility and ultimately boosts your sales potential over time.
And as much as we all want to make sales tomorrow, we need to remember, Zazzle is a long-term game.
Tips for Effective Tag Usage
To maximize the impact of your tags and improve your Zazzle shop's long-term performance, consider the following tips:
1. Stay True to Your Design: Ensure that the keywords you select genuinely reflect the essence and style of your design. Be authentic and avoid using popular tags simply for the sake of attracting more views.
2. Be Specific: Instead of relying solely on generic tags, aim for a combination of broad and specific keywords that accurately describe your product. This approach helps you reach the right audience who are actively searching for what you offer.
3. Analyze and Adapt: Regularly review the performance of your listings by analyzing your conversion rates (look at views vs sales as well as your product insights). This allows you to identify which tags are effective and which ones may need adjustment to better align with your designs.
4. Experiment and Refine: Don't be afraid to try new tags and observe how they perform over time. By testing different keyword combinations, you can discover niche markets and opportunities for growth.
Related: 15 Best Selling Products on Zazzle
---
– My Recommended Tools –
Below are my personal favorite tools that I use regularly in my POD business.
The below links are affiliate links meaning I may receive a small commission for anything purchased through these links at no extra cost to you.
Creative Fabrica – My favorite place to get graphics with a straightforward commercial license for print on demand use.
Adobe Illustrator – I use Adobe Illustrator for at least half of my design creations. It's pricey but so worth it when you choose to take the business seriously. Get a free trial to Adobe Illustrator here.
Graphics Tablet – My partner got me this exact tablet as a Christmas gift when I was just starting out with creating my own designs. It has served me well now for several years and it was a very low cost investment that made a big impact in my POD business.
Ergonomic Mouse – If you spend long hours at the computer like me I highly recommend investing in a good ergonomic mouse. Over the years, I have caused an injury in my hand/wrist from being at the computer so much, but my pain has gotten significantly better since getting this ergonomic mouse on Amazon.
---
Final Thoughts
In the competitive world of online marketplaces like Zazzle, using relevant tags is paramount to success. By selecting tags that accurately represent your designs and avoiding unrelated keywords, you enhance your chances of attracting the right customers and converting views into sales. Remember, the Zazzle algorithm rewards listings that effectively convert visitors, so prioritize quality over quantity when it comes to tag selection. By staying true to your design and consistently utilizing relevant keywords, you pave the way for long-term success on Zazzle's platform.
If you aren't sure how to pick relevant keywords because you haven't picked your niche yet, be sure to check out the 10 Best Selling Niches on Zazzle for helpful ideas and insights here.
Enjoying this series?
Get more Zazzle tips here.
Happy Designing!
Tessa