10 Best Selling Niches on Zazzle
If you're just getting started on Zazzle, or even if you've been at it for a while, sometimes it can be difficult to decide on a niche to focus on.
There is an endless supply of different niches to dive into, but they are not all made equal. And each print on demand platform caters to different niches. So it's important to consider what does well on the platform you are designing on. That's why I've come up with a list of 10 of the top niches on Zazzle.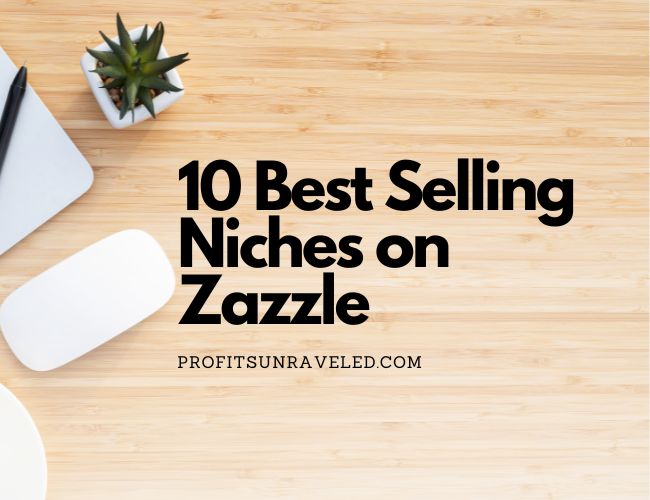 Here are 9 niches that do very well on Zazzle:
Weddings
Crafts and Party
Small Business
Holiday
Funny
Monogram
Photo
Family
Baby & Kids
Current Events
Now let's dive into each niche to see what types of products or designs would do well within each niche.
1. Weddings
You'd have to be living under a rock, or just absolutely brand new to Zazzle, not to know that weddings are a massive niche in Zazzle and realistically their number 1 niche sitewide.
And with such massive popularity comes massive competition. But don't let that stop you, there are tons of sub-niches within the wedding niche for you to be able to carve out your little corner of the market.
Some niches include:
Winter
Rustic
LGBTQ+
Backyard
Boho
Elegant
Destination
Products to design include:
Invitations
Save the Dates
Pedestal Signs
Floor Decals
Tapestries
Posters
Envelopes
Napkins
Tote Bags
Various Food Items (cookies, lollipops, chocolates, etc.)
---
– My Recommended Tools –
Below are my personal favorite tools that I use regularly in my POD business.
The below links are affiliate links meaning I may receive a small commission for anything purchased through these links at no extra cost to you.
Creative Fabrica – My favorite place to get graphics with a straightforward commercial license for print on demand use.
Adobe Illustrator – I use Adobe Illustrator for at least half of my design creations. It's pricey but so worth it when you choose to take the business seriously. Get a free trial to Adobe Illustrator here.
Graphics Tablet – My partner got me this exact tablet as a Christmas gift when I was just starting out with creating my own designs. It has served me well now for several years and it was a very low cost investment that made a big impact in my POD business.
Ergonomic Mouse – If you spend long hours at the computer like me I highly recommend investing in a good ergonomic mouse. Over the years, I have caused an injury in my hand/wrist from being at the computer so much, but my pain has gotten significantly better since getting this ergonomic mouse on Amazon.
---
2. Party
Just like weddings, parties are huge on Zazzle. Basically, any kind of celebration event is pretty massive on Zazzle.
Some parties to design for:
Birthday (from kids to seniors and everything in between)
Christmas
New Years
Family Events
4th of July
Graduation
Bat Mitzvah
Baby Showers
Products to design on:
Invitations
Wrapping Paper
Paper Cups
Napkins
Paper Plates
Tote Bags
Gift Bags
Banners
3. Small Business
Small business is another huge niche on Zazzle, let's look at some of the sub-niches within the small business niche and what some good products to design would be.
Small business niches:
Bakers
Sewers
Knitters
Plant business
Hair/Make up Stylist
Counselor
Massage Therapist
Photographer
Interior Decorator
Products to design on:
Business Cards
Planners
Gift Wrap
Gift Tags
Tote Bags
Stickers
Pedestal Signs
Posters
Enjoying this series?
Get more Zazzle tips here.
4. Holiday
Holiday niches:
Christmas
Hanukkah
Valentine's Day
4th of July
Easter
Halloween
Products to design on:
Wrapping paper
Greeting Cards
Can Coolers
Banners
Tapestries
Stickers
Mugs
As I mentioned in my previous article 10 Things I've Learned in 4 Years of Print on Demand it's important to get your products up early to give them enough time to rank in the marketplace before the holidays.
I've created a content creation calendar to help you prioritize what to design and when.
5. Funny
The funny niche can really be open to interpretation and there are so many directions you can go with it. Here a just a few niches that you could add humor:
We moved announcements
Baby on the way
Antisocial/Introvert humor
COVID humor
Valentine's Day
Doctor's Orders
Birthdays
Products to design for:
Mugs
Greeting Cards
Keychains
Throw Pillows
Shot Glasses
Tshirts
Tote Bags
6. Monogram
Zazzle is known for its customizable products and monograms are one of the big sellers. Some things to consider when adding a monogram is whether or not to include:
Full Name
First name
Last Name
Initials
First Initial
Last Initial
You can add a monogram to every product on Zazzle so I don't feel that we need to go into specific product types here.
Are you enjoying this content?
Get more on YouTube!
Subscribe on YouTube here!
7. Photo
Similar to the monogram, Zazzle is also known for being able to add your own custom photo to its products. Photo niches include:
Pets
Couple
Family
Friends
Location
Anything near and dear to someone's heart
Just like with monograms, you can add photos to every product on the platform as well. However, a few products that do particularly well would be:
Greeting Cards
Ornaments
Keychains
Throw Pillows
Tote Bags
Calendars
Blankets
Phone Cases
Magnets
8. Family
The family niche ties in with a few of the mentioned niches above. Some things to narrow down your design options:
New Family
Newlyweds
New Baby
Photos
Beach House
Vacation Home
Family Ski Trip
Some products to include:
Throw Pillows
Guest Book
Throw Blanket
Placemats
Posters
Greeting Cards
Cornhole Sets
9. Baby & Kids
This could be similar to the family niche, but not quite.
Designs to consider:
Baby Animals
Space
Dinosaurs
Unicorns
Gender Neutral
Watercolor Designs
Monograms
Products to consider:
Posters
Puzzles
Notebooks
Tapestries
Throw Pillows
Blankets
All the baby products
Light Switch Covers
10. Current Events
Current events are always hot sellers if you can hop on the trend quickly enough. Just know that, for the most part, these will be trends and won't necessarily last. You may have some products do really well for a couple of days, weeks, months, and potentially even a year or two, but the sales will dry up eventually. See my 2020 Income Report for a prime example.
Obviously, current events are always changing so I can't really give you anything current as you may be reading this weeks, months, or even years after it's written.
However, here are some events to look out for:
Politics
Global Conflict
Global Celebrations
Pandemics
Climate Events
Human Rights Movements
Activism Movements
Products to consider designing for:
Greeting Cards
Ornaments
Stickers
Magnets
Tshirts
Lawn Signs
Conclusion
I hope this has given you a ton of ideas and a few places to start when doing research for what kinds of products you want to design and in which niches.
Be sure to check out my previous post on the top selling products on Zazzle if you are looking for more direction.