27 Products to Sell on Zazzle for the Winter Holiday + 6 Niche Ideas
With the winter holidays fast approaching there's talk of the infamous Q4 big sales. But if you're new to Zazzle (or any POD marketplace) and not totally sure what types of products you should be selling to cash in during the winter holidays I've got you covered.
Before we dive into the specific product list I've prepared for you, I want you to know that almost everything is going to see a boost in sales as most products on Zazzle make great gifts. However, there are products that can be more holiday specific, and that's what this list is about.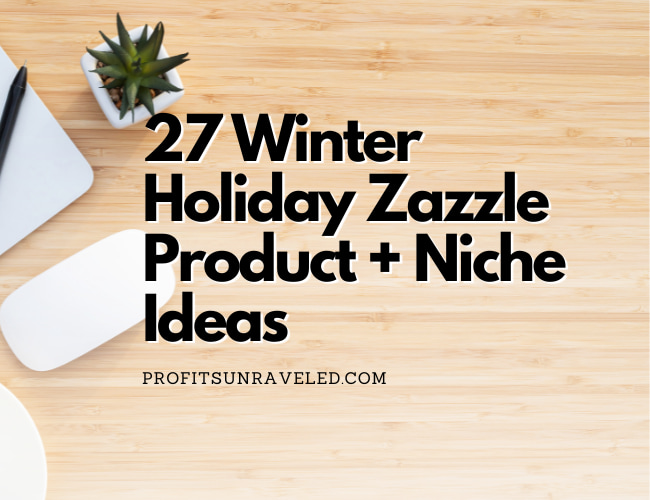 Here is my list of products to sell on Zazzle for the winter holidays:
Wrapping Paper & Sheets
Tissue Paper
Gift Bags
Gift Tags
Ribbon
Gift Boxes
Stickers
Stamps
Greeting Cards
Invitations
Food Party Favors
Tshirts and Sweaters
Leggings
Socks
Scarves
Mugs
Stockings
Tree Skirts
Tree Ornaments
Party Napkins
Calendars
Planners
Throw Blankets
Trays
Tote Bags
Aprons
Candles
It's great to know what products to design on, but you may also be wondering what kinds of designs will sell well? Let's take a look at different types of designs (niches) that could work well on some of these products.
Small Business Niche
Many of these products would fit well in the small business niche.
Remember, lots of customers on Zazzle love that you are able to customize products so that they can add their business name and logo.
Some of the products above that would work well in the small business niche are tissue paper, gift bags, gift tags, ribbon, gift boxes, stickers, and stamps.
Holiday Party
Many parties are thrown during the holiday season and a few of these products will help party throwers set the right atmosphere. Products like invitations, party favors and napkins would be a good fit for this niche.
Nail down the niche even further by deciding who is throwing this party. Is it a work event? Is it young adults, middle aged adults, or is it a family event? Is it a rager or will it be more sophisticated? These are just some ideas to help you get more specific with your designs.
New Years Eve
This is very similar to the holiday party niche in terms of product selection. However, the designs going on NYE products are going to be vastly different. When deciding what kind of designs to create, you'll want to consider many of the questions asked above. What is the vibe of the event? And who are the people attending.
Winter Wedding
We know weddings are Zazzle's bread and butter so it stands to reason winter weddings are going to be a popular niche to get into. From the list above, invitations and party favors will work well in this niche and there are tons of other products on Zazzle that go into the wedding niche.
Family
Ever see those cheesy family photos where everyone is dressed up in matching outfits?
Zazzle seems to be the place that a lot of these people shop. Now, you can't exactly buy matching pajamas from Zazzle (how amazing would it be if Zazzle got all over print PJs?!) but you can create tops and leggings and put them in a collection to get bought together. And don't forget to add matching socks and scarves to the mix too!
Holiday Home Decor
People love to decorate their homes for the holidays and get all festive.
When I think of people dressing up their homes for the holidays, I think of cozy things like blankets, candles, and mugs full of hot coco.
But there are also stockings, tree skirts, tree ornaments, aprons and trays.
Final thoughts
This list of products and niches for the holiday season is not extensive and is only meant to be a starting off point for you to get your creativity flowing.
Take a peruse through Zazzle's huge catalog of products and pick out which ones you want to offer in your shop. It's all going to depend on your shop's overall niche, so some of these idea may be great for you and others… not so much. You don't have to do it all. 
---
– My Recommended Tools –
Below are my personal favorite tools that I use regularly in my POD business.
The below links are affiliate links meaning I may receive a small commission for anything purchased through these links at no extra cost to you.
Creative Fabrica – My favorite place to get graphics with a straightforward commercial license for print on demand use.
Adobe Illustrator – I use Adobe Illustrator for at least half of my design creations. It's pricey but so worth it when you choose to take the business seriously. Get a free trial to Adobe Illustrator here.
Graphics Tablet – My partner got me this exact tablet as a Christmas gift when I was just starting out with creating my own designs. It has served me well now for several years and it was a very low cost investment that made a big impact in my POD business.
Ergonomic Mouse – If you spend long hours at the computer like me I highly recommend investing in a good ergonomic mouse. Over the years, I have caused an injury in my hand/wrist from being at the computer so much, but my pain has gotten significantly better since getting this ergonomic mouse on Amazon.
---