So You've Opened Your Zazzle Store – Now What?! – 9 Next Steps to Building a Successful POD Shop on Zazzle
Now that you've opened your Zazzle store you may be wondering what to do next. In this article I will walk you through 9 steps to help you build your store to be the best it can be.
If you haven't opened your Zazzle shop yet, I will walk you step by step with screenshots exactly how to do that in this article here.
Pick a Niche
Keyword Research
Choose Products Offered
Create Categories
Plan & Create Collections
Create High Quality Designs
Upload with Good Meta Data
Marketing
Analyze and Refine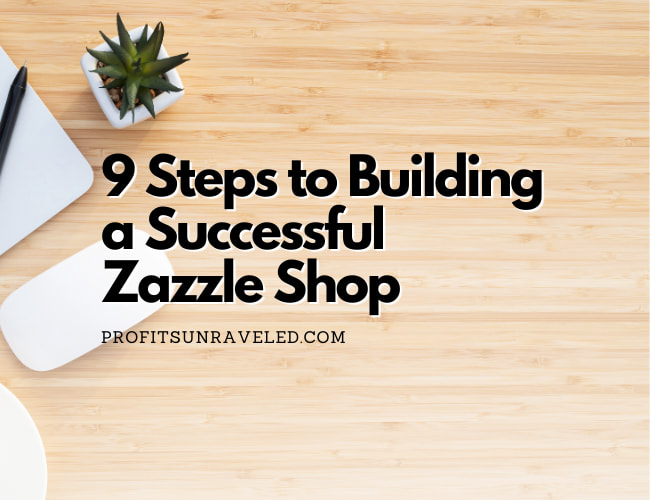 1. Pick a Niche
First things first, if you haven't picked a niche yet, now is the time. Your niche can be anything that you want!
Ideally, something that you have a personal interest in and some knowledge about as this will help you to have a better idea of what kinds of designs will sell. Having a personal connection to your niche will also help you to stay interested and stick with it for the long term.
If you need some help, I have a niche brainstorming worksheet that you can download here.
2. Keyword Research
This is probably everyone's least favorite step, but it really is key to finding lasting success on Zazzle.
If you choose not to do keyword research you are going to be taking a shot in the dark to see what works, which is fine… but will take a lot longer to figure out what works.
You'll want to do keyword research on and off of Zazzle to figure out what words customers in your niche are using.
Keep in mind, Zazzle spends quite a bit of money to advertise our products off-site, so we want to target search engines like Google with our keywords as well.
Write down a master list of keywords, both long- and short-tail, to use when uploading products.
See this article on how to do market research to help you find relevant keywords for your niche.
3. Choose Products Offered
In this step, you will be choosing which products you will be offering in your store.
Depending on your niche, you are going to want to sell different products.
For example, if you are in the wedding niche, you'll probably be sticking to invitations, RSVPs, table cards, seating chart posters, wedding favor gifts, wedding games, etc.
However, if you are in home decor, you would be offering a completely different selection of products.
See my article Products to Add to Your Bedroom Collection on Zazzle for an idea of how to decide on a product suite.
4. Create Categories
Once you have decided on which products you will be offering in your shop it is time to create your shop categories.
You'll probably want to create some parent categories and then sort the product categories into those.
For example, with the wedding niche some parent categories could be bachelor/bachelorette parties with coordinating products within that theme. Another might Wedding party favors with different favors within that category. Another parent category might be all the paper products like invitations and RSVPs. Hopefully you get the idea!
For the bedroom collection article linked to above, some parent categories might be bedding, art/decor, and miscellaneous.
Once you've decided on what your categories will be, it's time to make some cover images for each category!
I have a video for you to watch explaining categories here.
5. Plan & Create Collections
With Zazzle's new collection types, they are so much more versatile and marketable, so we want to plan them out and make use of them the best we can.
I gave an example above, in the article Products to Add to Your Bedroom Collection on Zazzle of what might go into a single collection.
I don't think Zazzle had launched their new collections feature when I posted that article.
That article covers one type of collection. The cross-sell collection type.
However, there are 3 other collection types that you can play with to maximize sales. So you'll want to have a think about what is going to work best with your niche and prioritize that.
6. Create High Quality Designs
Now that all the prepping and planning is done, it's time to start creating designs!
Now you may already have tons of designs ready to be uploaded, that's great! You can skip this step.
If you don't have a backlog of designs at the ready, no problem! If you've done your keyword research you should have some direction of what kinds of designs you are going to create.
If you need help creating designs, I recommend looking into a subscription with Creative Fabrica here, they have tons and tons of graphics that you can use to create your product designs.
7. Upload with Good Metadata
To get started uploading your designs, pick your first product to design on and upload your artwork.
If you aren't sure how to do that, no problem! I have a quick video showing exactly how to upload your first design here.
Since you've done all that keyword research, you should have a bunch of good keywords to use in your metadata for each of your designs.
The metadata is just the words you put in the title, description, and tags.
You'll want to use all of the tag slots and include keywords in your title and descriptions.
Don't add keywords that aren't relevant to your design, that is only going to hurt you in the long run.
Check out this article on The Importance of Relevant Tags & Keywords on Zazzle for why tags and keywords are so important.
8. Marketing
If you're anything like me, then this is the step you absolutely dread!
And if I'm being totally honest, this is where I fall flat a lot of the time. But I'm working on it!
Marketing is a key step in building a successful shop on Zazzle. But let's not over complicate it. Consistency is what wins out here, not quantity.
Open a Pinterest account for your Zazzle shop and create relevant boards for your shop.
When you upload a new product, pin it from Zazzle. That is the very least you can do. However, it probably isn't going to bring in many sales.
My recommendation is to create one pin a day that is the recommended pin size (1000 x 1500px) for either a product or a collection.
Pinterest has an internal scheduler, so you can do this in batches.
It takes a while to start to gain traction on any platform, so commit to 3-6 months of one pin a day and reassess after that.
If you can manage it, get started with an Instagram or TikTok account too.
9. Analyze and Refine
Once you've been consistent on Zazzle for a few months, it's time to take a look at what has and what hasn't worked. Where are you making sales? Where are you getting the most views? Create more of what has worked. And keep coming back every few months to re-analyze.
Please keep in mind, that it can take months for products on Zazzle to start to gain traction. Heck, it can take years! So please be patient, this is a long term commitment, not a get rich quick scheme.
---
– My Recommended Tools –
Below are my personal favorite tools that I use regularly in my POD business.
The below links are affiliate links meaning I may receive a small commission for anything purchased through these links at no extra cost to you.
Creative Fabrica – My favorite place to get graphics with a straightforward commercial license for print on demand use.
Adobe Illustrator – I use Adobe Illustrator for at least half of my design creations. It's pricey but so worth it when you choose to take the business seriously. Get a free trial to Adobe Illustrator here.
Graphics Tablet – My partner got me this exact tablet as a Christmas gift when I was just starting out with creating my own designs. It has served me well now for several years and it was a very low cost investment that made a big impact in my POD business.
Ergonomic Mouse – If you spend long hours at the computer like me I highly recommend investing in a good ergonomic mouse. Over the years, I have caused an injury in my hand/wrist from being at the computer so much, but my pain has gotten significantly better since getting this ergonomic mouse on Amazon.
---
Final Thoughts
I hope this article has given you a sense of direction when it comes to getting your Zazzle shop off the ground.
I don't expect that you'll follow all of the steps, but when you're stuck and unsure of what to do next you can always come back to this list and check off a few of these steps.
All the best to you in your Zazzle ventures!
Happy Designing,
Tessa