Zazzle's Quick Create Tool: Understanding Its Current Status and Alternatives
Hey everyone! Let's talk about Zazzle's Quick Create tool, or more accurately, its disappearance from the platform. For those new to Zazzle or considering joining, Quick Create was a handy feature that allowed sellers to apply a single design to multiple products at once. Much like you are able to do on platforms like Redbubble and Society6. It streamlined the process of populating your Zazzle store, saving you hours that could be better spent creating more designs or marketing your products.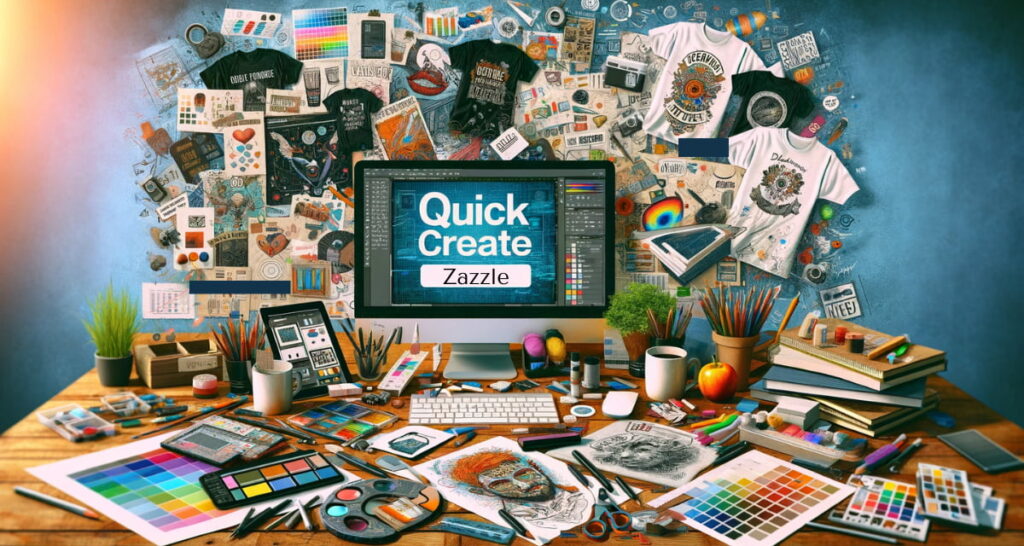 What Happened to Quick Create?
In recent years, though, Quick Create has gone AWOL. If you've been around Zazzle for a while, you've probably noticed its absence. Now, attempts to use Quick Create reroute you to the standard product creation page, leaving you to upload designs to each product individually. It's a significant shift from the convenient, multi-product uploading process we'd gotten used to.
Why Does This Matter to Sellers?
For sellers, the loss of Quick Create means more time spent on the technical side of product creation and less on the creative or promotional aspects. This tool was more than just a shortcut; it was a crucial part of many sellers' strategies to quickly expand their product range and capitalize on popular designs.
Transparency Issues
One of the gripes from the community has been the lack of clear communication from Zazzle about this change. Without an official explanation or guidance, sellers are left in the dark, wondering if and when Quick Create might make a comeback. This uncertainty isn't great for planning and strategizing your store's future.
Looking for Alternatives
So, what now? While we're all hoping for some clarity or, better yet, the return of Quick Create, I've got something that might help. A video explaining the quickest way to upload one design to multiple products on Zazzle. This video aims to fill in the gap left by Quick Create and help you keep your store growing, even without the convenience we once had.
Final Thoughts
While the absence of Quick Create is a hiccup for Zazzle sellers, it's not all bad. There are a few benefits to the Quick Create tool being axed. The main reason being that it reduces spam in the marketplace. The second reason is that the Quick Create tool enabled us to move very quickly when creating products and left more room for errors when uploading. So it is a good thing for the overall look of Zazzle and customer service, but it is a bit of a bummer for us sellers looking for a faster way to upload our designs.
Don't forget to sign up for my weekly newsletter to get regular updates on the world of POD!
---
– My Recommended Tools –
Below are my personal favorite tools that I use regularly in my POD business.
The below links are affiliate links meaning I may receive a small commission for anything purchased through these links at no extra cost to you.
Creative Fabrica – My favorite place to get graphics with a straightforward commercial license for print on demand use.
Adobe Illustrator – I use Adobe Illustrator for at least half of my design creations. It's pricey but so worth it when you choose to take the business seriously. Get a free trial to Adobe Illustrator here.
Graphics Tablet – My partner got me this exact tablet as a Christmas gift when I was just starting out with creating my own designs. It has served me well now for several years and it was a very low cost investment that made a big impact in my POD business.
Ergonomic Mouse – If you spend long hours at the computer like me I highly recommend investing in a good ergonomic mouse. Over the years, I have caused an injury in my hand/wrist from being at the computer so much, but my pain has gotten significantly better since getting this ergonomic mouse on Amazon.
---