12 Ways to do Market Research for Your Zazzle Shop
Greetings, fellow Zazzle aficionado. Have you ever pondered the key to taking your Zazzle shop from good to extraordinary? It's a little thing called market research. Imagine it as assembling a puzzle where creativity and demand intersect. I'm here to unveil some savvy techniques, peppered with relatable anecdotes. Shall we embark on the journey of turning your Zazzle shop into a flourishing hub of creativity?
Here are 12 ways to do market research for your Zazzle shop:
Zazzle
Etsy
Amazon Bestsellers
Google Trends
Google Shopping
Customer Reviews
Facebook Groups
Online Forums
IRL
A/B Testing
Pinterest
Industry Blogs
Let's delve in to each of these points below.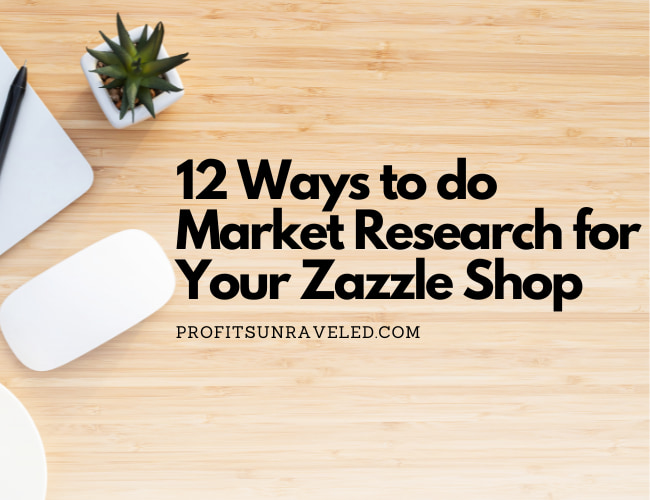 Zazzle
Naturally, the first place you want to look to do market research for your Zazzle shop is on Zazzle itself!
Once you have you niche selected (if you don't have a niche you can download my niche brainstorm worksheets here,) it's time to start looking on what comes up on the Zazzle platform when you type in your niche keywords into the search bar.

Pretend you niche is dogs, in the image above, you can see that when you type in the word "puppy" into the search bar Zazzle will give you a few auto suggestions.
These suggestions are what people are searching for.
So these are some products that you might want to focus designing on.
Once you click the search button, Zazzle will give you some of the top keywords/tags for the term puppy.
Etsy
While Etsy is a different platform, it's a treasure trove of information that you can use to make strategies for your Zazzle shop.
Analyze successful shops in your niche and their offerings to gain inspiration for your Zazzle products.
Start by typing in some of the main keywords in your niche and see what kinds of products and designs land on the first couple of pages. Keep in mind that Etsy shows a lot of sponsored content, so I like to ignore the sponsored products and look at the listings that have earned their high ranking without paying for it.
---
– My Recommended Tools –
Below are my personal favorite tools that I use regularly in my POD business.
The below links are affiliate links meaning I may receive a small commission for anything purchased through these links at no extra cost to you.
Creative Fabrica – My favorite place to get graphics with a straightforward commercial license for print on demand use.
Adobe Illustrator – I use Adobe Illustrator for at least half of my design creations. It's pricey but so worth it when you choose to take the business seriously. Get a free trial to Adobe Illustrator here.
Graphics Tablet – My partner got me this exact tablet as a Christmas gift when I was just starting out with creating my own designs. It has served me well now for several years and it was a very low cost investment that made a big impact in my POD business.
Ergonomic Mouse – If you spend long hours at the computer like me I highly recommend investing in a good ergonomic mouse. Over the years, I have caused an injury in my hand/wrist from being at the computer so much, but my pain has gotten significantly better since getting this ergonomic mouse on Amazon.
---
Amazon Bestsellers
You can get a ton of valuable information from what is selling on Amazon!
When you go to a product page, scroll down to the "Product details" section and take a look at the Best Sellers Rank (BSR) the closer that number is to 0, the more it sells.
You can also click on that linked category and Amazon will show you the top 100 products for that category.
Take your time with this, it's a bit of a learned skill.
Amazon has tons of categories and there may be more than one that suits your niche.
Google Trends
I've mentioned Google Trends in at least two of my other articles. I listed it as a tool to use to assess your niche selection in this article here and I listed it as a way to look out for trends in this article here. And I'm sure it will get mentioned again and again.
Google Trends is such a great tool for analyzing market search volume, behavior, and patterns.
Type your niche into the search box and see how your niche has trended over the past few years (I like to go back as far as I can) can you see any patterns in the graph? Any seasonality? Or maybe you see a big spike from a few years ago and it's been slowly dying off ever since.
Don't forget to try different keyword variations for you niche as not everyone searches the same.
And consider comparing you niche to another niche that you know is evergreen or trending to see the difference in volume.
Enjoying this series?
Get more Zazzle tips here.
Google Shopping
Google Shopping is another great way to analyze what types of products and designs are doing well in your niche.
Type your niche into the google search bar and click the Shopping tab. Skip over the sponsored carousel at the top and look at the products that have earned their top ranking spot.
This will pull shopping results from tons of online marketplaces so that you can look at the top ranking products in your niche on the web.
Customer Reviews
Take a look at product reviews on Zazzle and other marketplaces that are within your niche.
Can you pick out any pain points from customers?
Make note of what customers are raving about as well.
Facebook Groups
Joining a facebook group specific to your niche, or better yet, starting your own is a great way to get in directly touch with the people that are in your niche.
Take note of the things that they are posting about and notice how you could create products around that.
This is something to keep tabs on over weeks and months.
If it's your own group, you can promote your products to your audience as well.
Online Forums
Similar to Facebook groups, you can join some online forums that are dedicated to your specific niche.
Browse through recent posts and see what stands out. What are people talking about within the niche.
Just like with the Facebook groups, this may take consistently reading through posts in the forum to be able to gather any usable data.
IRL
In Real Life!
Do you have a personal interest in your niche? Or does a family member or friend? Talk to the people around you about your niche and see what people have to say.
If you have an interest in your niche that you can draw from your own personal experience.
A/B Testing
A/B testing is a more actionable step in market research.
And here is how I would go about it on Zazzle:
Create a few products with very similar designs and use different titles, tags, and descriptions for each. Which performs better over time?
Pinterest
Follow active Pinterest boards in your niche. What are people posting about and sharing?
Do a search on Pinterest for your niche and see what comes up.
Industry Blogs
Do a search for your niche using your search engine of choice and find a few blogs within the niche.
What are some of the key points of each article? What are the recurring themes among multiple blogs in that niche?
Subscribe to their newsletter to stay up to date with what's going on in your niche's industry.
Final Thoughts
So, there you have it—market research, your compass to Zazzle success. Curiosity's the name of the game here, my friend. Think of it like this: your creative journey's a puzzle, and each research method's a piece that fits just right.
Ready for a secret? It's a journey that never stops. Trends shift, customers chat, and your shop evolves. But that's where the magic happens. You adapt, you innovate, and you thrive.
So, what's next? Dive into that research, listen to your customers, and make your Zazzle shop a hub of awesomeness.
Remember, I'm here cheering you on. Happy crafting, my fellow creator!
Tessa