Zazzle 2020 Income Report In Review – My Second Year with POD
If you haven't read my 2019 POD Income Report, check it out here!
If you read my previous year's print on demand income report then you know that 2020 was my second year in my print on demand journey and that I became pretty obsessed with Zazzle early on in 2019.
Well, it's no surprise that that obsession continued into 2020.
2020 was a crazy year for everyone, with the beginning of the pandemic and it had its own impact on the print on demand industry in unexpected ways. Let's just say, buckle up, because 2020 was a wild ride!
*All dollar amounts are in USD.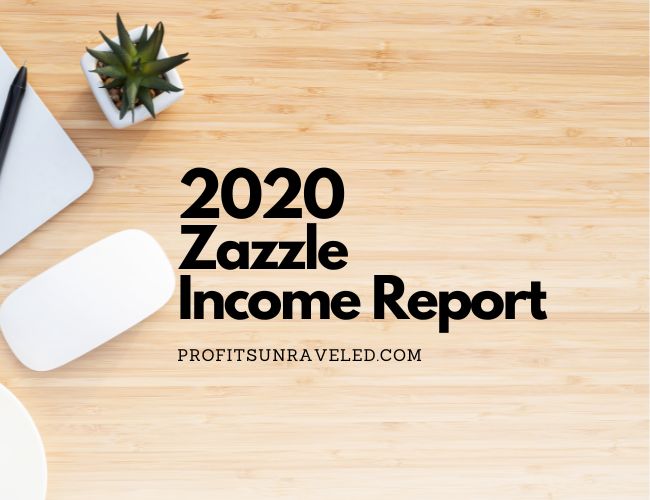 A Little About My Year
Before I get into the numbers, I want to give a brief overview of my year and what my workflow was looking like.
Evan and I had big plans for 2020. In March, we moved across the country from BC to Quebec to start our new lives together. We launched our first website at the beginning of April and thought we'd never have to work again. LOL. The YouTube Gurus got me again!
We spent the rest of the year working hard, writing articles, and learning everything we could about being website owners and content creators.
There weren't really any jobs available in 2020, so we were able to focus fully on our site. However, that site didn't start making any real income until a full year after launch, but thankfully we live in Canada and the government had our backs in that crazy time!
Though I was unemployed, the website did take up the vast majority of my time. And the other time was spent exploring this amazing new city I was living in. Even if almost everything was closed.
However, I was still able to put some time into print on demand and designing, but not as much as I would have liked. But isn't that always the way?
With that out of the way, let's get into it…
---
– My Recommended Tools –
Below are my personal favorite tools that I use regularly in my POD business.
The below links are affiliate links meaning I may receive a small commission for anything purchased through these links at no extra cost to you.
Creative Fabrica – My favorite place to get graphics with a straightforward commercial license for print on demand use.
Adobe Illustrator – I use Adobe Illustrator for at least half of my design creations. It's pricey but so worth it when you choose to take the business seriously. Get a free trial to Adobe Illustrator here.
Graphics Tablet – My partner got me this exact tablet as a Christmas gift when I was just starting out with creating my own designs. It has served me well now for several years and it was a very low cost investment that made a big impact in my POD business.
Ergonomic Mouse – If you spend long hours at the computer like me I highly recommend investing in a good ergonomic mouse. Over the years, I have caused an injury in my hand/wrist from being at the computer so much, but my pain has gotten significantly better since getting this ergonomic mouse on Amazon.
---
January 2020
January was a pretty decent month for me considering my earnings the prior month, in December of 2019 (see last year's income report here.)
I made 17 sales in January for a royalty income of $55.02.
I had heard that January was a super slow month for sales after the holiday rush, so I was expecting next to no sales. That being said, January was a nice surprise for me.
February 2020
The post-holiday draught started to hit me in February. And I started to get a little deflated, coming to the realization that this was going to be a bit of a grind to really turn a good profit on a site like Zazzle.
I made 9 sales in February for a total royalty income of $16.71.
March 2020
Things were looking up for me in March, one of my products made it to the first page for its targetted keyword and it was selling a ton.
I made 28 sales in March for a total royalty income of $84.18.
At this point of the year, the pandemic was in full swing and things were, for the most part, completely shut down.
My partner and I were driving across Canada at the time, moving from the West Coast to Quebec, and mid-trip, the gas stations started closing down their restrooms. Not fun!
April 2020
With the pandemic being in full swing, Zazzle added a new product to their inventory, and this is where things start to get crazy!
Zazzle added face masks.
I saw the announcement within a day or two of Zazzle putting it up and I spent an entire day uploading designs to face masks. I went to town. I believe I had somewhere around 150-200 designs up within my first day or so. Now, these weren't all new designs, this is a year's worth of designs added to a new product.
Sales went through the roof.
From here on out, I'm going to show my total sales for the month, my face mask sales, and everything else that sold. So you can truly see what it is like to get on a "trend." (Not that the pandemic was a trend, but the face mask sales were.)
Face mask sales: $3,255.75 from 6,007 sales
All other sales: $85.74 from 51 sales
Total sales: $3,341.49 from a total of 6,058 sales
So it's pretty clear to see here that the face masks took off! I was really lucky that I put up so many designs so quickly as they were the first ones that customers saw so I was able to rank high right from the get-go.
Of the hundreds of masks that I made, I had a handful that did really well. And the vast majority of my sales came from 3 masks, 2 of which are color variations of each other.
This trend continued into May…
May 2020
As we saw last month, masks absolutely took off due to the pandemic.
There were big issues with Zazzle's supply and a ton of orders were canceled due to not enough stock and a ton of orders were refunded because the orders took so long. The dollar values I'm giving you are the cleared amounts, but there were hundreds and potentially thousands of dollars missed out on due to Zazzle dropping the ball and overselling/not being prepared.
But who could have known how well they would do?
I had a hunch they would do well when I saw Zazzle added them to the platform, but I saw many designers saying they wouldn't bother, they were too expensive, and they wouldn't sell. I am SO glad that I went with my gut and put my designs up.
Two of my designs ended up within the first two lines of masks on page one. And a few others were temporarily on page one off and on.
But let's get back to the earnings for May…
Face mask sales: $3,069.28 from 5,475 sales
Other sales: $40.68 from 16 sales
Total sales: $3,109.96 from 5,491 sales
As you can see, I had a few hundred fewer sales in May compared to April, already the face mask buying fad was starting to go down.
My regular sales also dropped by quite a bit this month. Not entirely sure why.
June 2020
In June I continued to see my sales drop as everyone had, for the most part, already bought masks at this point.
Face mask sales: $886.53 from 1,307 sales
Other sales: $41.27 14 from sales
Total sales: $927.80 from 1,321 sales
Face mask sales dropped like crazy this month. It's so great to get on a trend or a fad when it's going strong, but those sales just never last. It can be a little disheartening, but I think it's important to know that no trend lasts forever and to just ride it while you can and be appreciative of the time you have with it.
July 2020
My face mask sales picked up a little bit in July. If I remember correctly, there was another pandemic "wave" that hit mid-summer that year, at least where I was living. So the uptick in sales was likely due to that.
Face mask sales: $1,012.21 from 1,982 sales
Other sales: $46.82 from 21 sales
Total sales: $1,059.03 from 2,003 sales
August 2020
As my mask sales continued to drop, my regular sales started to climb. It doesn't feel like much comparatively, but you have to keep in mind, for something I was doing in my spare time, I was pretty pleased with how my Zazzle shop was growing.
Even if it feels like pennies when compared to the mask sales.
Face mask sales: $590.53 from 808 sales
Other sales: $98.24 from 27 sales
Total sales: $688.77 from 835 sales
September 2020
The downward trend of face masks continued into September and regular sales weren't too exciting either for this month.
Face mask sales: $239.46 from 318 sales
Other sales: $41.00 from 17 sales
Total sales: $280.46 from 335 sales
October 2020
October 1st marks the first day of quarter four. And typically that is when you start to see sales increase for the holiday season.
I saw a small increase in sales for the first month of quarter 4.
Face mask sales: $242.87 from 393 sales
Other sales: $58.33 from 31 sales
Total sales: $301.20 from 424 sales
November 2020
With the holiday season just around the corner, I saw a large increase in sales. With almost double the mask sales from the previous month and over 100 regular sales with one sale netting me over $150!
Face mask sales: $333.38 from 619 sales
Other sales: $327.65 from 109 sales
Total sales: $661.03 from 728 sales
December 2020
Usually, sales start to dwindle after the first week of December, as customers won't be likely to get their products before the holiday. So this month was definitely not as good as the last, but still a pretty decent month.
Face mask sales: $177.28 from 308 sales
Other sales: $57.77 from 36 sales
Total sales: $235.05 from 344 sales
Keep reading to look at some pretty interesting graphs of my sales and to look at the average and median amount each sale earned!
Summing it all up
In all of 2020, I made a total of 17,593 sales for a total earnings of $10,760.73. That's after all of the cancellations and discounts Zazzle gave out to disgruntled customers when all the hooey went down with the face masks at the beginning of the pandemic in April and May.
Mask Sales
Obviously, mask sales made up for the vast majority of my earnings, netting me a total of $9,807.29 from 17,217 sales.
That's an average of $0.57 per sale and the median was $0.52.
All Other Sales
It may pale in comparison, but I still had a decent year for all my other sales, considering it was only my second year on the platform. All my other sales netted me a total earnings of $953.41 from 376 sales.
The average earned per sale was $2.54. If you take out that one $150 sale in November as it's a bit of an outlier, the average earned per sale was $2.13. The median sale was $1.46.
Now let's take a look at some graphs of my sales and earnings for 2020…




Conclusion
I have to say, 2020 was a pretty amazing year for me with print on demand. Although you can really see those numbers start to drop pretty quickly after that first month of the masks being live on the marketplace. And that trend continues into 2021.
However, this was a huge motivator for me to keep going with Zazzle and showed me what was possible when you have a bestselling design. That money truly helped out so much as there were no jobs in 2020 and I am so grateful to Zazzle and to myself for putting the time and effort in to be able to reap this amazing reward.
Are you thinking about getting started on Zazzle? Check out my posts on the 15 Best Selling Products on Zazzle and the Top 10 Niches on Zazzle.