My First Year of Print on Demand in Review – A Realistic Income Report – 2019
In early 2019, I started my print on demand journey. And it's been a roller coaster of a ride with dips and peaks since then just like any other business. But when I was first starting the one thing I would have really appreciated and never found was transparency from other people in the industry about how much money they were truly making.
When I was first starting the best I could find was YouTube "Gurus" raving about how you could make $5-10k a month in your first month with print on demand. "It's so easy!" they would enthuse. So naturally, I believed all of it LOL. And I dove right in.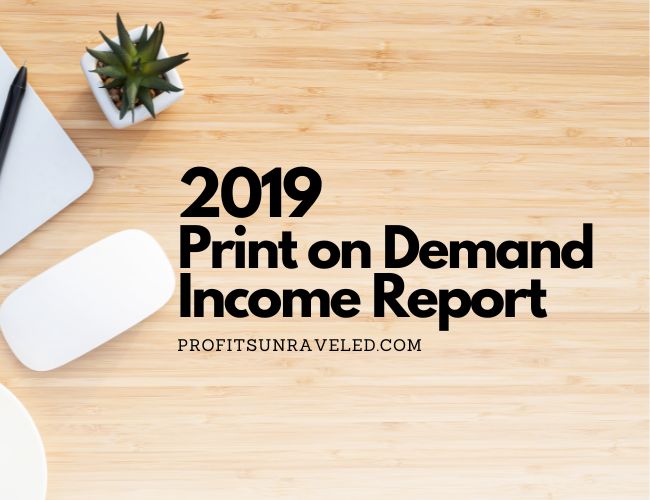 Disclaimer: This post may contain affiliate links. We may earn a small commission for purchases made through links in this post, at no extra cost to you.
A Little About Me & My Year
Before we get into the nitty-gritty of the print on demand experience, I want to give a brief overview of my year, as this is relevant to how much time and effort I was able to put in.
For my day job, I work contracts for the film industry. I work in the accounting department (you can see my IMDB page here.) I finished a contract in December 2018 and didn't sign on for another until July 2019. Which is fairly standard for my line of work. And is also a big reason why I was looking to build some passive income, something I could work on in my off time and reap the rewards year-round.
This is important to note, as I had a TON of time on my hands in between contracts and I was able to experiment a lot and get a ton of products up while I wasn't working. Which, I think, contributed to why I was able to make my first few sales so quickly on Zazzle.
So let's dive into my first year with print on demand in review:
My Short Time with Shopify
When I started with print on demand, I went straight for the big leagues. I created a Shopify account and used their free trial to build out my shop, I used the 30 days trial to create my privacy policy, shipping and returns, terms and conditions, about page, and all those legal pages that you need on a website.
Once those were built out I used all my free time to create "awesome" designs and upload them to Printify. In all honesty, my designs were pretty terrible, as I had absolutely no design skills whatsoever.
At the time, I was mostly using Pixabay to find images to put on products as I didn't know anything about creating my own designs or how to source better graphics at the time.
Once I had a ton of products created and integrated into my Shopify store, I went live!
I created a Facebook business page and tried my hand at Facebook ads. Now, I admit, I had NO IDEA what I was doing. So I set myself a limit, of about $100 to spend on ads over 1-2 weeks and see what happened.
Well, that ad spend went fairly quickly and I didn't make a single sale. I barely even got any clicks to my site.
So within 4-6 weeks of starting this whole project, I decided to close up shop and regroup.
All in all, I put in about $150 total (ads + 1 month of Shopify.)
Lessons learned:
Niche down – I was putting whatever I thought looked kind of cool onto any and every product it would fit on. There was no theme to my shop at all and customers had no clue where they were when they landed on my page.
Ads are expensive and not a guarantee
Generating your own traffic is hard
YouTube Gurus are not being transparent
In comes my second attempt.
My First Etsy Shop
With the knowledge and experience gained from my short venture with Shopify/Printify integration I decided to give it another shot, but with less risk. I opened up an Etsy shop and integrated my Printify account seamlessly.
By the way, I had a really good experience with Printify and would definitely recommend it to anyone wanting to try print on demand with Etsy (or Shopify if you can bring in your own traffic.)
Equipped with the lessons I had just learned I decided to niche down a little bit with my Etsy shop. I focused on a specific art type and I sold only tote bags. I offered the regular all over print tote bag that comes in three different sizes and the weekender tote.
I was able to get 40 free listings for my Etsy shop so I created 40 listings and turned on Etsy ads.
I made my first sale within my first 7-10 days. And made 1-3 sales a week for the next few weeks.
This was all happening around mid-February of 2019. I was really into it for about 6 weeks, and then I discovered Zazzle.
I got started on Zazzle at the very beginning of April 2019 and once I got going on there, I kind of just let my Etsy shop fizzle out and stop renewing my listings when they made sales.
All in all, I had my Etsy shop live for about 4 months total and made about 25 sales. Nothing crazy, but if I had enjoyed it more and stuck to it, I think I could have gotten it to grow into a decent little shop within a year or two.
I don't have an exact number on how much money I made with my Etsy venture as I've just never done the calculations, but I would guess I profited somewhere around $50.
But this is, in my opinion, where the story starts to get a little bit more interesting!
Getting Started on Zazzle
Once I found Zazzle, everything else kind of just fell by the wayside. I loved creating designs and being able to see them on all these different products (Zazzle has over 200 products.)
There was a bit of a learning curve, but I went to town uploading designs and creating basic designs in their design tool, and had hundreds of products in my shop within a couple of weeks.
I made my first sale within 6 weeks on the platform.
Here's a breakdown of my monthly earnings on Zazzle in 2019.
April – $0.00
May – $4.00
June – $69.91
July – $27.64
August – $2.32
September – $13.52
October – $12.88
November – $38.98
December – $46.33
You may have noticed I made more in June than in any other month. I had two really good sales in June, someone bought 200 keychains from me and another person bought 9 throw pillows, resulting in high earnings that month.
For the rest of the months, I saw a fairly steady increase in earnings month over month. Except for August, not sure why that month was so low.
My total earnings for the year (well, 9 months) on Zazzle was $215.58 for a total of 108 sales.
Some things to keep in mind when creating designs for Zazzle…
Quality over quantity
When I first started I went craaazy uploading everything and everything, but that was also just a part of my learning process. I started to focus more on quality designs over time and had more success as I worked on quality.
If you aren't confident in your design skills I highly highly recommend getting a subscription to Creative Fabrica you can get your first month for $1 at this link.
I joined Creative Fabrica in November 2020 and I wish I had joined sooner. I lost out on TONS of money by not getting it sooner… but more on that in the 2020 POD income review!
---
– My Recommended Tools –
Below are my personal favorite tools that I use regularly in my POD business.
The below links are affiliate links meaning I may receive a small commission for anything purchased through these links at no extra cost to you.
Creative Fabrica – My favorite place to get graphics with a straightforward commercial license for print on demand use.
Adobe Illustrator – I use Adobe Illustrator for at least half of my design creations. It's pricey but so worth it when you choose to take the business seriously. Get a free trial to Adobe Illustrator here.
Graphics Tablet – My partner got me this exact tablet as a Christmas gift when I was just starting out with creating my own designs. It has served me well now for several years and it was a very low cost investment that made a big impact in my POD business.
Ergonomic Mouse – If you spend long hours at the computer like me I highly recommend investing in a good ergonomic mouse. Over the years, I have caused an injury in my hand/wrist from being at the computer so much, but my pain has gotten significantly better since getting this ergonomic mouse on Amazon.
---
Conclusion
Overall, I think it was a fairly successful first year with print on demand!
Considering my first attempt has me in the hole and I managed to turn a, albeit, small profit, I am quite pleased!
If you are thinking about giving print on demand a shot then I really can't recommend it enough! But be warned, it takes time to build up your shop. Don't believe the people on YouTube telling you you'll never work again. If you want to build this up to sustain yourself, you will need to work hard for it and be patient!
Check out my 2020 Income Report here!