11 Zazzle Tips – The Dos and Don'ts
After 4 years on the Zazzle platform, I've picked up a bit of knowledge and am happy to share. I've compiled a list of 9 things you should definitely do and 2 things you should not do.
Do Complete Your Profile
Do Research Untapped Niches
Do Know Your Target Audience
Do Create Cohesive Collections
Do Upload Regularly
Do Fill Out the Title, Tags & Descriptions
Do Organize Your Store with Categories
Do Create Multiple Stores
Do Promote Your Products
Don't Copy Other People
Don't Use Product Keywords in Metadata
Now let's take a look at each of these items a little closer and I'll tell you exactly how to do these things.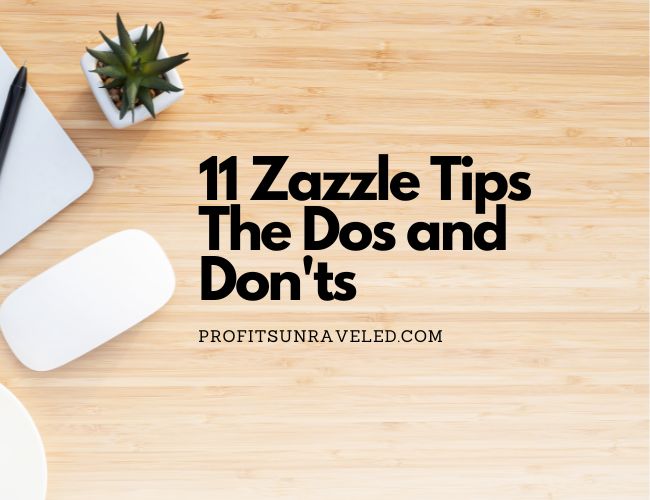 Do Complete Your Profile
When you create your Zazzle shop, be sure to fill out your seller profile entirely. Zazzle doesn't want to promote shops and designers who are lacking crucial profile information.
Make sure you upload your name, a photo, a banner, a tagline, a bio, and all of the other fields.
Once you have your account profile filled out, make sure you also fill out each of your store profiles as well. This will include the store name, store tagline, and about section. It's pretty much all of the same information as your account profile, but it should be specific for the shop niche.
Without a complete profile, Zazzle is more likely to pass you by when looking at who to promote for holidays and occasions.
Do Research Untapped Niches
In order to get noticed on Zazzle it's a good idea to find niches that are underserved in the marketplace.
Do some trend and keyword research to come up with niches to try.
If you aren't sure where to start with niche research, download my free Goal setting and Niche Brainstorming worksheet here!
Do Know Your Target Audience
It's important to know who you are targeting as your ideal customer in order to use the language that they would use when searching for your designs.
Take 30 minutes to write down who your ideal customer is and figure out what makes them tick.
Things to think about when figuring out your ideal customer:
How old are they?
What are their interests?
Is their gender relevant?
Where do they live?
What do they do for work?
These are just a few points to get your brainstorming going. Branch out from there and get down to the minute details of who they are so that you can market to them more easily.
---
– My Recommended Tools –
Below are my personal favorite tools that I use regularly in my POD business.
The below links are affiliate links meaning I may receive a small commission for anything purchased through these links at no extra cost to you.
Creative Fabrica – My favorite place to get graphics with a straightforward commercial license for print on demand use.
Adobe Illustrator – I use Adobe Illustrator for at least half of my design creations. It's pricey but so worth it when you choose to take the business seriously. Get a free trial to Adobe Illustrator here.
Graphics Tablet – My partner got me this exact tablet as a Christmas gift when I was just starting out with creating my own designs. It has served me well now for several years and it was a very low cost investment that made a big impact in my POD business.
Ergonomic Mouse – If you spend long hours at the computer like me I highly recommend investing in a good ergonomic mouse. Over the years, I have caused an injury in my hand/wrist from being at the computer so much, but my pain has gotten significantly better since getting this ergonomic mouse on Amazon.
---
Do Create Cohesive Collections
Creating collections of like-designs can really help a customer navigate your shop.
For example, if I put a polka dot design on 20 different products, I will create a collection called something along the lines of "Polka Dot Pattern" and put the 20 products in there.
That way, when a customer clicks on one of the products in the collection, they will be prompted to look at other products from that collection on the product page.
Do Upload Regularly
This isn't a proven strategy one way or another, but uploading regularly shows the algorithm that you have an active shop and can help in getting you discovered. In order to upload regularly, you may just want to spread out your uploading process.
For example, when you have a new design that you are going to put on multiple products, rather than bulk uploading to as many products as you can all at once, you can upload just a few products each day.
Say you create one design a week, and you typically upload to 7 products. You would want to upload your design to just one product a day in order to show the algorithm you are active each day.
Or, maybe you upload all 7 on the first day, and then each day after that you go in and update/tweak your metadata for each product.
It's up to you to figure out the best way for you.



Do Fill Out Title, Tags & Descriptions
This is SO IMPORTANT.
In order to get found on the Zazzle platform you must have keywords in your titles and tags. And you need keywords in your descriptions in order to get found by outside search engines.
You can have the absolute best design ever, but if you don't have any keywords no one will ever see it and it will get lost in the Zazzle void.
I know this can seem overwhelming and confusing at first, but it is possibly the most important thing you can do to get found on the marketplace. And the more you do it, the better you will get at knowing which keywords to use and it will start to come naturally.
Do Organize Your Store with Categories
If and when customers click through to your shop, it's important for there to be organization to the shop so that they can navigate through to find the things that they want.
Generally, designers use categories for product types, such as phone cases, greeting cards, golf balls, etc. And they use collections for grouping similar designs together on different products.
Once you have all your categories all set up, you'll want to create cover photos for each of them so that customers can easily click through to the ones they want.
If this isn't making sense to you, then go take a look at a few top-selling shops on the marketplace and you will start to see what I mean.
Not sure which products to add to your store? Check out this article of the 15 Best Selling Products on Zazzle.
Do Create Multiple Stores
It can really help your sales if you keep each store to a single niche.
For example, if you are in the wedding niche, have a store just for that niche. And then if you want to branch out into graduation gifts then create a new store just for that.
You can also have a store for your original art if you are an artist.
Enjoying this series?
Get more Zazzle tips here.
Do Promote Your Products
Zazzle does a pretty good job at promoting our products for us (so long as you use keywords) but it can only help to also do a little promotion yourself.
It doesn't have to be much on your end. The bare minimum would be creating a Pinterest account and pinning to it every time you post a new product. Or creating an Instagram account to showcase your designs.
In all honesty, I am not so good at this part myself, but working on it. In fact, I've only just recently started an Instagram account for my patterns, give me a follow here and comment on one of my photos that you found me through profitsunraveled.com and I'll be sure to follow you back!
Don't Copy Other People
This should go without saying, but somehow it still needs to be said.
DO NOT COPY OTHER PEOPLE!
Even if you are copying a wildly successful design, chances are yours won't sell, and there are multiple reasons for that.
The design is already doing well in the marketplace and is already ranking high, so yours won't even get seen.
The shop likely has more authority for those keywords because of their sales, so again, yours won't get seen.
And if those reasons weren't enough for you, then how about because it is copyright infringement?
Just don't do it.
Are you enjoying this content?
Get more on YouTube!
Subscribe on YouTube here!
Don't Use Product Keywords in Metadata
This one comes straight from Zazzle itself. I'm not sure if it hurts your products if you do this or not, but they say not to use any product keywords in your title, tags, and descriptions as they tag all the products with that information themselves.
In other words, only put words into your metadata that describe the design. The color(s), elements of the design, style, who it's for, etc.
Final Thoughts
I hope these Zazzle tips were helpful for you and if you have any of your own be sure to put them in the comments below!
Happy Designing!