11 Ways to Look for Trends for Your Print on Demand Business
One of the big questions I keep getting asked is how to find out what's trending maximize sales in their Zazzle shops. So I've compiled a list of 11 ways you can find trends by doing a little bit of observing, reading, and analyzing. Get the details below.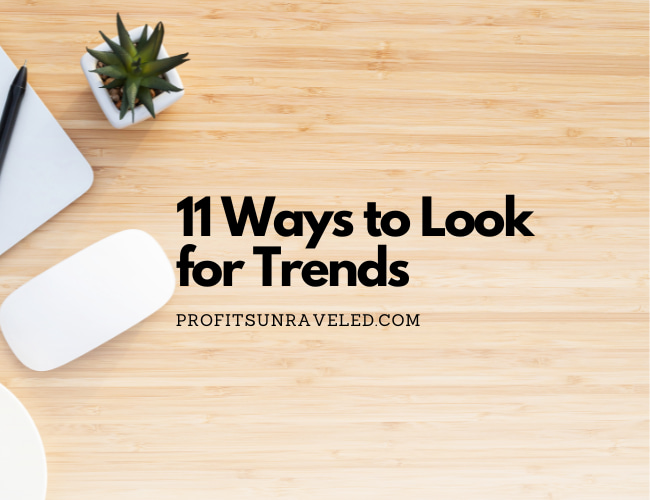 In Real Life
Walmart.com
Target.com
Google Trends
Spoonflower Blog
Society6 Blog
Pexels Blog
WGSN
Pinterest
Etsy
Google Search your Niche
1. In Real Life
When it comes to finding trends for selling print-on-demand, one of the best sources of inspiration is none other than our own lives! Take a moment to observe the world around you – what are people wearing, what kinds of graphics are on people's bags, shoes, phone cases, etc. Notice the patterns and motifs that are all around you.
Keeping a keen eye on everyday life can help you identify emerging trends and craft designs that feel authentic and relevant.
Hint: The Barbie movie was just released last week, and Barbiecore is EVERYWHERE. Think pink!
Enjoying this series?
Get more Zazzle tips here.
2. Walmart.com
Walmart.com is not only a retail giant but also a treasure trove of valuable insights and inspiration for us designers.
Keep in mind that while you can't directly copy designs from other sellers, you can draw inspiration from popular themes and put your unique spin on them.
For example, One of my niches on Spoonflower is kids and babies, so I like to do a search on Walmart for "trending baby clothes" in order to see what styles and motifs are selling at the moment.
See what clothing is trending right now on Walmart here.
3. Target.com
Another fantastic online marketplace to explore for trends is Target.com.
I use pretty much the same strategy on Target as I do on Walmart. I also like to look at the new section.
I really take notice when I see similar designs on the Walmart and Target website. That's a pretty good sign when both of these massive companies – that both pay huge money for trend forecasting – are creating products with similar designs that that is a good niche to get into.
See what clothing is trending right now on Target here.
---
– My Recommended Tools –
Below are my personal favorite tools that I use regularly in my POD business.
The below links are affiliate links meaning I may receive a small commission for anything purchased through these links at no extra cost to you.
Creative Fabrica – My favorite place to get graphics with a straightforward commercial license for print on demand use.
Adobe Illustrator – I use Adobe Illustrator for at least half of my design creations. It's pricey but so worth it when you choose to take the business seriously. Get a free trial to Adobe Illustrator here.
Graphics Tablet – My partner got me this exact tablet as a Christmas gift when I was just starting out with creating my own designs. It has served me well now for several years and it was a very low cost investment that made a big impact in my POD business.
Ergonomic Mouse – If you spend long hours at the computer like me I highly recommend investing in a good ergonomic mouse. Over the years, I have caused an injury in my hand/wrist from being at the computer so much, but my pain has gotten significantly better since getting this ergonomic mouse on Amazon.
---
4. Google Trends
To truly stay ahead of the curve, embrace the power of Google Trends. This tool allows you to track the popularity of specific search queries over time. Simply enter keywords related to your niche, and Google Trends will show you how interest in those terms has evolved.
By identifying spikes in search volume, you can spot emerging trends early on. Perhaps there's a rising interest in a particular theme that is gaining momentum. Leveraging this information can help you create designs that are in sync with current consumer interests.
Try it for yourself: Go to trends.google.com and type in your niche, a motif you have been seeing around, or a hobby of yours. Choose the location you want to target (I usually pick the US) and choose the time period you want to look at (I like to look at all the data from 2004.)

In this screenshot, you can see the seasonality of Soccer year over year.
5. Spoonflower Blog
Spoonflower, a popular platform for fabric design, maintains a blog that's a pretty good source of creativity and trend ideas.
Spoonflower recently published their trend report on their blog and it has a TON of great resources for keywords and niches to get into.
They aren't the most regular at posting trend reports, but when they do, it is a great source for us POD designers and artists to get ideas on what to design.
You can also look at the Spoonflower design challenges as inspiration for upcoming trends as they are often coming up with challenges that will fill a hole in their marketplace.
See the Autumn/Winter Trend Report on Spoonflower here.
6. Society6 Blog
Similiar to the Spoonflower blog, society6 also publishes a ton of really helpful content for it's artists. The thing is, you don't need to be a seller on the Society6 platform to benefit from their reports, and the same goes for the Spoonflower blog.
By immersing yourself in this creative community blog, you can gain a deeper understanding of what art styles and themes are resonating with people today.
See Society6's Back to School Creative Brief here.
7. Vexels Blog
Vexels also publishes trend report type content on their blog, all you need to do is scroll through and see their latest content to get a ton of ideas.
Check out their 23 t-shirt design trends here.
8. WGSN
For those serious about trend forecasting, WGSN is a professional platform that offers in-depth insights into global trends across various industries. While they offer a very expensive subscription, I am by no means telling you to purchase it. Instead, I recommend you look at their free content.
Since we are print on demand designers, we don't need to forecast trends in the same way that big companies do. We can jump on a trend and get our designs live on Zazzle within minutes, or on Spoonflower within a few days.
9. Pinterest
Pinterest is a treasure trove of visual inspiration. By following boards related to your niche and exploring popular pins, you can gauge the current design preferences of users worldwide.
Pay attention to the comments and engagement on pins – they can reveal valuable insights into why certain designs are trending.
You can also do keyword research on Pinterest by typing in your niche in the search bar and looking at what Pinterset suggests in the drop down menu.Or typing in your niche, pressing search, and see whatsuggestion pop up beside the filter button (these words don't always pop up.)

One more way you can use Pinterest for trend research is if you have a business account and click Analytics and Trends.
Remember when I mentioned Barbiecore above, check out the Pinterest analytics confirming this above.
10. Etsy
Etsy, as a leading marketplace for handmade and vintage items, is an excellent platform to monitor for trends. Explore the top-performing shops and products in your niche, and analyze what makes them successful.
Again, while you should never copy someone else's work, Etsy can provide ideas on design elements, themes, and product types. Use this knowledge to develop your unique range of POD products.
11. Google Search Your Niche
Do a search online for your niche and go to the first couple of shops that come up. What are they selling? What are the motifs?
Let's use the baby and kids niche again as an example.
When I do a search for "baby blankets" on Google, the first thing I see is a carousel of baby blankets for sale from various vendors. So I take a look at what the designs on those blankets are. Is there anything that stands out? Do any two blankets have similar motifs? Take note of what stands out to you.
Next, I look at the top search results, these are the websites that have the most authority in the baby blanket space. For me, what comes up is Chapters, Pottery Barn, and Babies R Us.
So to continue that research, I would go to each website and look at trending and new products to see what themes, colors, and motifs pop up on more than one occasion.
Final Thoughts
Remember, staying on top of trends requires a keen eye, creativity, and the willingness to experiment. Combine your personal touch with insights from these diverse sources to create designs and products that resonate with your audience and make your store stand out in the ever-evolving market.
Good luck and happy trend-spotting!
Now that you're a pro at spotting trends, be sure you're picking the best selling product on Zazzle to sell those designs on!