Breaking Down Zazzle 2023 Father's Day Creator Guide
If you pay attention to Zazzle Creator News or the Zazzle Community then you've probably seen Zazzle's new Creator Guides. On April 27th, Zazzle released their latest creator guide for Father's Day.
There's tons of great information in the guide and I thought it would be a great idea to add my thoughts to the guide (and to other guides) to help creators like you come up with even more ideas for the holiday!
So let's dive in!
You can find the creator guide here.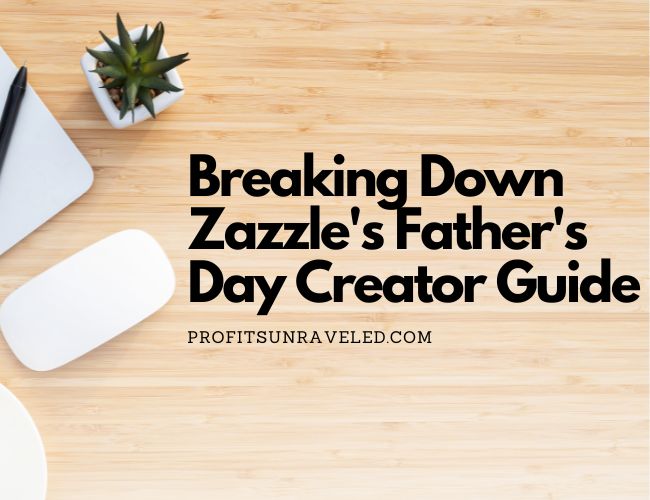 Best Practices to Optimize Sales
Get inspired and create new content.
Zazzle wants to showcase new designs every year instead of recycling old designs. So, as sellers, we need to upload fresh designs each year.
Sure, you will probably make some sales from last year's designs too, but Zazzle won't be looking to feature those designs.
Zazzle recommends checking out Pinterest and Google Trends for design ideas.
I recommend checking out local shops and seeing what kind of Father's Day products they are showcasing.
And don't forget to turn on instant downloads for any cards, as I'm sure Zazzle will be pushing this new feature going forward.
Upload Cover Photos
Zazzle has been telling us to add cover photos for months now, so this isn't new news. But in case you aren't in the know, we have the ability to upload our own product cover photos. And Zazzle has come right out and told us that they favor products with cover photos in the marketplace rankings.
So if you want an extra competitive edge, be sure to upload your own cover photos.
Enjoying this series?
Get more Zazzle tips here.
Father's Day Collections
Much like the other creator guides Zazzle has released, they are putting an emphasis on collections.
When you put one design on multiple products, Zazzle (and I) recommend putting those products into a collection together. That way, if a potential customer finds one of those designs in the marketplace and clicks through to the product page, they will be prompted to check out other products from the collection when you scroll down.
This can be a great way to maximize sales. So get on it!
---
Hey! I'm trying to figure out what kind of content best serves my audience. If you have a moment would you mind filling out this survey? It's anonymous!
---
Create Customizable designs across multiple products
If you don't use the "Transfer this design" feature you are seriously missing out. It's the best way to add one design to multiple products. It's never going to be as quick as it is on Spoonflower or Redbubble, you still have to go one by one, but it will transfer over the design, title, tags, product category, and description.
Note that it should transfer over the Events & Occasion and the Recipient as well, but I find it can be a bit finicky with those, so it's best to double check.
And of course, make your product designs customizable to maximize sales, as that's what Zazzle is best known for!
Description, Keywords, & Tags
Product descriptions help your products get found on search engines like Google and Bing, whereas tags help your products get found on the Zazzle marketplace.
Both are very important!
Pick keywords that best describe your design and who they are for. Think about the words your ideal customer will be typing into the search bar when searching for your design.
Adjust the year
If you have designs from the previous year that have the year on the product you may want to adjust that… Unfortunately, Zazzle started rolling out the ability for designers to adjust designs and then never finished rolling out that feature to everyone.
So if you have a design that you want to edit you can email them and request access and they will likely give you temporary access for a couple of days or a couple of weeks.
I get the sense that the feature was being abused and since they need to check and approve each edit it ended up putting too much work on their shoulders. These are real people working real jobs behind the scenes after all and they only have so many hours in a day!
There are some rules to editing, for example, if you haven't had any sales on a product they ask that you just create a new one with the fix you want and if you want to add a template then you need to create a new product.
So, in my opinion, the edit access isn't actually all that great.
Review Store Presence
Have you filled out all of your store metadata such as a bio, profile picture and banner photo? Is your shop easily navigable with categories that make sense? Is your shop well-branded?
Remember that Zazzle prefers to feature shops that have a face to them and are well put together.
#Zazzlemade
If you market your products on social media be sure to tag #zazzlemade for a chance to get featured.

Top Performing Father's Day Products
Greeting Cards
Father's Day greeting cards will of course fly off the "shelves" this holiday. Take a look at the keywords listed at the end of this post for design ideas to target.
Mugs & Cups
Mugs and drinkware are make great Father's Day gifts, Zazzle even has a few new drink products they recommend designers on. The new products are listed below.
Apparel
Zazzle has a few apparel options that would make great Father's Day gifts. Think t-shirts, hats, and aprons.
Keychains
Keychains are a hot seller on Zazzle! The competition is stiff, but if you can get a top-ranking product in the search result you stand to make a ton of sales.
Golf Head Covers
Zazzle sells a ton of golf products and golf head covers are no exception! Don't forget to pair them up with golf balls, golf ball markers, golf towels, and hats and put them in a coordinating collection to maximize sales!
Baseballs
Decorative baseballs to put on the shelf in Dad's office is the vibe I get from this product. 
---
– My Recommended Tools –
Below are my personal favorite tools that I use regularly in my POD business.
The below links are affiliate links meaning I may receive a small commission for anything purchased through these links at no extra cost to you.
Creative Fabrica – My favorite place to get graphics with a straightforward commercial license for print on demand use.
Adobe Illustrator – I use Adobe Illustrator for at least half of my design creations. It's pricey but so worth it when you choose to take the business seriously. Get a free trial to Adobe Illustrator here.
Graphics Tablet – My partner got me this exact tablet as a Christmas gift when I was just starting out with creating my own designs. It has served me well now for several years and it was a very low cost investment that made a big impact in my POD business.
Ergonomic Mouse – If you spend long hours at the computer like me I highly recommend investing in a good ergonomic mouse. Over the years, I have caused an injury in my hand/wrist from being at the computer so much, but my pain has gotten significantly better since getting this ergonomic mouse on Amazon.
---
New Products for Father's Day
Pickleball Paddles
Zazzle launched their new pickleball paddles last fall. Pickleball is quickly becoming one of the most popular sports in North America and the season is just getting started.
New Crew Socks
Zazzle launched their new crew socks in December and they seem to be a fast favorite for many customers. From what I can gather, the new crew socks are outperforming their old all over print socks.
Seltzer Can Cooler
Seltzers are on trend right now and Zazzle has taken notice! This product is also perfect for the upcoming summer.
Thor Water Bottles
The thor water bottle comes in three different sizes, 22 oz, 25 oz, 32 oz. The 25 oz bottle comes with a straw lid.
Foil Folded Greeting Cards & Posters
Zazzle has given us the option to add foil to even more products! Folded greeting cards and posters are the latest products to offer a foil option. Be early adopters and reap the rewards!
Instant Downloads
Zazzle launched instant downloads on certain products recently, and you can bet they will be pushing this digital product like crazy in order to compete with other digital card sellers like Etsy and the likes.
Wireless Charger
Wireless chargers have been available on Zazzle for a few months now, I personally haven't seen much movement on them, but that doesn't mean they aren't selling. Sometimes when Zazzle releases a new product it can take a while for it to really gain traction in the marketplace while customers learn of its existence.
Check out 15 Best Selling Products on Zazzle for more product ideas for Father's Day.
Make Dad Laugh
Who doesn't love a good laugh? Think cheesy Dad jokes or clever puns. The sky is the limit!
Need help with coming up with puns?
Check out this free pun generator to give you some ideas.
For Every Dad
Create designs catering to Dad's from all walks of life. There are many types of father figures other than the standard biological father and many different family dynamics.
It could prove useful to cater to a father figure that is underserved in the Zazzle marketplace.
Top Themes/Keywords
Bonus Dad
Dog Dad
Happy Fathers day from the dog
1st Father's Day
#1 Dad
Happy fathers day son in law
Happy fathers day nephew
Stepdad
Dad bod
Happy godfathers day
African American father's day
Fishing fathers day cards
Golf father's day card
New Dad
Dad to be
Super dad
Dad and daughter
Happy fathers day from wife
For single mom