15 Sites to Sell Your Seamless Patterns
If you're anything like me then you are obsessed with creating repeat patterns. And there's money to be made with this great art form. From putting your patterns on physical products and selling them through print on demand platforms or owning your own site to selling them to customers for commercial use.
There are a variety of ways to get these patterns in front of the right customers. I've created a list of 15 platforms you can sell your repeat patterns on to start creating passive income or to add another revenue stream to your already existing online business.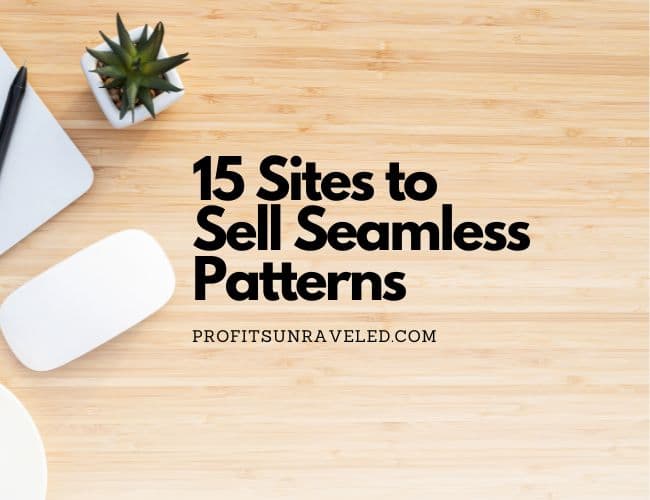 Disclaimer: This post may contain affiliate links. We may earn a small commission for purchases made through links in this post, at no extra cost to you.
Etsy
Shopify
Zazzle
Redbubble
Spoonflower
Society6
Artofwhere
Fine Art America
Amazon Merch
Amazon KDP
Creative Market
Creative Fabrica
Depositphotos
Dreamstime
iStockphoto
Let's look a little closer at each one of these platforms…
Etsy
You can sell on Etsy through a print on demand company such as Printify or Printful and sell physical products with your patterns on them, which is a great option for anyone looking to start up an online business.
Or you can sell your repeats as digital files and let others use them for commercial or personal use.
Hi! Profits Unraveled is still quite a new site and I'm trying to figure out how to best serve my audience. If you could take a moment to fill out this questionnaire linked here (it's 100% anonymous) it will help me create the content that is most important to you faster. Thank you!
Shopify
Just like with Etsy, you could start a Shopify store and integrate it with Printify or Printful – or your POD company of choice – and sell physical products with your repeats on them or you could sell digital downloads of your patterns to be used for personal or commercial use.
Zazzle
Zazzle is my current print on demand platform of choice – see why in 10 Reasons Zazzle is My Favorite POD Platform – and can be a good platform to upload your repeat patterns onto their products.
Not every product on Zazzle is suitable for repeat patterns, but with thousands of products to choose from, there are plenty that work perfectly with repeat patterns.
For more information on selling on Zazzle, check out the 15 Best Selling Products on Zazzle here!
Are you enjoying this content?
Get more on YouTube!
Subscribe on YouTube here!
Redbubble
Much like Zazzle, Redbubble is another print on demand marketplace to upload your patterns to that will look great with a bunch of their products. They don't have as much product variety as Zazzle, but the upload process on Redbubble is lightning fast and you can upload dozens of products in one go, whereas with Zazzle you need to upload each product one by one.
Depending on your design style, Redbubble might be a more suitable place to upload your designs than Zazzle.
---
– My Recommended Tools –
Below are my personal favorite tools that I use regularly in my POD business.
The below links are affiliate links meaning I may receive a small commission for anything purchased through these links at no extra cost to you.
Creative Fabrica – My favorite place to get graphics with a straightforward commercial license for print on demand use.
Adobe Illustrator – I use Adobe Illustrator for at least half of my design creations. It's pricey but so worth it when you choose to take the business seriously. Get a free trial to Adobe Illustrator here.
Graphics Tablet – My partner got me this exact tablet as a Christmas gift when I was just starting out with creating my own designs. It has served me well now for several years and it was a very low cost investment that made a big impact in my POD business.
Ergonomic Mouse – If you spend long hours at the computer like me I highly recommend investing in a good ergonomic mouse. Over the years, I have caused an injury in my hand/wrist from being at the computer so much, but my pain has gotten significantly better since getting this ergonomic mouse on Amazon.
---
Spoonflower
I just got started on Spoonflower in the Spring of 2022 and I am loving it. Spoonflower is the place to be for repeat patterns as that's almost all there is on the platform. Spoonflower is known for its fabric and has become quite well-known for its wallpaper as well.
The platform has more recently started to offer home goods such as throw pillows, bedding, curtains, and more.
You do have to proof your designs before posting them for sale, but honestly, it's a good thing. It gives you a chance to see what your design looks like on fabric and also cuts down on people spamming the marketplace with hundreds or even thousands of designs.
Society6
Society6 is another great option for repeat patterns. Most of the products offered on Society6 are all-over print products, making seamless patterns a perfect choice for designing on the platform.
There are some products that aren't meant for repeats, such as t-shirts, joggers, and wall art. But the majority work perfectly with patterns.
Uploading to Society6 is similar to Redbubble, but a little slower. But you can upload to their whole library of products in one go, unlike Zazzle where you have to post each product one by one.
Art of Where
Unlike the above websites, I don't have any personal experience with Art of Where, other than playing with the design tool a while back. But my understanding is that, though they have their own marketplace, it's on you to drive your own traffic to your shop. Or you can integrate it with Etsy and do the dropshipping method.
Fine Art America
I have minimal experience with Fine Art America, but it is another print on demand platform and marketplace.
The platform is more geared towards selling photography, but you can also sell patterns on a variety of their products. Personally, I haven't had any luck on this platform, although I haven't given it much of a chance, but it might be worth trying out if you like the platform.
Amazon Merch
Amazon Merch has a few products that work well for repeat patterns. They also have t-shirts and sweaters, but they aren't all over print.
Here are the products on Merch that work well with patterns:
Popsockets
iPhone Cases
Samsung Phone Cases
Tote Bags
Throw Pillows
Amazon KDP
If you are interested in making low content books you can create beautiful book covers with your seamless patterns. Some books that would work well with repeats:
Lined journals
Dot grid journals
Sketchbooks
Planners
Composition books
Creative Market
Creative Market is a good option for opening a graphics shop and selling your patterns for commercial use. It's a well-known platform in the industry and gets a lot of traffic.
Creative Fabrica
Similar to Creative Market, Creative Fabrica is another good option. Creative Fabrica is used heavily by many in the print on demand industry as they have an excellent POD commercial license.
If you choose to start a shop on Creative Fabrica, they have an interesting way of running their business. And you can get paid for just uploading to the platform. But you will need tons and tons of uploads to make any money that way.
Depositphotos
Depositphotos is a stock photo website that also has graphics. You can sell your seamless patterns on this platform as well as your photography.
Dreamstime
Just like Depositphotos, Dreamstime is another stock photo website that also offers graphics.
iStockphoto
Another stock photo website that allows you to sell your graphics as well.
Final Thoughts
I hope this has given you a good idea of where you can upload your patterns to start earning passive income online or to add another revenue stream to your already established pattern business.
The short list of stock photo websites is only a place to start, as most stock photo websites also offer graphics. I personally haven't tried selling my repeats for commercial use, so I can't offer much more than giving you a place to get started and do your research from there. If you have any experience with it, let me know in the comments below or shoot me an email!