7 Ways to Improve Your Surface Pattern Design Work
Whether you're going back and trying to make your old designs better or you're critiquing your latest design, here are 7 ways that you can make your design better.
Improve Linework
Add Texture
Add Shading
Adjust Color Palette
Redistribute Negative Space
Adjust Scale
Improve Perspective
Let's dive into each of these things and I'll explain exactly what I mean.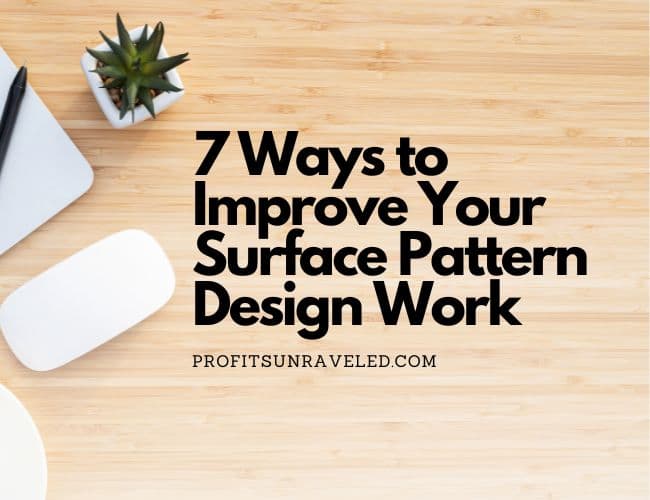 Improve Linework
This is a good place to start when looking to enhance your pattern.
Take a look at the lines in your piece and notice if there is anywhere that could be improved.
Are the lines smooth if it makes sense for the design? Does an outline need to be thicker or thinner? Or maybe some hatching needs to be adjusted. Is your linework consistent throughout the whole design?
Add Texture
Having enough texture can make or break a design.
When starting out, it can be difficult to know how to add texture to a pattern, or exactly what kind of texture to add.
There are many ways you can add texture to a design. From shading and hatching to using texture sheets from Creative Fabrica or texture brushes on Procreate to give a design depth.
You can also create your own textures from photos.
---
– My Recommended Tools –
Below are my personal favorite tools that I use regularly in my POD business.
The below links are affiliate links meaning I may receive a small commission for anything purchased through these links at no extra cost to you.
Creative Fabrica – My favorite place to get graphics with a straightforward commercial license for print on demand use.
Adobe Illustrator – I use Adobe Illustrator for at least half of my design creations. It's pricey but so worth it when you choose to take the business seriously. Get a free trial to Adobe Illustrator here.
Graphics Tablet – My partner got me this exact tablet as a Christmas gift when I was just starting out with creating my own designs. It has served me well now for several years and it was a very low cost investment that made a big impact in my POD business.
Ergonomic Mouse – If you spend long hours at the computer like me I highly recommend investing in a good ergonomic mouse. Over the years, I have caused an injury in my hand/wrist from being at the computer so much, but my pain has gotten significantly better since getting this ergonomic mouse on Amazon.
---
Add Shading
Shading may or may not be necessary for your design. Shadows and highlights contribute to the depth of a piece and can make an impact on the overall perceived value of the pattern.
Without shading and/or texture, a piece can look flat and a bit lackluster.

Adjust Color Palette
A good color palette is essential to create a marketable design.
Are color clashing in your design? When you put colors up side by side can you easily see one color from the other, or is there almost a buzzing sensation going on? If you are seeing the buzzing, that means the colors are clashing.
If you are just starting out, pick a limited, yet balanced, color palette to keep the design simple and focus more on the other elements of design.
Generally, I like working with a palette that has about 8-12 colors. But I have worked with as little as 2 colors in a design and as many as 18. But I don't think I've ever worked with more than that and been happy with the result.
Redistribute Negative Space
How are the pieces in the design spaced? Is there a roughly even amount of negative space between each element? Are there random bigger patches of negative space and some smaller patches?
Go back and adjust the position of some of the elements to give it a more balanced feel.
Having uneven negative space can make the repeat stand out making an otherwise great design look a little amateur.
Adjust Scale
Is there a good balance of scale within the piece? Are all the elements the exact same size? Or are there some items that are a bit bigger and some that are smaller?
This, of course, depends on each individual design. But generally speaking, you want a healthy balance of scale in your piece.

Improve Perspective
Playing with different perspectives can bring a lot more interest to a design.
Are all the pieces in your design from one perspective or have you mixed it up a bit and you're showing your graphics from different angles?
For example, if you have created a pattern based on a flower in your garden, did you draw the flower from different perspectives or just one? Different perspectives would be from overhead, from the side, the front, etc.
In the image above, I've drawn a flower from my garden from 3 different perspectives.
Final Thoughts
I hope this article has helped you to pinpoint some places where your designs might need improvement. It is by no means an extensive list of how to make a design better, but it brings you back to basics and the basics are usually a great place to start!