How to Start a Spoonflower Shop as Cheaply as Possible
If you've been following my journey, you know that I've been pursuing print on demand since early 2019. In the Spring of 2022, I added Spoonflower to my list of POD sites I wanted to sell on.

I had been eyeing Spoonflower for quite some time, but the fact that you need to spend money to proof your designs always deterred me. I was having serious self-doubt and I was afraid I wouldn't succeed. Can anyone relate?
However, I've built up quite a large portfolio of designs in the last 4 years and have improved my skills immensely, so last Spring I decided I was going to take the plunge. And I'm so glad I did!
If you are following a similar path as me, you may want to join Spoonflower, but don't want to spend tons of money getting your designs proofed. Well, I've come up with a way for you to start selling on Spoonflower for as little money down as possible.
To sell on Spoonflower as cheaply as possible, you need to buy a single Fill A Yard and only buy another one when you have enough Spoondollars to pay for it. However there are a couple of tips and tricks to keep in mind, so keep reading!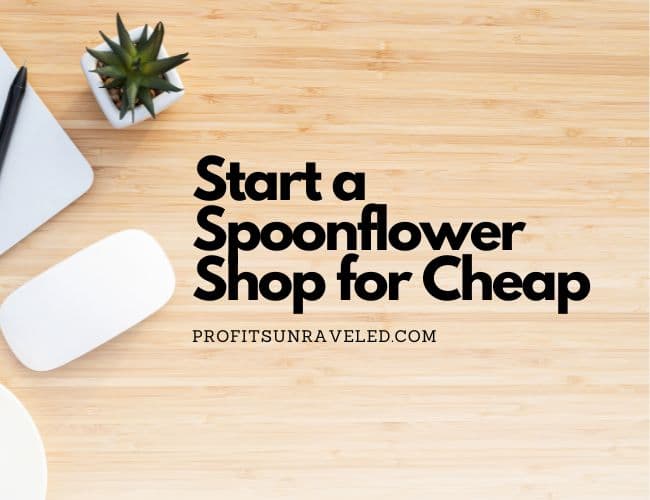 I've been a seller on Spoonflower for about 9-10 months now, and I've purchased 10 FAYs so far, but I've only paid for 1 and a half. In other words, I've put $33 of my own dollars in, and that's it! The rest has all been paid for with the sales I've made from my fabrics.
So, without further ado, here are my tips for doing this in the most efficient and effective way possible.
Only Buy During Sales
I made this mistake with my first two purchases which I purchased at full price. Spoonflower has 20-30% off sales all the time. Based on my last 6 months of emails from them, they average at least one sale on their petal signature cotton fabric per month. The petal cotton is their most cost-effective option.
For reference, in Canada, one Fill A Yard plus shipping at full price cost me $23. With a sale, I can get that down to about $18.
Even when buying with Spoondollars, wait until the FAYs are on sale.
You can sign up for their newsletter to get notified when they're having a sale.
Invest Only as Much as You are Willing
This will depend on your finances and how quickly you want to make money with Spoonflower.
You need to invest enough for at least one FAY, however, if you are willing to put in $100 of your own money, then do that and buy a handful of FAYs so that you will have more designs working for you in the marketplace sooner.
In theory, the more designs you have in the marketplace, the more sales you should be able to make.
If you don't have the funds, then buy one FAY and you'll just have to give it more time to generate enough sales to earn you enough for another FAY.
Keep in mind, that when you buy a FAY you make about $2.00 in commission. So you will already have 10% of the cost to purchase a second FAY. 
---
– My Recommended Tools –
Below are my personal favorite tools that I use regularly in my POD business.
The below links are affiliate links meaning I may receive a small commission for anything purchased through these links at no extra cost to you.
Creative Fabrica – My favorite place to get graphics with a straightforward commercial license for print on demand use.
Adobe Illustrator – I use Adobe Illustrator for at least half of my design creations. It's pricey but so worth it when you choose to take the business seriously. Get a free trial to Adobe Illustrator here.
Graphics Tablet – My partner got me this exact tablet as a Christmas gift when I was just starting out with creating my own designs. It has served me well now for several years and it was a very low cost investment that made a big impact in my POD business.
Ergonomic Mouse – If you spend long hours at the computer like me I highly recommend investing in a good ergonomic mouse. Over the years, I have caused an injury in my hand/wrist from being at the computer so much, but my pain has gotten significantly better since getting this ergonomic mouse on Amazon.
---
What if I'm not Willing to Spend Money for the first FAY?
Honestly, if you aren't willing to invest the $20 for your first FAY, then maybe Spoonflower isn't right for you. Have you tried Zazzle? It's free, so maybe it would be a better fit. You can take a look at my income reports here and see why Zazzle is (currently) my favorite print on demand platform here to see if it's something you might want to try.
Go Back and Improve Your Designs
Here's where the magic in this technique is…
Once you've proofed your designs, you can later go back and upload revisions.
This means, if you have a design that isn't selling, you can go back into the original file in Illustrator, Photoshop, Procreate, or whatever design tool you use and make it better!
Note: Before you go back and upload a design revision, make sure that you have good titles and tags so that your design can easily be found.
There are multiple ways that you can go in and improve an old design. I go into detail about 7 Ways to Improve Your Surface Pattern Design Work in this article here. But here is a brief overview:
Improve Linework
Add Texture
Adjust Color Palette
Add Shading
Redistribute Negative Space
Adjust Scale
Improve Perspective
When choosing which designs to improve upon, I recommend starting with your oldest design that has no sales. And make sure you're giving your designs enough time to make sales before you go back and try to fix them.
This is a good reason not to delete your old design files. So if you haven't been holding on to them up until now, you might want to rethink that!
Don't Upload Revisions That are of Different Designs
You might be tempted to replace an old pattern that hasn't sold with a completely new pattern. Don't do this.
This will completely mess with the listing and how it ranks in the marketplace.
For example, if you upload a design with red roses and then replace it with a cats in space design, it's not likely to do well. Spoonflower already has that listing marked as a red rose pattern and it will only confuse the algorithm if you change it, so it isn't likely to show up in search.
Only upload proper revisions, meaning you took the old design and improved it, but it's the same design at it's core.
Market, Market, Market
If you want sales from your Spoonflower shop, start sharing your work!
However, you don't just want to sell to your audience. Nurture your audience by engaging with them, show them the behind the scenes, let them know more about you!
This is something that is a work in progress for me as well, so if you want to see what I'm doing and get ideas from that you are more than welcome to do that! You can follow me on Instagram @TessaB.Studio
Final Thoughts
The requirement to purchase proofs of your designs is such a blessing for designers on Spoonflower. This cuts down on people spamming the marketplace and makes it so that there is still plenty of room to build a profitable shop on Spoonflower. It weeds out a ton of people from ever even trying on the platform as they aren't willing to put the money in and there is so much less competition because of it.
That being said, the quality of designs on Spoonflower, for the most part, is quite high, so if you aren't confident in your design skills yet, take some time to develop them! There's no rush to join.
If you are still pretty new to surface pattern design, you may want to create a few dozen or even 100 or so patterns before you start uploading to Spoonflower.
When I picked my first 42 designs for my first FAY to purchase, I used designs that had previously sold on other platforms, so I knew they were marketable patterns.
If you already have experience with other print on demand platforms or with an Etsy shop, then pick the designs that have done the best for you in the past.
It was seriously eye-opening for me when I realized I could go back and improve old designs and upload them as revisions and not need to re-proof them. That's where the money is in this strategy. I hope this strategy for Spoonflower has helped you and you see the value and opportunity in it as well.
Happy designing!
Tessa