10 Reasons Zazzle is My Favorite POD Platform
It's no secret that I love Zazzle. I have been designing consistently on Zazzle since early 2019 and learning the ropes ever since. Here are 10 reasons it is my favorite print on demand platform.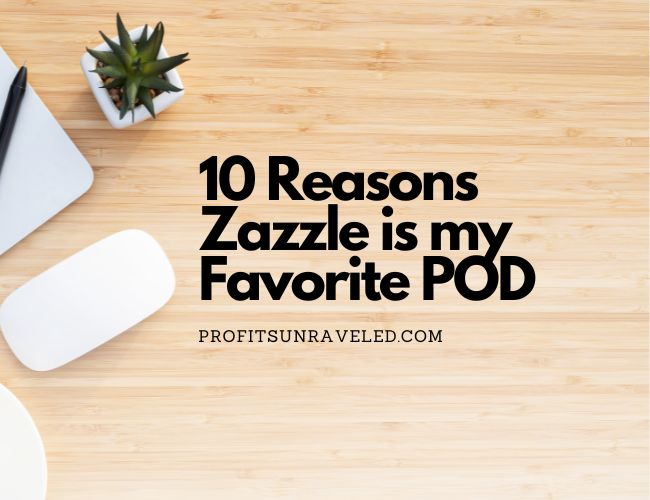 Customizable Products
Backend Shop Stats
Google Analytics Capabilities
Download Sales CSV
Variety of Products
New Products
The Zazzle Community
Opportunity
Cover Photos
Categories
Let's dive into what I mean by each of these items and why I love these features and capabilities.
Customizable Products
One of the things that makes Zazzle so unique and keeps customers coming back again and again, is the ability to customize products. When you design a product on Zazzle, you are able to set text or images as templates for the customers to change and add their names, business names, logos, personal photos, or whatever they want.
Customers are able to personalize their products to make them uniquely theirs. This completely sets Zazzle apart from the other print on demand platforms and makes it a great site to design on.
---
– My Recommended Tools –
Below are my personal favorite tools that I use regularly in my POD business.
The below links are affiliate links meaning I may receive a small commission for anything purchased through these links at no extra cost to you.
Creative Fabrica – My favorite place to get graphics with a straightforward commercial license for print on demand use.
Adobe Illustrator – I use Adobe Illustrator for at least half of my design creations. It's pricey but so worth it when you choose to take the business seriously. Get a free trial to Adobe Illustrator here.
Graphics Tablet – My partner got me this exact tablet as a Christmas gift when I was just starting out with creating my own designs. It has served me well now for several years and it was a very low cost investment that made a big impact in my POD business.
Ergonomic Mouse – If you spend long hours at the computer like me I highly recommend investing in a good ergonomic mouse. Over the years, I have caused an injury in my hand/wrist from being at the computer so much, but my pain has gotten significantly better since getting this ergonomic mouse on Amazon.
---
Backend Shop Stats
I don't know about you, but I am a total junkie when it comes to looking at data and stats. One of the things that I absolutely LOVE about Zazzle, is the ability to see when your product has been viewed. You can also see how many times it's sold and other interesting stats just from the back end of your shop. It's so quick and easy to look at and can give you a good idea of how your products are doing and what products may need work.
I will admit, that I tend to go a little overboard and will often refresh the page multiple times a day even though I know it only updates once a day or so. In that case, the backend stats are a bit of a double-edged sword for people like me, as we end up wasting a lot of time looking at a page that hasn't changed when we should be working on new products, updating old products, doing keyword research, or something else that actually moves the needle.
Zazzle's backend does tend to glitch fairly often, every few weeks or months or so, and something the stats don't refresh for days. Which can be rather frustrating, but just know that they will update eventually, and take this as a chance to step away from over analyzing and put yourself to work elsewhere in your shop.
The longest I've ever seen it not update for was about 8-9 days.
Google Analytics Capabilities
On top of their own back-end shop stats, you are also able to connect each of your Zazzle shops to Google Analytics. It's really easy to set up and provides great data to be able to strategize with down the line.
With Google Analytics set up, you can view things like where your customers are viewing from. This can be beneficial as you can narrow down who your target audience is and use language to connect to them more easily. For example, if you are designing for Mother's Day and you have a large UK audience, you might use the spelling Mum instead of Mom.
You can also see page views. Of your whole shop, your collections, and your products. This is great as if a collection is getting a ton of views you may want to promote it more, add more products to it, or bring it to the front of your shop.
Looking at a single product's page views over a long period of time, like a year or more, can give you an idea of the seasonality of the product. Or maybe if the views fell off on a certain date and you can work backward to try to figure out what happened.
If you need help setting up your Google Analytics 4 account check out my FREE guide below.
By the way, if you have the old Google Analytics set up, Universal Analytics, you're going to want to get that switched as they are ending their service in the summer of 2023. So be sure to get GA4 setup and start to collect data ASAP.
Download Sales CSV
Along with your backend shop views and Google Analytics, you can also download your sales history in spreadsheet format. This isn't totally unique to just Zazzle, there are other platforms that do this as well, but I have found that Zazzle's spreadsheet is the most comprehensive and easy to look at.
This spreadsheet lets you break down how much money you made from a single product or for a select time period and can be really helpful in order to analyze and strategize for your shop going forward.
Enjoying this series?
Get more Zazzle tips here.
Variety of Products
I don't have exact numbers here, but from what I can tell, Zazzle has the biggest variety of products compared to any other POD site. This is another double-edged sword as you can get carried away trying to get your designs on every product.
A word from the wise, focus on a handful of products and try to carve out a little corner of the market of those products for yourself. For example, you could focus on home decor goods, and put your designs on pillows, blankets, tapestries, doormats, and the like.
The beauty of Zazzle is that they have so many products within each niche that you can still get your designs on multiple products and have them pair together really well. Like phone cases with phone grips or party plates, cups, and gift bags.
New Products
Zazzle is constantly coming out with new and improved products to design on. Admittedly, they did take a bit of a break coming out with new products the last few years (2020-early 2022) but can you blame them? Everyone's world was turned upside down and that includes Zazzle, I think they were just waiting for the dust to settle and for suppliers to get back on their feet.
They started up strong again in about mid/late 2022 and have been coming out with new products regularly since.
You can see new product launches on your shop home page, right underneath the bar that says Home, Products, Collections, Followers, Settings, etc.
If you are extra lucky, you may even get selected to have early design access to a product. If that's the case, Zazzle will email you to let you know, so make sure you are checking your email!
The Zazzle Community
Have you checked out the Zazzle community at all? It's essentially a big forum for designers to talk to each other as well as the people that work for Zazzle. You can suggest products to get added to the marketplace, ask questions, let them know about a glitch, get tips from other designers, or just chat.
The community has lots of great information and it's a great way to stay up to date with what's going on in the marketplace.
Opportunity
With so many products available to design on and so many more being added regularly, I truly believe that there is so much opportunity in the marketplace for designers. If you pick a niche and stick to it and really push through the beginning stages of ghost town there is so much potential to do well on Zazzle.
Don't get me wrong, there's still tons of competition in the marketplace, but if you are strategic and learn from the data you get from all the stats you can look at, there's no reason you can't succeed!
This should go without saying, but I just want to clarify here that I am not saying it's easy and it is certainly not fast. It takes time and effort to do well on the platform. I'm just saying that it is possible if you do the work.
Cover Photos
Unlike any other POD marketplace (that I am aware of) Zazzle lets you upload your own cover photos. This can be a huge boost in getting eyeballs on your products as they will stand out in the marketplace against the sea of products all using the same generic cover photo that Zazzle gives you.
Store Management
It's common with other print on demand marketplaces that you can create collections for your products, yes. But you aren't able to select holidays or occasions like you can with Zazzle. And that's a great way to make sure your products show up in the search when they are meant to.
You also have the option to customize your collections by changing the order in which they appear in your shop, changing the order of the products within a collection, adding a cover photo, a description, and tags.
You can also customize the layout of your shop. When customers click through to your shop, do you want them to see your most popular products first? Your newest? Your collections? It's all up to you!
Conclusion
As you can see I am, through and through, a huge fan of Zazzle. Although I still like other platforms, I spend the vast majority of my time with print on demand on Zazzle specifically.
I'd love to know, which is your favorite platform and why?