12 Websites to Sell Your Art Online for Free
If you're looking for where to sell your art online from home and completely free you have come to the right place!
I have put together a list of 12 marketplaces where you can sell your art online. I have personal experience with most of the platforms, and I'll fill you in on what I know below.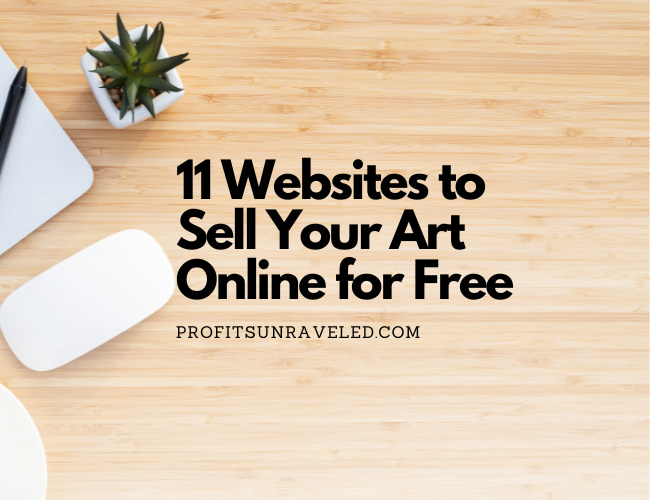 Here are the names of the 12 marketplaces:
Zazzle
Redbubble
Society6
Amazon KDP
Amazon Merch
TeePublic
Minted
Etsy
Creative Fabrica
Creative Market
The Hungry JPEG
Spoonflower
Zazzle
Zazzle is a print on demand marketplace and one of my personal favourites for selling online.
Zazzle offers a huge range of products that you can put designs on and post for sale in your shop.
Products on Zazzle range from invitations, to mousepads, to playing cards, to duvet covers.
Honestly, I can't even tell you how many products Zazzle has to offer, it's over well 1,000.
I've personally been selling on Zazzle since 2019 and if you are interested you can read more about my personal experience with Zazzle here.
Redbubble
Redbubble is another print on demand website, very similar to Zazzle. They offer a wide range of products as well, around the 80-100 mark.
Redbubble is especially known for their sticker and t-shirt sales.
I have been on Redbubble since 2019. And I have an article planned to outline my experience on Redbubble, I will link that here when it's complete.
---
– My Recommended Tools –
Below are my personal favorite tools that I use regularly in my POD business.
The below links are affiliate links meaning I may receive a small commission for anything purchased through these links at no extra cost to you.
Creative Fabrica – My favorite place to get graphics with a straightforward commercial license for print on demand use.
Adobe Illustrator – I use Adobe Illustrator for at least half of my design creations. It's pricey but so worth it when you choose to take the business seriously. Get a free trial to Adobe Illustrator here.
Graphics Tablet – My partner got me this exact tablet as a Christmas gift when I was just starting out with creating my own designs. It has served me well now for several years and it was a very low cost investment that made a big impact in my POD business.
Ergonomic Mouse – If you spend long hours at the computer like me I highly recommend investing in a good ergonomic mouse. Over the years, I have caused an injury in my hand/wrist from being at the computer so much, but my pain has gotten significantly better since getting this ergonomic mouse on Amazon.
---
Society6
Another print on demand marketplace is Society6. Society6 is very similar to both Redbubble and Zazzle and the three often share sellers. Meaning people that sell on Zazzle, Redbubble, or Society6 typically sell on at least two and sometimes all three of those platforms.
I have personal experience with Society6, however, I haven't really enjoyed using the platform and have therefore never put many designs up or much time into the platform and, naturally, I don't have much to show for it.
Amazon KDP
Amazon Kindle Direct Publishing is Amazon's very own book publishing platform.
You can self publish books and you don't have to pay anything up front. These are print on demand books and the printing fee is worked into the price of the book.
There are multiple ways you can use Amazon KDP to sell books.
Create low content books, medium content books, or high content books.
Create paperback books, hardcover books, or e-books.
I have experience with Amazon KDP and though the platform has great potential, it isn't my favorite, I outline my reasons why in this article here.
That being said, every so often I come up with a book I want to create and I upload it to the platform. Maybe a couple times a year.
Amazon Merch
Merch by Amazon is Amazon's own print on demand platform that lets you sell to the Amazon's customers.
Merch doesn't offer as many products as the other print on demand platforms like Redbubble, Society6 and Zazzle, but they offer the basics. Shirts and sweaters, phone cases, popsockets, tote bags, throw pillow, and a few other products.
You have to apply to open your merch account and Amazon doesn't accept everyone. And then, if you do get accepted, they have a tiered system. So it isn't the most user friendly.
When you first start you're at tier 10, meaning to can upload 10 products and you need to make 10 sales to get up to the next tier. The 2nd tier is tier 25, and then tier 100, and they keep going up from there.
I started my merch account back in (I believe) 2019, I've made a few sales, but never made it out of the second tier. I still make the occasional sale, but it hasn't seemed to be enough to bump me up to tier 100. This isn't surprising to me because I really haven't put any effort into that account in about 3 years.
TeePublic
TeePublic is another print on demand platform, however I have very minimal experience on this platform.
I made an account a couple of years ago and uploaded one or two designs. But I quickly realized I was spreading my self too thin and decided not to pursue TeePublic at all.
Tee Public offers products like apparel, phone cases, stickers, and home goods. I find it very similar to Redbubble.
Minted
Minted is a very unique platform.
In order to sell on Minted, you must enter their design challenges where customers and designers vote on the winners.
The winners then get their designs featured on the website. If you don't win, you don't get to sell. However, if you do win, you're pretty much guaranteed sales.
I have't tried Minted as I just don't feel that my design skills are strong enough to compete, but that's probably more so me getting in my own head than anything else.
If you feel that your designs skills are strong and you know how to follow a brief, this might be a great option for you!
Etsy
Okay, so Etsy isn't technically free, it costs $0.20 per listing, but it's really easy to get free listings!
You can get 40 free listings by opening your shop using this link (I will also get 40 free listings.)
If you don't want to use my link, no worries! Put a request out on social media and someone will happily give you their link for the free listings.
You'll only be able to upload 40 products for free and then you'll need to make sales to pay for your other listings. Or you can share your link to new people wanting to start an Etsy shop to get more free listings like I have done here.
In order to keep it totally free, you'll probably need to sell digital downloads, unless you want to pay for product. There are tons of options for digital downloads to sell. I will write an article listing digital download ideas and link it here when it's ready.
Or sign up for my email list to get notified when it comes out!
Creative Fabrica
I am both a shop owner and customer at Creative Fabrica. This platform sells graphics and fonts as well as a few other digital products on their platform.
Creative Fabrica offers a commercial license and most products offer a commercial license specifically for print on demand as well – yes you need a special license if you are going to use purchased graphics for print on demand.
You get to choose what license you will offer your customers.
I have been a customer since late 2020 and I opened a shop on the platform I believe in 2021. I haven't uploaded much and that shows through with my sales. I think I have about 40 products listed and I've made only a handful of sales.
Creative Market
Creative Market is another digital download marketplace that is similar to Creative Fabrica with some big differences in the types of products and licenses offered.
Products offered on this platform include fonts, graphics, mock ups, digital brushes, and more.
I have not personally sold on this platform.
The Hungry JPEG
The Hungry JPEG is very similar to Creative Fabrica and Creative Market.
You can sell graphics, fonts, bundles, and different types of templates. Personally, The Hungry JPEG is not my favorite and I haven't used it much at all. But I felt it was worth adding to the list to give you more options.
Spoonflower
Spoonflower is another print on demand marketplace that focuses mainly on fabric and wallpaper. They have also recently added bedding and other home décor items to their catalog.
I wasn't originally going to add Spoonflower as you do need to proof your designs, however there is a way you can do it for free, IF you have strong design skills.
If you enter Spoonflower's weekly design challenges and place in the top 50 they will proof your design for you so that you can sell it in the marketplace without having to buy the design first yourself.
Otherwise you need to proof your designs and that costs about $20 USD per 42 designs in you do it through a fill a yard. I go into detail about how to sell on Spoonflower for as cheaply as possible in this article.
Final Thoughts
In a nutshell, these platforms provide diverse opportunities for artists to exhibit their creations and earn money while they do it.
But I just want to be clear, selling online is not a get rich quick scheme. It takes time to build up a shop and generate consistent sales.
One of the things I realized while writing this article is that what you put your time into grows.
For example, I have put tons and tons of time into Zazzle and I make a decent little chunk of change each month from it.
I have put some time into Redbubble, mostly when I first started, and I consistently make anywhere from 10-50 sales a month.
I have been touch and go with Society6 and never really put the time into getting to know the platform and I make a few sales a year.
I just started on Spoonflower about a year and a half ago and I am seeing more and more traction as I put more time and effort into the platform.
My recommendation: Pick one platform and work hard at it for a solid year and see what comes.