How to Look at Your Spoonflower Shop Analytics
I've heard numerous complaints in various Spoonflower-related circles about the lack of analytics available to Spoonflower designers. So I'm not entirely sure if everyone is aware that we do have access to some analytics – though not as much as I would like.
Did you know that we are able to download our sales reports for each year and we can extract data such as best-selling designs, returning customers, fabric type, and more?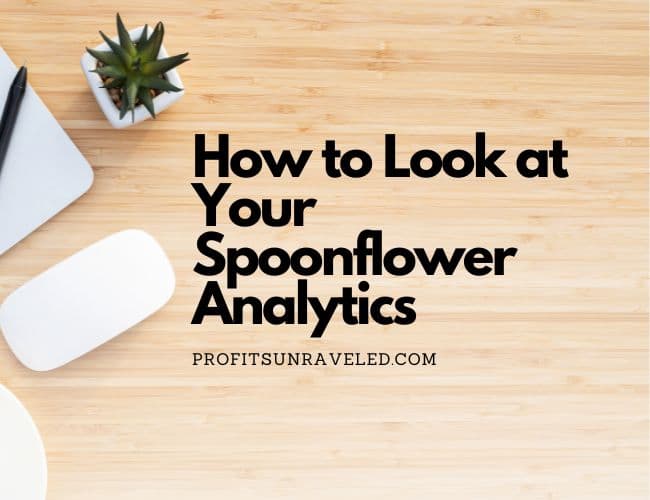 It's pretty easy! Follow along and I'll walk you through how to get the report and then how to manipulate it in Google Sheets so that the data is a little easier to look at.

Step 1 – Account Settings
First, you'll hit the little person icon on the top right of the screen and click Account Settings.
Next, you should see a grey bar with multiple tabs.

Select the "Spoondollars" tab.
There are now three options to choose from; Your Spoondollars, Your Statements, and Redemption Details.
Select "Your Statements."
Now, you should see a grey bow with some text about the yearly summaries. Below that, you can select the year you want to download your earnings statement for.
Once you select a year you have the option to download the CSV file for the whole year or to break it out into quarters.
I like looking at the whole year's sales, but that's up to you!

Step 2 – Create a Spreadsheet
Once you've got your report downloaded, open up your preferred spreadsheet program. I use Google Sheets, but it doesn't matter which you choose as they are mostly all the same.
Import the report into your spreadsheet. If you're in Google Sheets, go to File > Import click Upload and Browse or drop the file in. Now select Import Data.
Alright! You've got the spreadsheet! But if you look a little closer, you may notice that it also includes all the purchases that you've made from proofing your designs. Personally, I don't want that info.
Let's filter the data, so that it's more easily organized.

On the left-hand side, you're going to select the number 1, so that the whole first row gets highlighted. Now, on the toolbar up top, select Data > Create a Filter.
Awesome! Now we can sift through this data a little easier.

If you want to filter out all the purchases you made, select the three little lines in the shape of a triangle in the second column, "Type" you'll want to uncheck "Debit" and "Self-Purchase."
Great! Now we're looking at just our sales.
How you want to filter this data going forward is up to you… but here are some suggestions

Sort by Design
First, I like to order the sales in chronological order from the beginning of the year at the top. So click the filter button on the first Date column and select "Sort A > Z"
Next, let's sort by design. Click the filter button on the Design column (Column E) and select "Sort A > Z"
Now you can see how much each of your patterns sold. 
---
– My Recommended Tools –
Below are my personal favorite tools that I use regularly in my POD business.
The below links are affiliate links meaning I may receive a small commission for anything purchased through these links at no extra cost to you.
Creative Fabrica – My favorite place to get graphics with a straightforward commercial license for print on demand use.
Adobe Illustrator – I use Adobe Illustrator for at least half of my design creations. It's pricey but so worth it when you choose to take the business seriously. Get a free trial to Adobe Illustrator here.
Graphics Tablet – My partner got me this exact tablet as a Christmas gift when I was just starting out with creating my own designs. It has served me well now for several years and it was a very low cost investment that made a big impact in my POD business.
Ergonomic Mouse – If you spend long hours at the computer like me I highly recommend investing in a good ergonomic mouse. Over the years, I have caused an injury in my hand/wrist from being at the computer so much, but my pain has gotten significantly better since getting this ergonomic mouse on Amazon.
---
Sort by Amount
If you want to see your biggest sales, hit the filter on the Amount column (column H) and select "Sort Z > A" this will show you the biggest sales at the top and the smallest commissions towards the bottom.
Sort by Customer
One thing I LOVE about Spoonflower is the repeat customers. I have one customer who has come back and bought the same design 6 or 7 times over the past year and keeps buying more of a specific fabric design each time – Amazing!
Anyways, you can easily sort by customers by filtering the Customer column. You can see if they've ordered the same design over and over again or if they're shopping around your shop and picking up different designs each time. Or, if you design in collections you might notice how often people are buying from the same collection.
Sort by Substrate
Do you know which fabric is most popular with your designs? Follow the same steps as above in the Substrate column to filter by the substrate to find out what's selling best for you.
Final Thoughts
Unfortunately, the Spoonflower analytics are somewhat underwhelming.
Oh, how I wish we could hook up Google Analytics to our shops! However, even with the small amount of data provided, there is still substantial information that can be pulled from these reports.
Do you have a specific way you like to use this report? Let us know in the comments!