Moving from Redbubble to Zazzle – 10 Key Differences – Zazzle vs Redbubble
If you're a Redbubble seller and you're thinking about switching gears and jumping over to Zazzle – whether that be to add Zazzle to your income stream or to completely get off Redbubble – there are a few things you'll want to know.
I've been selling on both Zazzle and Redbubble since 2019 and 2020 respectively, and though they are both print on demand marketplaces, there are some distinct differences between the two platforms.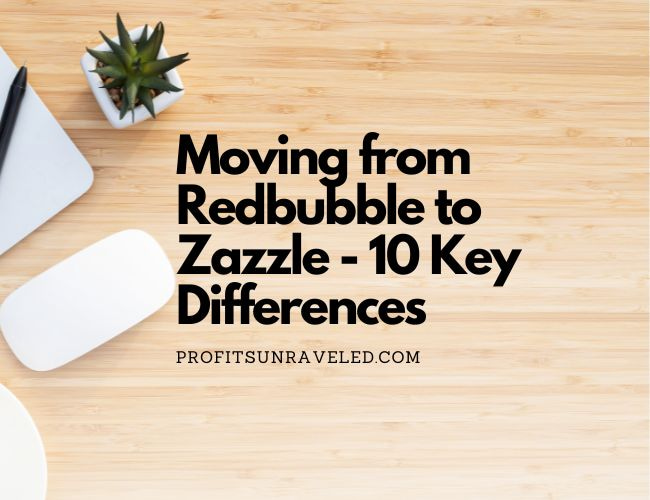 No Way to Mass Uploading Art
Categories
Collections
No tiers
Customization
Audience
Product Variety
Less Spam
Cover Photos
Multiple Stores
No Way to Mass Uploading Art
Unlike when you upload new artwork to Redbubble, you can't just upload once and look at your design on all of the platform's products in one go.
Unfortunately you do have to create each product one by one.
However, once you've uploaded your design to one product, go to the backend of your shop and select Actions > Transfer this design and you will easily be able to transfer the design on each new product you would like.
This will carry over your titles, description, tags, royalty rate, and usually your category, occasion, and recipient (sometimes it doesn't carry over those last 3.)
So you just need to make sure your placement of the design is correct and it looks good and you can mark it for sale in a couple of clicks.
Once you get the hang of it and get a bit of a system going it's really quick to get your designs on all of the products you want them on.
Categories
Redbubble doesn't have customizable categories like Zazzle does.
When you go to someone's shop on Redbubble it does give you the option to sort my category/product type.
However, on Zazzle you can create custom categories and be more specific than just product types.
See my video explaining how and why to use categories on Zazzle here.
Collections
Both platforms have collections, and they were both quite similar until recently.
Zazzle has updated their collections to incorporate different types of collections, giving shop owners much more customization with their shops.
On Redbubble we can create a collection and add products to it and the collections will display at the top of your shop page. That's pretty much the extent of it.
On Zazzle, we have 4 collection types to choose from and we are encouraged to upload custom banners and media images to help promote the collections.
Zazzle has said recently that they will be promoting collections more heavily going forward.
So now is a good time to start designing in collections if you aren't already.
---
– My Recommended Tools –
Below are my personal favorite tools that I use regularly in my POD business.
The below links are affiliate links meaning I may receive a small commission for anything purchased through these links at no extra cost to you.
Creative Fabrica – My favorite place to get graphics with a straightforward commercial license for print on demand use.
Adobe Illustrator – I use Adobe Illustrator for at least half of my design creations. It's pricey but so worth it when you choose to take the business seriously. Get a free trial to Adobe Illustrator here.
Graphics Tablet – My partner got me this exact tablet as a Christmas gift when I was just starting out with creating my own designs. It has served me well now for several years and it was a very low cost investment that made a big impact in my POD business.
Ergonomic Mouse – If you spend long hours at the computer like me I highly recommend investing in a good ergonomic mouse. Over the years, I have caused an injury in my hand/wrist from being at the computer so much, but my pain has gotten significantly better since getting this ergonomic mouse on Amazon.
---
No tiers
Redbubble introduced their new tiered system in the Spring of 2023. Essentially, there are 3 tiers and if you're at the bottom tier Redbubble will take anywhere from 25-50% of your commissions at the end of each month. Ouch. Your tier can change at any time if you no longer reach the requirements for the higher tiers, or you can work to get your shop up to one of the higher tiers if you didn't make the cut right off the bat.
Zazzle doesn't have any kind of tier system or make their artists pay in any way to run their shops.
Customization
Zazzle offers customers the ability to customize designs. Artists can create text or image templates for customers to add their own text or images in designs.
I have a video explaining how to create a text template in the Zazzle design tool here.
Audience
The audience on Redbubble is very different from the audience on Zazzle.
Zazzle's audience is primarily women and a large chunk of their audience is looking for party, holiday, small business, and wedding themed products.
Redbubble's audience is more balanced between men and women, however there is a slightly larger male audience. Redbubble's audience is purchasing lots of tshirts, stickers, and pins.
Product Variety
Redbubble has over 70 products on their platform to put your designs on. As mentioned above, you can have your designs posted for sale on all of these products within a few minutes of uploading a design.
Whereas Zazzle has well over 1,000 products to choose from. However, as mentioned above you do need to upload to each of them individually.
It may make more sense now as to why Zazzle doesn't have a mass uploading function. No one design is going to look good on 1,000+ products!
Less Spam
Don't get me wrong, there is still tons of spam on Zazzle, but considerably less. I attribute this to a couple things…
Less hype on platforms like Youtube – The "Gurus" pump Redbubble and how "easy" it is to make $500, $1,000, and even $5,000 a month by mass uploading to Redbubble. This has created floods of people trying to make a quick buck on Redbubble and has produced tons of spammy designs on the platform
On the Zazzle platform, if your products don't receive any engagement within a specific timeframe, I believe its 18 months, they are automatically 'hidden' and no longer appear in the marketplace. This reduces spam over time. In contrast, on Redbubble, designs remain visible indefinitely, regardless of engagement levels.
Cover Photos
At the beginning of 2023, Zazzle gave sellers the ability to add cover photos to their products. And has since given us the ability to add up to 10 photos to each product.
This is a really great way to catch customers' eyes when they're are browsing through the marketplace.
Redbubble has no such feature and you are stuck with the photos they offer.
Multiple Stores
You can have multiple shops under your Zazzle account. This means you can have a shop for each niche you want to focus on. Niched down shops typically do better and are a better user experience for customers.
With Redbubble, you would either need to put everything under one shop name, potentially creating a very chaotic shop. Or you would need to create multiple accounts, which is, in my opinion, annoying to be logging in and out of different accounts.
Final Thoughts
I tried to stay as unbiased as possible throughout this article and just state the facts, but I think my bias still showed through a little bit. I am partial to Zazzle, and I think that's made pretty clear throughout this whole website.
However, I do have a Redbubble shop and I do make regular sales. So I still like Redbubble too, just not as much. 😉
If you are on both platforms, I'd love to know what you think the biggest differences are!
Happy Designing,
Tessa