How to Create a Plaid Design in Adobe Illustrator – Step by Step
I love creating plaids as coordinates patterns for a collection. It's really easy, and people love them.
But every time I go to make a new plaid pattern, I forget the steps. So I've written them down for myself and I am sharing them with you.
Note: Other names (keywords to use) for this type of design include: gingham, check, checked, checkered, buffalo check. Although each of these is slightly different, not everyone knows which is which and I have found that customers often use these words interchangeably.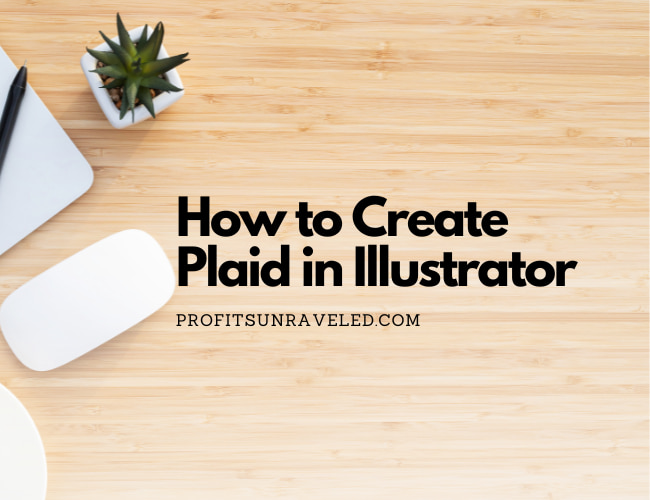 Disclaimer: This post may contain affiliate links. I may earn a small commission for purchases made through links in this post, at no extra cost to you.
Create Your Artboard & Choose Colors
Before we get started we need to set up an artboard and pick some colors to work with.

You can create any artboard size that you want, as long as it is a perfect square. In my example, I am using an artboard that is 5 in x 5 in.
You will need to pick out some colors to work with for this plaid. I am using the color palette from Spoonflower's East Fork Autumnal Design Challenge, if you like those colors you can see the details here.
You can use as few as 2 colors, and up to as many colors as you would like. For my example patter, I am using 4 colors total.

Step 1 – The Bottom Layer
Grab your rectangle tool and draw a square to cover the whole base of the artboard, this will be the background color.
Next draw a few rectangles horizontally across the artboard. See photo.

Step 2 – The Top Layer
Copy the layer you have by grabbing it the whole layer in the layers panel and pulling it down to the add layer button at the bottom of the layers panel.

Optional: Hide the bottom layer to get it out of the way until later.
Select the whole top layer and flip it 90 degrees in the properties panel.

Now the stripes should be vertical, feel free to move them around a little or switch up their colors as you like.
Save your file here.
---
– My Recommended Tools –
Below are my personal favorite tools that I use regularly in my POD business.
The below links are affiliate links meaning I may receive a small commission for anything purchased through these links at no extra cost to you.
Creative Fabrica – My favorite place to get graphics with a straightforward commercial license for print on demand use.
Adobe Illustrator – I use Adobe Illustrator for at least half of my design creations. It's pricey but so worth it when you choose to take the business seriously. Get a free trial to Adobe Illustrator here.
Graphics Tablet – My partner got me this exact tablet as a Christmas gift when I was just starting out with creating my own designs. It has served me well now for several years and it was a very low cost investment that made a big impact in my POD business.
Ergonomic Mouse – If you spend long hours at the computer like me I highly recommend investing in a good ergonomic mouse. Over the years, I have caused an injury in my hand/wrist from being at the computer so much, but my pain has gotten significantly better since getting this ergonomic mouse on Amazon.
---
Step 3 – The Twill
Now we need to create the twill…
Draw a straight line that is at least double the length of your artboard and rotate it 45 degrees.
Line up the middle of the line with the top corner of your artboard.

Copy that line and match it up to the bottom corner of the artboard. I do this by selecting the first line and pressing CTRL+Shift+M on my keyboard and moving it over by 5 inches horizontally and vertically (the same size as the artboard) and selecting Copy.
Now you should have two lines, one at either corner of your artboard.

Next, select the two lines and double tap the Blend tool, next to Spacing, select Specified Steps and choose an odd number. (You will need a fairly high number.)

With the blend tool still selected, click on each line and you should see all the lines fill in. See image.

Alternatively, you can use the Selection Tool (hotkey: V) and select the two lines, go to the top menu and select Object > Blend > Make.
With all the lines still selected, go to the top menu and select Object > Expand, press okay.
Repeat that once more, Object > Expand, press okay.
Grab everything except the bottom layer. If you hid the bottom layer earlier, you can just click at the top corner and drag down and grab everything on the artboard. If you didn't hide the layer, you can select everything but the bottom layer in the layers panel instead.
With everything selected, go to the pathfinder tool. Select Divide.
Double click to select a piece of the black line and Select > Same > Appearance. Press Delete.
Go to the Layers Panel to toggle the visibility option on.

You should see your completed pattern.
Pulling it all together
Be sure to check your pattern before you export!
Insert a rectangle shape and make it the exact size of your artboard. Give it no fill a and no stroke and send it to the very back,

underneath every layer

.

Grab everything on the artboard and pull it over to the color swatches tab. This saves your pattern as a swatch.
Create a new rectangle shape, much bigger than your artboard, and fill it with the pattern swatch you just created.

Review the pattern and adjust from there. Go back to where you saved, just before creating to Twill or Edit > Undo (Ctrl+Z) your way back to where you want to fix it from.
To try it with another color palette use the Recolor Artwork tool.
Go to the top menu and select View > Hide Edges for a better view when recoloring. You can also press Ctrl/CMD + H.