12 Reasons Your Zazzle Products Aren't Selling
There are a number of reasons that your products may not be selling, but the following is a list of the most common reasons.
No Keywords
Wrong Keywords
Bad Design
Oversaturated Niche
No Demand
Design Errors
No Personalization
Not Niching Down
You Aren't Promoting
Not Enough Products
Incomplete Storefront
Generic Cover Photos
Let's dive into each of these potential reasons a little deeper below.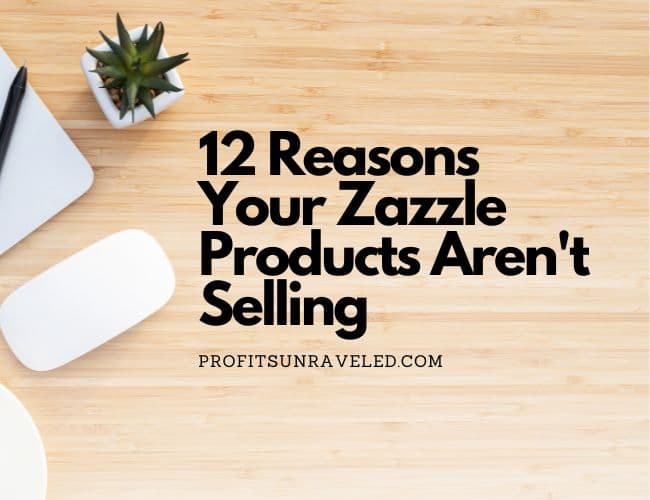 Disclaimer: This post may contain affiliate links. We may earn a small commission for purchases made through links in this post, at no extra cost to you.
No Keywords
To put it bluntly; If you aren't using keywords, your designs will never get found. Plain and simple.
Keywords are how the Zazzle search engine and outside search engines find your products and know when to show your designs to customers.
Add keywords by putting them into your titles and tags for the Zazzle marketplace. Put them in the description for your products to be found by search engines like Google.
Get my list of 50 Popular Keywords on Zazzle below.
Wrong Keywords
Don't use keywords just for the sake of using them.
If you are using a keyword that does not match your design you are only hurting yourself. For example, if you have a blue design, don't use red as a keyword. It will hurt your rankings in the long run.
If your blue design shows up when a customer has searched for a red design, they aren't going to click on your design, as it isn't what they are looking for, that tells the algorithm that your product didn't convert well and it's less likely to show up in future search results.
Bad Design
As important as keywords are, no amount of well-placed keywords can help a bad design.
Not to worry, keep practicing and your design skills will improve over time! You can also get graphics from sites like Creative Fabrica – get your first month for $1 here – where you can download premade graphics with an awesome print on demand license.
---
Read: 10 Best Selling Niches on Zazzle
---
Oversaturated Niche
This isn't a total deal-breaker, as you can still make headway in a niche that is heavily saturated, but it could definitely be contributing to your lack of sales. Especially if you have a newer shop with low authority in the marketplace.
It's not impossible to get a foothold in niches that are already well served, but it will take time to build your shop up to be able to compete with the designs that are already selling well. So keep at it!
No Demand
The opposite of the above issue is that you have created designs for a niche that has no demand.
Not every niche sells well on Zazzle. Each print on demand has its own style and type of designs that sell well. So consider where your designs might sell best when deciding on a POD platform to sell on. 
---
– My Recommended Tools –
Below are my personal favorite tools that I use regularly in my POD business.
The below links are affiliate links meaning I may receive a small commission for anything purchased through these links at no extra cost to you.
Creative Fabrica – My favorite place to get graphics with a straightforward commercial license for print on demand use.
Adobe Illustrator – I use Adobe Illustrator for at least half of my design creations. It's pricey but so worth it when you choose to take the business seriously. Get a free trial to Adobe Illustrator here.
Graphics Tablet – My partner got me this exact tablet as a Christmas gift when I was just starting out with creating my own designs. It has served me well now for several years and it was a very low cost investment that made a big impact in my POD business.
Ergonomic Mouse – If you spend long hours at the computer like me I highly recommend investing in a good ergonomic mouse. Over the years, I have caused an injury in my hand/wrist from being at the computer so much, but my pain has gotten significantly better since getting this ergonomic mouse on Amazon.
---
Design Errors
Make sure when finalizing designs that you double-check that everything is as it should be. Check for spelling mistakes, and design placement, and make sure your templates are active if they need to be.
Something as simple as a spelling mistake or a little error in the design can, and will, completely turn off customers from hitting the buy button.
Get the step by step guide to setting up Google Analytics 4 to your Zazzle store.
No Personalization
One of the things that customers love about Zazzle, and what keeps them coming back again and again, is the ability to customize and personalize the designs with their names, logos, messages, and images.
Personalization is the major factor that sets Zazzle apart from other print on demand platforms. Never underestimate the selling power of a nice monogram design!
Enjoying this series?
Get more Zazzle tips here.
Not Niching Down
Creating generic designs is the lazy way to go and it's been done again and again. The competition is incredibly high and the payoff may be minimal. Instead, create designs that speak to a specific niche of people that they can't resist.
Not sure how to niche down? Get my goal-setting and niche brainstorming worksheet here.
You Aren't Promoting
You can't solely rely on Zazzle to promote all your products for you. Well, you can, but you're leaving money on the table if you do.
The very least you can do is create a Pinterest account and share your products to Pinterest as soon as you upload them using the Pinterest share button on Zazzle.
If you want to step up your marketing to the next level, consider starting an Instagram channel to share you designs and your design process.
Want to step it up a little more? Start a Tik Tok channel and post videos to spread the word about your store.
Not Enough Products
I'm all about quantity over quality, but ultimately it is a bit of a numbers game.
Create a lot of designs and do it fast, while still maintaining good quality. When I first started out I was pumping out designs like crazy and every and any product they fit on. Not because I was trying to spam the market, I was loving the process and learning as I went.
I don't pump them out as much as I used to, as my style has improved and I don't need as many designs published to make the same amount of sales anymore.
Incomplete Storefront
Zazzle prefers to promote stores and designers that have completed their seller and store profiles.
Generic Cover Photos
One way to make your products stand out in the sea of similar products and designs is to upload your own cover photos.
One thing that makes Zazzle really special is the ability to create your own cover photos and upload them to your product listings.
You can do this by creating your own mockups in Adobe Photoshop or Illustrator or you can purchase mockups from places like Creative Market or Etsy.
Adding your own mockup photos has been proven to get more clicks on your products. From there it's on you to convert those clicks to sales.
Final Thoughts
Hopefully, this has given you some ideas as to why your products may not be selling and some steps that you can take to improve your chances of success in the Zazzle marketplace.