10 Types of Repeat Patterns for Your Surface Pattern Design Business
Do you ever get a creative block when trying to create a new design for your surface pattern design business?
With hundreds and thousands of elements to design with available at our fingertips on Creative Fabrica, it can be overwhelming to know what to do with them!
Here's a list of 10 types of repeat patterns you can create using your own graphics or – in the case of this article – using graphics from Creative Fabrica.
Simple Minimal Repeat
Straight
Two Directional
Scattered
Perpendicular
Diagonal
Mirror
Checkered
Busy/Full
Mermaid/Fish Scale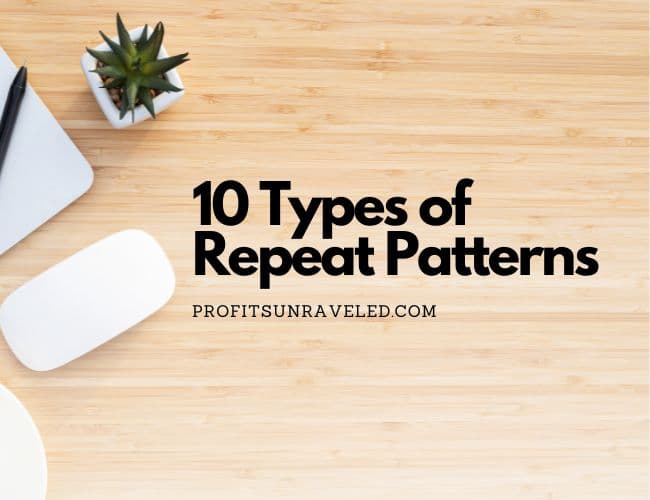 Let's take a look at what each of these patterns looks like. I've challenged myself to use a single graphics pack from Creative Fabrica so that you can see what each pattern looks like using the same design elements.
This is the graphics pack I am using from Creative Fabrica.
If you don't have a subscription, I can't recommend it enough!
---
– My Recommended Tools –
Below are my personal favorite tools that I use regularly in my POD business.
The below links are affiliate links meaning I may receive a small commission for anything purchased through these links at no extra cost to you.
Creative Fabrica – My favorite place to get graphics with a straightforward commercial license for print on demand use.
Adobe Illustrator – I use Adobe Illustrator for at least half of my design creations. It's pricey but so worth it when you choose to take the business seriously. Get a free trial to Adobe Illustrator here.
Graphics Tablet – My partner got me this exact tablet as a Christmas gift when I was just starting out with creating my own designs. It has served me well now for several years and it was a very low cost investment that made a big impact in my POD business.
Ergonomic Mouse – If you spend long hours at the computer like me I highly recommend investing in a good ergonomic mouse. Over the years, I have caused an injury in my hand/wrist from being at the computer so much, but my pain has gotten significantly better since getting this ergonomic mouse on Amazon.
---

Simple Minimal Repeat
This is one of the most simple designs that you can create and only needs a single motif to make it work. All you need to do to create it is put the motif in the center and then at all four corners.
This can be a great pattern to use in a collection to accent a hero print.

Straight
This is another reasonably simple seamless pattern to create. It's essentially clusters of motifs along a straight line. In this example, they are horizontal straight lines, but you can also do it with vertical straight lines.

Two Directional
Another simple pattern where the motifs go in an up/down direction or in a left/right.

Scattered
This is one of my favorite patterns to make. You simply scatter the motifs all over the artboard rotated in different directions. You can also play with scale to make the design more interesting.

Perpendicular
Similar to the two directional design, but adding the 3rd and 4th directions. Things are going up, down, and side to side. Notice the motifs stay along those 90° lines.
I can't say I love how this pattern turned out with these parrots, but I wanted to challenge myself to stick with the one graphics pack for all of these patterns.

Diagonal
Diagonal is a popular type of repeat pattern that can look great on a lot of products. The angle you set your diagonal will depend on the size of your artboard. If you are working with a perfectly square artboard a 45° angle will work perfectly.
Mirror
A mirror pattern is a symmetry design that, when you cut a line down the middle, is mirrored perfectly on each side.

Checkered
A checkered pattern looks like a checkerboard with motifs in the squares of one set of squares.
This type of pattern has gained a lot of traction lately with the rise of the retro trend.

Busy/Full
A busy or full pattern has almost no negative space and the artboard is filled to the brim with motifs.
Usually, for this type of pattern, you would want motifs that have more contrasting colors so that they stand out more.

Mermaid/Fish Scale
With the rise in the popularity of mermaids, the fish scale pattern has also been trending upward. This pattern is very symmetrical and there isn't usually any negative space.
Usually, you would use something that is in the shape of a fish scale, but I wanted to stay true to the challenge of using the parrots, and, though it's too busy for my liking, I think it worked out half decent.
Final Thoughts
This is not an exhaustive list of all of the patterns you can create, but it is a great place to start when working on a new design.
Let me know what types of seamless patterns are your favorite to work with in the comments below!
And let me know if you'd like me to do a tutorial for any of these patterns!