12 Popular Niches on Spoonflower
Looking to expand your portfolio on Spoonflower, but not sure what to design?
No worries! I've compiled a list of 12 design themes that all sell well on Spoonflower.
Full disclaimer; I'm not saying that if you create one of these designs that your patterns will sell. There's so much more to creating a selling design than what is in the design. But this is a great place to start when you need some direction!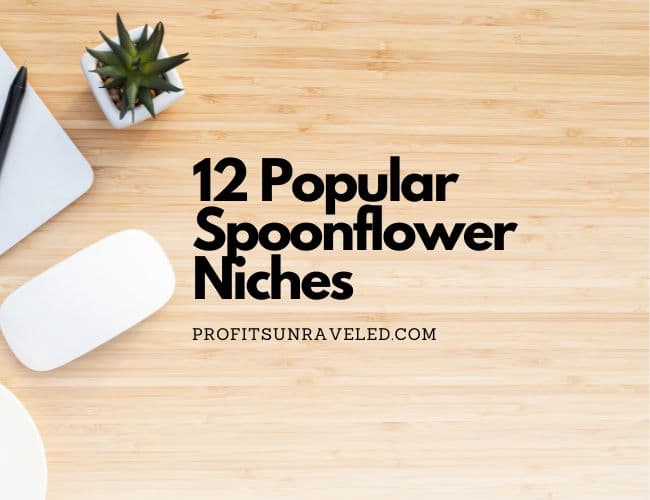 12 Niches That Sell on Spoonflower:
Nature Themed
Geometric Shapes
Mid-Century Modern
Seasonal/Holidays
Nostalgic
Abstract
Coastal
Cultural
Kids & Baby
Pets
Scenic Landscape
Typography
Need a little more direction than just the theme titles? I've got you covered! Let's take a look at what kind of motifs could go into each of these themes.

Nature Themed
Designs featuring elements from nature, such as flowers, leaves, and animals, tend to be popular on Spoonflower. Customers often look for designs that bring a touch of nature into their homes.
If you take a look at the first page of Spoonflower you will often see multiple nature designs front and center.
Geometric Shapes
Geometric patterns, such as chevrons, hexagons, and diamond shapes, are also very popular on Spoonflower. These designs can be modern, playful, and versatile, making them a popular choice for customers.
Some designs may feature bold, shapes, while others may incorporate more intricate or subtle designs.
Geometric patterns are often used for home decor applications, such as wallpaper, throw pillows, and curtains. So keep this in mind when designing and picking your color palette and scale.
Mid-Century Modern
Designs inspired by mid-century modern style generally have bold colors and simple shapes. This style has been growing in popularity over the past couple of years.
Popular motifs include starbursts, atomic shapes, boomerangs, and geometric shapes such as circles, triangles, and squares.
Incorporate popular motifs with a bright, bold color palette, to create designs that appeal to customers looking for a retro or vintage-inspired look.

Seasonal/Holidays
Seasonal themes, such as Christmas, Easter, and Halloween, are popular with customers who want to decorate their homes for holidays and special occasions. But there is so much more to the seasonal theme than just the North American-esque holidays such as the three listed above.
Niche down to target a smaller group of people who may celebrate different holidays.
Nostalgic
Nostalgic designs often incorporate imagery and motifs associated with specific time periods or cultural movements. For example, designs inspired by the 1950s may feature images of classic cars, jukeboxes, and diner scenes, while designs inspired by the 1980s may feature images of cassette tapes, boomboxes, and neon colors.
Designs like vintage botanicals, old-fashioned maps, and classic storybook illustrations, can also be popular with customers who want to bring a touch of the past into their homes.
The color palette for nostalgic designs can vary depending on the time period being depicted. For example, designs inspired by the 1960s may feature bright, bold colors, while designs inspired by the 1920s may feature more muted, vintage colors
Abstract
Abstract designs usually contain geometric shapes, patterns, and color blocks in unique and interesting ways. They may also include organic shapes or fluid lines, but with a focus on creating a sense of movement or texture rather than representing specific objects or figures.
Customers looking for a bold, modern look often turn to abstract designs. Abstract designs can be inspired by a wide range of sources, including modern art movements, natural phenomena, and architectural features.
The color palette for abstract designs can vary widely, depending on the designer's aesthetic and the intended use of the design. Some abstract designs may incorporate bold, contrasting colors to create a dramatic effect, while others may use a more muted or tonal color palette to create a subtle, sophisticated look.

Coastal
Coastal designs generally have imagery and motifs associated with the beach or the ocean, such as seashells, starfish, waves, and boats. They may also include imagery associated with coastal landscapes, such as lighthouses, sand dunes, and palm trees.
Many coastal designs incorporate shades of blue, green, and sand to create a calming, beachy vibe, while others may incorporate brighter, more vivid colors to create a more playful or tropical feel.
Cultural
Cultural designs can include imagery and motifs associated with specific cultural traditions, such as patterns, symbols, and colors that are unique to a particular region or community. They may also incorporate elements from traditional dress, architecture, or other cultural artifacts.
Note, please be respectful when taking inspiration from other cultures that are not your own.

Kids & Baby
Popular motifs for kids and baby designs include animals, flowers, cartoon characters, and whimsical patterns. Think about designs that will appeal to both children and parents, such as designs that are playful, imaginative, and fun. Bright, cheerful colors tend to be popular for kids and baby designs, with a focus on pastels and primary colors.

Pets
Designs featuring popular pets, such as dogs, cats, and birds, are also popular with customers on Spoonflower. Consider using motifs such as different breeds of dogs and cats, paw prints, pet toys, and pet-related items such as food bowls, leashes, and collars in your designs.
Or go after a potentially untapped niche and create a design targeting pet owners of less popular/less known pets. Axylotls anyone?
Scenic Landscape
Scenic designs can include anything from landscapes and cityscapes to seascapes and natural settings. Think about what scenes are most likely to resonate with customers as well as fit with your style as a designer.
---
– My Recommended Tools –
Below are my personal favorite tools that I use regularly in my POD business.
The below links are affiliate links meaning I may receive a small commission for anything purchased through these links at no extra cost to you.
Creative Fabrica – My favorite place to get graphics with a straightforward commercial license for print on demand use.
Adobe Illustrator – I use Adobe Illustrator for at least half of my design creations. It's pricey but so worth it when you choose to take the business seriously. Get a free trial to Adobe Illustrator here.
Graphics Tablet – My partner got me this exact tablet as a Christmas gift when I was just starting out with creating my own designs. It has served me well now for several years and it was a very low cost investment that made a big impact in my POD business.
Ergonomic Mouse – If you spend long hours at the computer like me I highly recommend investing in a good ergonomic mouse. Over the years, I have caused an injury in my hand/wrist from being at the computer so much, but my pain has gotten significantly better since getting this ergonomic mouse on Amazon.
---
Typography
Designs featuring meaningful quotes, motivational words, or words that relate to a specific niche can do well on Spoonflower. The font you choose is one of the most important aspects of a typography design and can truly be the difference between a design that sells and one that doesn't. So choose carefully.
Final Thoughts
When designing patterns for Spoonflower, it's important to consider the different niches and themes that customers are looking for, rather than just creating whatever you feel like in the moment. In order to make sales, your designs will need to be marketable, so having a good idea of what the most popular design niches on Spoonflower are ahead of time, will help you to create winning, and hopefully, selling designs.
It's important to think ahead a little and consider what the end use for this pattern will be. Are you creating it for wallpaper? Or is it meant to be fabric for home decor? Or fabric for apparel?
This will need to be taken into account in order to decide on the color palette and scale of your design.
I hope this article has given you some inspiration and you have a good idea of what to create next.
Happy designing!